NOTES FROM THE BOARD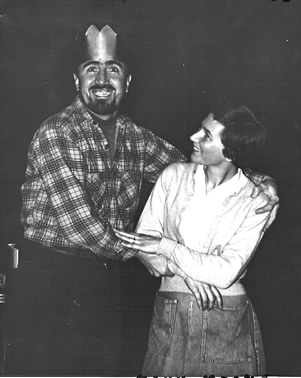 From the Archives: 1970 production of Many Moons. Who can name these actors?
Last Tuesday's board meeting was a big one, as the incoming board members were also present. David passed the "keys to the kingdom" to our new President Bill Maxwell.
There was some nice news about our participation in the EMACT festival last week! Bill Maxwell was nominated as supporting actor in The Importance of Being Ernest, and Pat Kane won an award for the best costumes. We were nominated in four categories. Congrats to everyone who made this possible, as our participation in the EMACT functions is so important for us.
David Gould announced some member appointments for the next year. Peter Yensen, with assistance from Heddie Kent, Dorothy Schecter, and Rik Pierce will be organizing the effort to gather the many, many archives of the Concord Players. They will be collected into one place, sorted and categorized, and by autumn the hope is that we will find an appropriate place for their storage and maintenance. This sounds like an enormous job and we thank this committee sincerely for the effort! If anyone should come across photos or programs of early shows please contact Rik at RikP@pobox.com
New board member Rick Shamel has agreed to be our FOPAC liaison, and will also be responsible for the rentals and management of our lighting materials with assistance from Bruce Gray, Susan Tucker and David Atwood. New board member Faith Pelletier will co-chair publicity with Linda McConchie, and Lida McGirr will be co-chair of the Special Events committee.
Again with the tunnel….. We have been talking about the need for a cleanup day to organize and clean up the tunnel area. At the next board meeting, a date will be set for September and we hope to have many hands to volunteer for this much needed maintenance task. Watch for the date!
…and speaking of the next board meeting, it has been changed for the month of July to the 4th Tuesday (7/24). There will be no meeting in August. Remember that these meetings are open and the board does appreciate input from our members. This is the time to bring ideas, creative thoughts, and questions. Do contact Bill Maxwell if you'd like to add something to the agenda.
There have been some updated fire regulations and several representatives from both Concord Players and FOPAC have met with the officials to learn about the new requirements and formulate a plan for our conformance to such.
LAST CALL! Don't forget that June 30 WAS the deadline for renewing your membership. It will be extended for one week after this newsletter arrives in your mailbox! The membership committee is trying very hard to see that the membership book will be available to everyone by the start of the season. If you've mislaid your membership form, you may go to the Concord Players website to print a copy or see below. It is important that you use this form, as only new information will be printed in the membership book.
Also about the forms…we are now maintaining a database containing volunteer information and this will be made available to producers, committee heads and others who will be looking for volunteer help.
HELP, HELP, HELP! The Odd Couple production team is in great need of a lighting designer for the show. If you can design the show, please let Lisa Astbury know at 617 694-7845 or lisaraspberry@hotmail.com It's the first show of the season, so we're very anxious to resolve this.
Casting news:
Following in her older sister's footsteps, Miranda Xenakis, recently seen on our stage in the ensemble of Cinderella, just got cast into the Concord Youth Theatre's production of Grease, coming up July 13, 14, 20 and 21 at Maynard High School. Meanwhile, big sister Eliza (our very own Cinderella) will be performing in Waltham's Reagle Players in the production of The King and I, July 12-21. Since the dates overlap, how thin is poor mom, Kathy, going to have to spread herself? Congratulations, ladies.
Also, Congratulations to Carly Evans (She Loves Me, Honk!, Into The Woods) and Ryan DuBray (She Loves Me) on their recent nuptials. They got married in Newport, R.I. on May 19th, just a week after She Loves Me closed. Think they are dedicated performers? Not too many people can pull off a three-week performance schedule - not to mention time-consuming rehearsal schedule - while planning a very lavish wedding in their spare time! They met during summer stock many years ago, and their summer only flings have turned into a full time production. Our very best to them both. Carly will be directing and choreographing Grease for the Concord Youth Theatre in July and Ryan will be working on the technical crew. What a talented pair.
Also performing in CYT's Grease this July is Russell Peck, who was just recently seen in She Loves Me as the wonderfully entertaining waiter/dancer that enthralled all the audiences. Russell, DON'T break that leg--you need it for dancing!! Russell just graduated from CCHS and is heading off to New York University in the fall. It's certainly Concord's loss and NYC's gain!
Many thanks to those stalwart painters who, over several months, decorated our beautiful new Heddie Kent Greenroom, Costume/ Sewing room and dressing rooms. When you see them tell them great our new home looks.
| | | |
| --- | --- | --- |
| Sally Bull | Jane Grace | David Gould |
| | |
| --- | --- |
| Kirsten Gould | Pam Sturgis |
| | | |
| --- | --- | --- |
| Kathy Booth | Rik Pierce | Tom Sikina |
| | | |
| --- | --- | --- |
| Bill Maxwell | Peg Elliott | Laura Sweet |
| | | |
| --- | --- | --- |
| Rebecca Purcell | Elmer Purcell | Judy Hall |
CUT MEMBERSHIP FORM HERE; MAIL TO: Concord Players, Membership, PO BOX 22, CONCORD, MA 01742 WITH CHECK FOR $25.00
_ _ _ _ _ _ _ _ _ _ _ _ _ _ _ _ _ _ _ _ _ _ _ _ _ _ _ _ _ _ _ _ _ _ _ _ _ _ _ _ _ _ _ _ _ _ _ _ _ _ _ _ _ _ _ _ __
NAME_______________________________________________________________________________
ADDRESS_____________________________________________________________________________
HOME PHONE ______________________________email______________________________________
Okay to publish in membership book? Yes ( ) No ( )
Okay to publish in online website directory? Yes ( ) No ( )
Membership - $25. ( ) Additional tax deductible contribution gratefully accepted! $________(You will be acknowledged in our production programs.)
PLEASE CIRCLE AREA(s) OF INTEREST BELOW:
Set Building/Painting, Costumes, Makeup, Hair Dressing, Props, Crew, Fund Raising, Membership,
Stage Manager, Special Events, Sound, Lighting, Ushering, Producer, Box office, House Manager, Publicity, Hanging Posters, Board of Directors
Visit the website at concordplayers.org or call 978.369.2990, mailbox 1 with questions.

Deadline for this newsletter is the third Friday of the month.
Send us your news at news@concordplayers.org