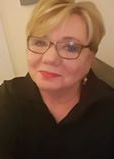 Linda McConchie
Linda has been a member of the Concord Players for 12 years. She serves on the board, does set dressing, props, marketing, lobby design and will happily execute any and all other duties assigned to her. She is the recipient of 5 DASH design awards.
Onstage at the Players Linda has played the Queen in Cinderella and Mavis in Steppin' Out. She loves working with her talented colleagues at the Players, especially Brian Harris, Charlotte Kelley and Anne Bantly. Having Nancy Curran Willis back at Concord Players is a special treat!
Linda is the retired executive director of The Freedom Trail Foundation in Boston and currently enjoys serving the wonderful residents of Newbury Court in Concord as front desk concierge. Her most favorite job is grandmother to the adorable Oscar, a role she loves sharing with her great pal, Corinne Kinsman.