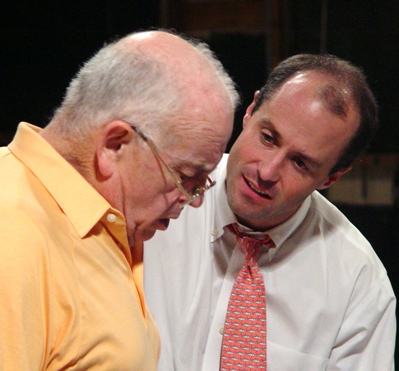 Bob Peters as Joe and Michael O'Conner as Chris in a very early rehearsal of All My Sons
Notes from the Board
Rehearsals are in full swing for ALL MY SONS, written by Arthur Miller. This ensemble of actors will bring this powerful drama to our newly renovated stage on November 3rd, with an opening night reception starting at 7PM. Dates for the show are Nov. 3, 4, 10, 11, 17, 18 starting at 8PM, and Nov. 12 matinee at 2PM.
OPEN HOUSE October 15!
All are welcome from 1 to 3 P.M. to view the new stage where the set for All My Sons, opening November 3, is already under construction. The Green Room is still in process, but it is hoped that by the 15th, it too will be open to the public. This is a way for FOPAC and the Players to thank individual donors, as well as the community, which approved the application to the Concord Community Preservation Committee for $60,000 matching funds at Town Meeting.
Members of FOPAC and the Players will be there to greet people and to answer questions. David Atwood will have a display of materials used in the old construction, now replaced by the new. Refreshments will be served.
Production teams for this season's plays are all in action, with things progressing nicely. We look forward to the Huddle on Oct. 15 when the directors will give us a little taste of things to come. Don't forget to come to the Huddle, by the way…we're having a party for Heddie Kent's 90th birthday! Come and bring your friends!
A small committee was formed to glean information from our patrons about their preferences and to provide us some input about their wishes so as to provide slates that will appeal.
The board extended a vote of thanks to Cheri Fletcher and Linda McConchie for pulling together a group of people to make a presence at the West Concord Family Festival. Well done!
David Atwood and Peggy Elliott will produce She Loves Me in the spring and are looking for a third producer. Contact us at datwood@att.net if interested.
Spitfire Grill wins DASH Awards!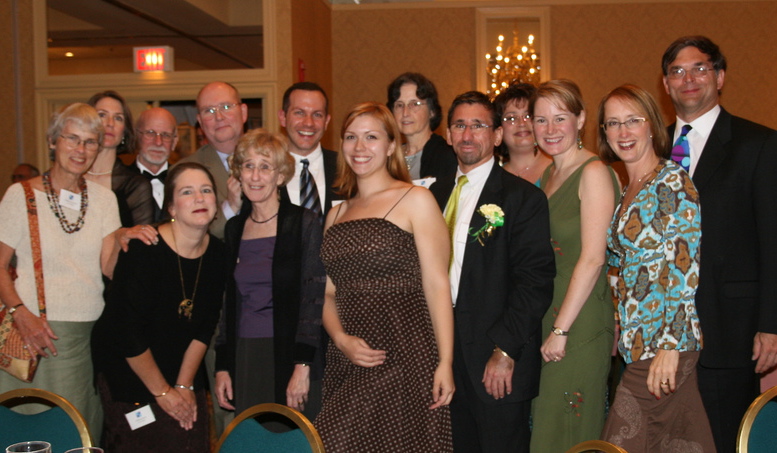 Co-producers Marlene Mandel, Sally Bull and Marilyn Cugini are thrilled to report that the Concord Players' 2006 production of The Spitfire Grill earned four awards at the EMACT Dash Gala held Thursday, September 28, 2006! The award winners were: Douglas Cooper, Best Set Design in a Musical; Marion Pohl, Best Set Dressing in a Musical; Mark Elliot, Best Sound Design in a Musical; and Lis Cahill and Lisa Astbury for Best Make-up and Hair Design in a Musical.
On hand to applaud and cheer all the Concord Players nominees and winners were Director Denis Fitzpatrick, Director of Music Mario Cruz, Co-Producers Marilyn Cugini and Marlene Mandel (Co-Producer Sally Bull was unable to attend but sent her best wishes), Stage Manager Cathie Regan, Assistant Stage Manager Sarah Forney, Set Designer (and EMACT President) Doug Cooper, Lighting Designer Susan Tucker, Publicity Director Claiborne Dawes, Rick Shamel, and Cast Members Liz Bishop, Eric Dwinnells, Valerie Eaton, Shonna McEachern, Sean McLaughlin, and Sarah Telford. The cast performed one of the show's lovely songs "Come Alive Again" as part of the evening's entertainment.
…and some theatre news –
Jay Newlon and Shawna O'Brien from The Importance of Being Earnest share the stage again in Actor's Singer's productions of Evita, opening November 3rd in Nashua. Jay plays Magaldi, the first man to be of use to Shawna's Evita!
Tillie Sweet, Waldo Fielding and Woody Satz will all be appearing in the Winchester Players' production of Arsenic and Old Lace from October 28 through Nov. 11. Tillie as Martha Brewster, Waldo as Rev. Dr. Harper, and Woody as Mr. Gibbs.
Bob Runck has just finished a run as the trial judge in a new play Patience of Nantucket at the BCA in Boston, finishing up Sept. 23. Sorry we didn't get the notice into the last newsletter.
Questions? Comments? Issues you'd like the board to address?
In a show? Let us know!