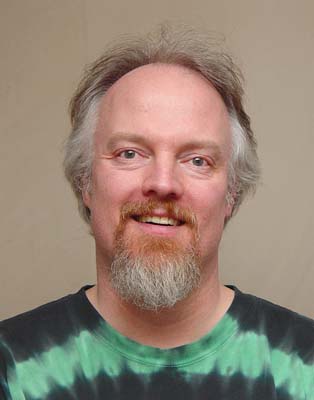 Mark Elliott
After a two year hiatus, I am happy that Breaking Legs fits in between Lego Robotics, baseball, and soccer seasons to allow me the opportunity to get some sound design in. I am looking forward to it.
Mark has been with the players for too many productions to mention, usually in a backstage capacity. This is why he is so thrilled to be on stage as well for Cinderella. "I think the last time I was in front of the curtain was a bit part in a Chekhov play in 1991, and that was two performances."
Mark has been involved with the Concord Players, and other community groups, for more than 30 years. He has most recently been involved in Twelfth Night, Chicago, Bad Seed, Over the River, Side Man, Honk!, and The Rivals. The most fun productions he has worked on (here and elsewhere) were: Snow White, Private Wars, Dracula, Little Shop of Horrors, Little Women '81, Pippin, Deathtrap, PS Your Cat Is Dead, The Foreigner, Forum, Molly Brown, Our Town, Same Time Next Year, Guys and Dolls, La Cage, and Cuckoo's Nest.
Concord Player Productions

Date

Production

Role

2016
Around the World in 80 Days
sound design
2012
Amateurs
sound design
2011
Breaking Legs
Sound Design

2007

Sound Design

2006

Sound design
Ensemble

2006

Sound design

2005

Sound design

2004

Sound design

2003

Sound design

2003

Sound design

2002

Sound design

2001

Sound design

2001

Sound

2000

Sound

1989

Sound

1988

Sound

1985

Projections