NOTES FROM THE BOARD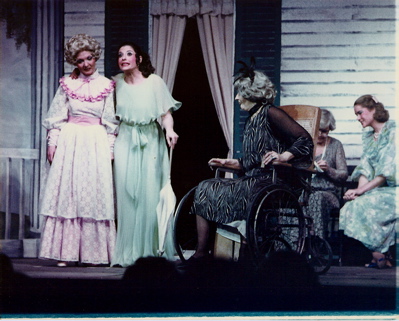 29 years ago. Auntie Mame with Vinnie MacLeod, Betsy Connelly, Patricia (Butcher) Till, Freelon Morris, and Lillian Anderson among the cast
Our new President, Bill Maxwell, expressed his great delight at the turnout for the July 2007 board meeting – 14 of the 15 current members of the board were in attendance. At the meeting, Bill announced that Concord Players now has 20 new chairs for the Heddie Kent Green Room, which were obtained from the Concord Country Club, and which are, most appropriately, GREEN!
Bill reported that Sheryl Blair is convalescing at home with the support of her family. Lillian Anderson heads a group of volunteers to relieve the family at certain times; contact her if you wish to help.
Our first show of the 2007-2008 season, The Odd Couple (directed by Lisa Astbury), is moving full speed ahead, staffing-up production positions and preparing for auditions. Bruce Gray has joined the production team as lighting designer, and Shana Dirik will be heading-up the auditions committee. Auditions for The Odd Couple will be held at 51 Walden Street in Concord on Wednesday, August 29th and Wednesday, September 5th, from 7pm-10pm both nights. Callbacks will be held on Sunday, September 9th, from 7pm-10pm. There are perusal copies of the script in both Concord Public Libraries for you convenience.
HELP!! Lisa Astbury reported that Michael Finke will begin building the set for The Odd Couple in August, and builders are needed – if you're interested, please let Lisa Astbury know at 617 694-7845 or lisaraspberry@hotmail.com !!
Lida McGirr is now on-board as the head of Concord Players Special Events & Meetings Committee. Look for some fun and exciting special events for Concord Players members and subscribers this coming season!
Planning for the Fall Huddle is well underway – stay tuned for more information on what promises to be an entertaining evening of one-act plays and other good stuff! Save the date: the evening of October 21, 2007
Be sure to attend the West Concord Fall Family Festival's parade on September 8th – and watch for a special contingent of Concord Players promoting our upcoming season!
51 Walden will soon have a new state-of-the-art fire retardant stage curtain – and research is underway into replacing some of the Heddie Kent Green Room's light fixtures with compact fluorescents to save energy.
Casting news:
Concord Players own Jay Newlon will be starring in the title role of Bacchus, the Town Cow Theater Company's August 2007 production, which also features Myron Feld as The Duke and John Small as The Provost. Performances will be outdoors in Anne Chamberlin Park in downtown Concord, August 10-26, Fridays and Saturdays at 6pm and Sundays at 4pm. Admission is free! For more information, visit Town Cow's website, www.thetowncow.org or call 978 689-5370.
Louis Brandeis: The People's Attorney, is scheduled for nationwide broadcast on the PBS television network in September 2007. Several Concord Players are in the cast (Bill Maxwell, Jay Newlon, John Small). Click for video clip
Robert Runck recently reprised his role as the judge in Patience of Nantucket on Nantucket Island this past July. Robert reports that he enjoyed his two weeks on the island!
Deadline for this newsletter is the third Friday of the month.
Send us your news at news@concordplayers.org