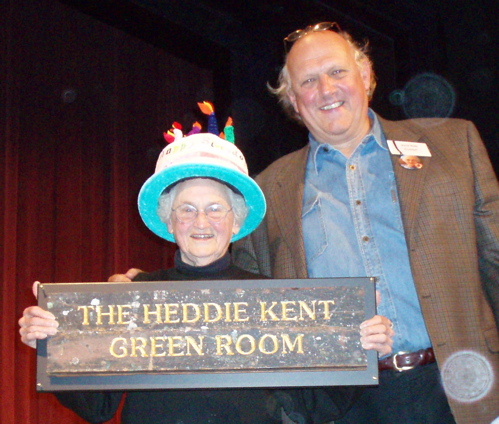 Heddie and David Gould
Notes from the Board
The Fall Huddle took place on Sunday, 10/15, and was well attended by a group of merrymakers. High point of the evening was a tribute birthday party for Heddie Kent who celebrated her 90th!! Birthday this month, with 70 of those years being an active Concord Player! Our very best wishes to you, Hed, and sincere thanks for all you've done for the Players for 70 years! As a tribute to Heddie we named the newly renovated greenroom "The Heddie Kent Green Room!" Anyone who has not seen the transformation of the stage and green room should take the time to stop by and take a look.
Heddie's remarks were videotaped for posterity, and regarding that, David Gould became aware that we have a long history with untold numbers of pieces of information – pictures, play programs, announcements, etc. that should be all in one place and archived carefully. HELP! Is there a soul out there who can approach leading this project? Please contact us at david@gouldcollegeplanning.com.
To see the slide show of her event, please click HERE
Our thoughts are still with Sheryl Blair, who is still under the weather from recent surgery. If anyone would like to visit, provide a meal, or help in any other way, please contact Bill Maxwell (wimaxwell@comcast.net) or Lillian Anderson to arrange such.
Membership Dues reminder. It's a little late, but not everyone has paid their annual dues, and we ask that you see to it asap in order to get your name in the membership book. Contact Corinne Kinsman at artcor68@earthlink.net for a membership form.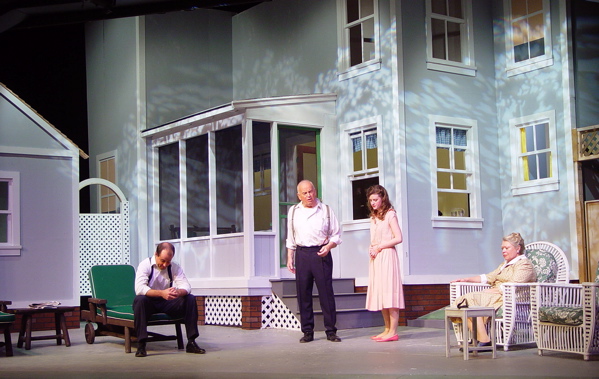 Michael O'Connor, Bob Peters, Allison Rudmann, and Dorothy Ahle
Rehearsals are in full swing for ALL MY SONS, written by Arthur Miller. This assembly of actors will bring this powerful drama to our newly renovated stage on November 3rd, with an opening night reception starting at 7PM. Dates for the show are Nov. 3,4,10,11,17,18 starting at 8PM, and Nov. 12 matinee at 2PM.
At the DASH awards in September, Concord received 4 awards all for Spitfire Grill:
Lis Cahill and Lisa Astbury for make-up and hair design
Mark Elliott for sound design
Doug Cooper for set design and
Marion Pohl for set dressing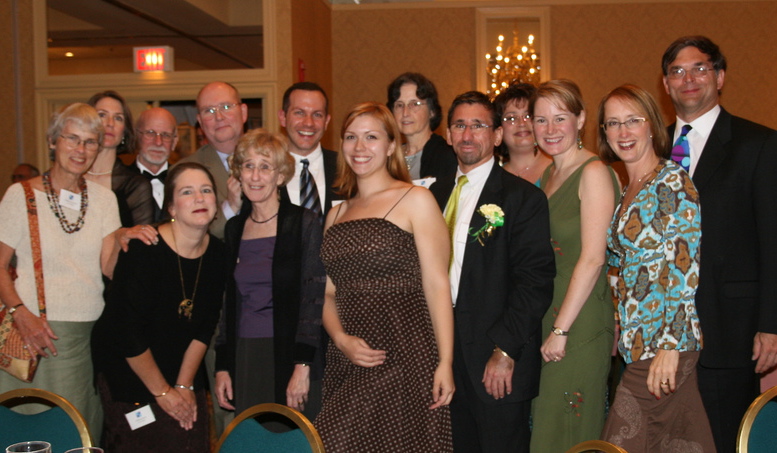 On hand to applaud and cheer all the Concord Players nominees and winners were Director Denis Fitzpatrick, Director of Music Mario Cruz, Co-Producers Marilyn Cugini and Marlene Mandel (Co-Producer Sally Bull was unable to attend but sent her best wishes), Stage Manager Cathie Regan, Assistant Stage Manager Sarah Forney, Set Designer (and EMACT President) Doug Cooper, Lighting Designer Susan Tucker, Publicity Director Claiborne Dawes, Rick Shamel, and Cast Members Liz Bishop, Eric Dwinnells, Valerie Eaton, Shonna McEachern, Sean McLaughlin, and Sarah Telford. The cast performed one of the show's lovely songs "Come Alive Again" as part of the evening's entertainment. Spitfire Grille also won an Honorable Mention for The Moss Hart Award!
Bob Runck has been cast as Brownloe in the Riverside TheatreWorks production of Oliver, performing December 1-10.

John Small will play Merlyn, Chuck Holleman will play King Pellinore, and Sara Ballard will play a Lady Of The Court in The Savoyard Light Opera Company's production of Camelot. Performance dates are November 10, 11, 17, 18, at 7:30 PM, and November 12 & 19 at 2:00 PM, at Corey Auditorium, Carlisle, Massachusetts. For more information, visit the SLOC website, http://www.savoyardlightopera.org/Camelot_2006.html , or call 978-371-SLOC (7562)

Chuck Schwager writes: I am involved with NewRep On Tour, a professional program bringing theatre into the schools in Massachusetts. The play is The Diary of Anne Frank and I have the role of Hermann Van Daan. I am fortunate to be performing with an exceptionally talented cast and the show will be first rate. There is only one evening performance – Monday October 30 at 7:30 PM at the NewRep's brand new theatre in Watertown. If you wish to see the show, you will need to call the NewRep box office to reserve tickets. I believe they are $15 but I am not sure. I am told the seats are selling fast. The box office number is 617 923 8487 and you can find directions at www.newrep.org If you cannot make that evening but want to see the show and have flexibility during the day, we are allowed to invite friends to the school performances. All you need to do is let me know if you prefer this and I will send you a list of schools and times. I do need to give the NewRep your name prior to your attending a school performance so that they can notify the school.

Lida McGirr as Shirley Valentine Back by Popular Demand

Shirley Valentine, a one-woman show at the Amazing Things Arts Center in Framingham, MA, starring Concord Player's Member, Lida McGirr, is being brought back by popular demand. Originally scheduled for one weekend, co-producers Lee Mendenhall and Susan Lanspery decided to extend the production with four matinees following the tremendous success of the weekend which left people laughing and crying as they left the theatre. The Sunday Matinees will be held October 15 and 22, November 5 and 12 at 2:30 p.m.

Don't miss this amazing production directed by Lida McGirr and Norma McGrath at Amazing Things Arts Center, 55 Nicholas Road in Framingham, MA. For tickets and information, call (508) 405-2787.

…and Jay Newlon writes: Actors Singers of Nashua (www.actorsingers.org) is producing "Evita" opening on November 3rd. For some odd reason they cast me as Magaldi, the first man to be of use to Evita. I'm actually singing SOLO!!!! A huge step in some direction to be determined in the reviews. Fortunately, I get to hide in the crowd scenes for choir work, although they twisted my arm to be a featured dancer too ;-). It is a great show and they've promised to give you your money back if you send your request in triplicate to the address in fine print on the back of the program. If you can find 10 people whom you can drag along, they do over a block ticket discount. All the details are on the site. So if you're ready to laugh yourself silly at the sight of Lounge Lizard Magaldi (think Bill Murphy morphing into Tom Jones) as the comic relief in this otherwise tragic drama about the first Lady of Argentina (played by Shawna O'Brien from the CP production of Ernest), come and join the fun!

We would like to have some input from the members here.. In order to save the expense and the effort, it has been proposed that we send the newsletter ONLY by email. Please reply to this with your votes and suggestions, (or notify us if you are not able to receive email), at news@concordplayers.org or phone Marion Pohl at 508-291-0701.
In a show? Let us know!