The Concord Players Announce Auditions for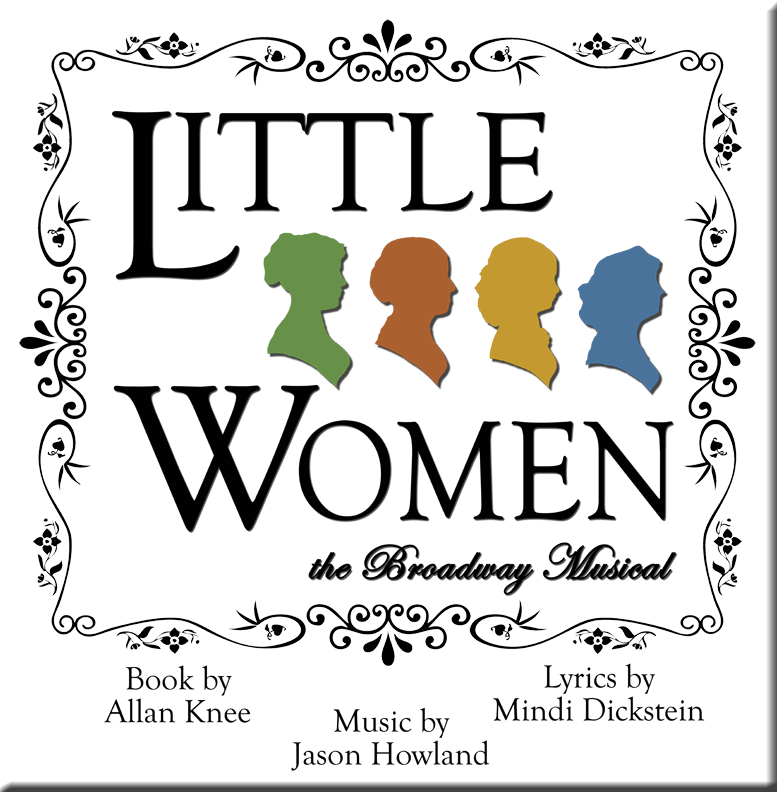 Directed by Katie Swimm
Music Direction by Jeff Kimball
All actors must be fully vaccinated for COVID-19. Please be prepared to offer proof of vaccination, either with your card, or a photo of your card, if you are cast. (To review our complete COVID-19 policy and precautions, click here.)

Synopsis: In honor of Louisa May Alcott's 190th birthday and our decennial celebration of the Concord author, we offer the 2005 Broadway musical telling of the beloved story of the March sisters. Romantic Meg, tomboyish Jo, loving Beth, and irascible Amy live in Concord with their Marmee while their father is off in the Civil War. Filled with adventure (both lived and imagined), heartbreak, and a deep sense of hope, these "Little Women" struggle to find their own voices.

Meet our Director: In this short video selection, director Katie Swimm discusses Little Women — The Broadway Musical: Watch Now

---

Auditions will be held on:

Wednesday, December 14, 6:00–10:00 PM,
at 51 Walden St., Concord, MA.
Friday, December 16, 6:00–10:00 PM,
at the Trinitarian Congregational Church, 54 Walden St., Concord MA. (across the street from 51 Walden), in the Parish Hall.

Actors will be seen in groups of up to 15, by appointment only: to reserve your place in an hour-long appointment slot, please use our signup form below.

For your initial audition, actors should prepare 16-32 bars in the style of the show that showcases both vocal and acting abilities. (Auditioners are asked not to sing something from Little Women for this audition.) Please bring sheet music in the correct key, taped together or in a binder. Please no loose sheet music or books.

See the Character Descriptions below for more details.

Callbacks will be held on Sunday, December 18, 6:00–10:00 PM, at 51 Walden St. — it is imperative that actors reserve this date.
Please note: Any performer interested in auditioning for a role as a March sister (Jo, Beth, Amy, or Meg) will not be considered for those roles unless they can attend callbacks.

Rehearsals will be scheduled for Wednesday and Thursday evenings and Sunday afternoons each week, and some Friday evenings, beginning on Sunday, February 26, 2023.

There will be ten performances in April–May 2023, over three weekends:

Friday, April 28, at 8:00 PM
Saturday, April 29, at 7:00 PM
Sunday, April 30, at 2:00 PM
Thursday, May 4, at 8:00 PM
Friday, May 5, at 8:00 PM

Saturday, May 6, at 7:00 PM
Sunday, May 7, at 2:00 PM
Thursday, May 11, at 8:00 PM
Friday, May 12, at 8:00 PM
Saturday, May 13 at 4:00 PM

Please note also the following key dates in 2023:

First Read: Sunday, February 26
Workshop Rehearsal: Wednesday, March 1
Tech Rehearals (6):

Sunday, April 16
Wednesday, April 19
Thursday, April 20

Sunday, April 23
Wednesday, April 26
Thursday, April 27

(open dress rehearsal)

Pleae note that conflicts are not permitted on performance dates, nor on the other key dates listed above.

---

To sign up for auditions, please complete our online form, below. Before you fill it out, please note the following:

Be ready to select a hour-long appointment slot either on Wednesday, December 14 (6:00-10:00 PM), or on Friday, November 16 (6:00-10:00 PM):

If you cannot make any of these times, you will be able to select None of the above, and we will contact you to discuss an audition time.

Be prepared to upload your resume and headshot (when you receive a confirmation email for your signup):

Resume: PDF format is preferred, but most any document type will do (no image files, please).
Headshot: If you do not have a headshot, a front-facing picture of your head or head and torso, with just yourself centered in it, is acceptable. JPEG or PNG format is preferred, but any image format will do. (no PDF files, please).

Instructions for uploading your files will be in the confirmation email sent to you when you sign up.

If you have any questions, send an email to the staff at
littlewomen-staff@concordplayers.org

---

Character Descriptions

Concord Players is committed to diversity and inclusion. As such, we encourage performers of all races and ethnicities, gender identities, sexualities, and abilities to audition. We also recognize that these characters are written on the binary (use he/him or she/her pronouns) and we invite gender non-conforming, genderqueer, transgender, and non-binary actors to submit for the roles they most identify with.

Jo March - (she/her), 18-26, E3-A5
Our story's protagonist. A passionate and determined young author struggling to find her place in the world.

Amy March - (she/her), 16-24, B3-F#5
The youngest, most energetic sister with a rather pompous air about her.

Meg March - (she/her), 20-28, Bb3-F#5
The world-weary, yet hopeful, oldest sister who yearns for a great life.

Beth March - (she/her), 17-25, A3-G5
The second youngest of the sisters. Timid and musical, Beth encourages and helps her sisters selflessly. Forms an unlikely friendship with the crotchety Mr. Laurence.

Marmee March - (she/her) 40-55, Eb3-Eb5
The March girls' mother. She is the strong backbone of the family, who is courageous in spite of the difficult odds she faces.

Aunt March - (she/her), 50-65, E3-F5
A formidable, over-bearing matron and great-aunt to the March sisters. The wealthy socialite in town

Theodore 'Laurie' Laurence - (he/his), 19-27, Bb2-Bb4
Lonely and charming boy next door who becomes firm friends with the March family.

John Brooke - (he/his), 26-34, C#3-F#4
Laurie's tutor. A reserved and hard-working young man who only shows his tender side when he falls in love with Meg.

Professor Bhaer - (he/his), 30-40, G2-F#4
A sensible German professor boarding with Mrs. Kirk. Persuades Jo that she is better than the "blood and guts stuff" she writes.

Mr. Laurence - (he/his), 55-70, D3-E4
Laurie's grandfather. A stiff and stern elderly man who eventually shows his softer side and becomes friends with Beth.

Mrs. Kirk - (she/her), 40-65, E3-F5
The Irish owner of the boarding house in which Professor Bhaer and Jo meet.

Ensemble - consisting of 6-12 singers and dancers of diverse ages and gender identities to play the following roles: ball attendees, ice skaters, various characters in the Operatic Tragedy, and townspeople. Ensemble members appear in 7-9 scenes in the play.