The Concord Players Announce Auditions for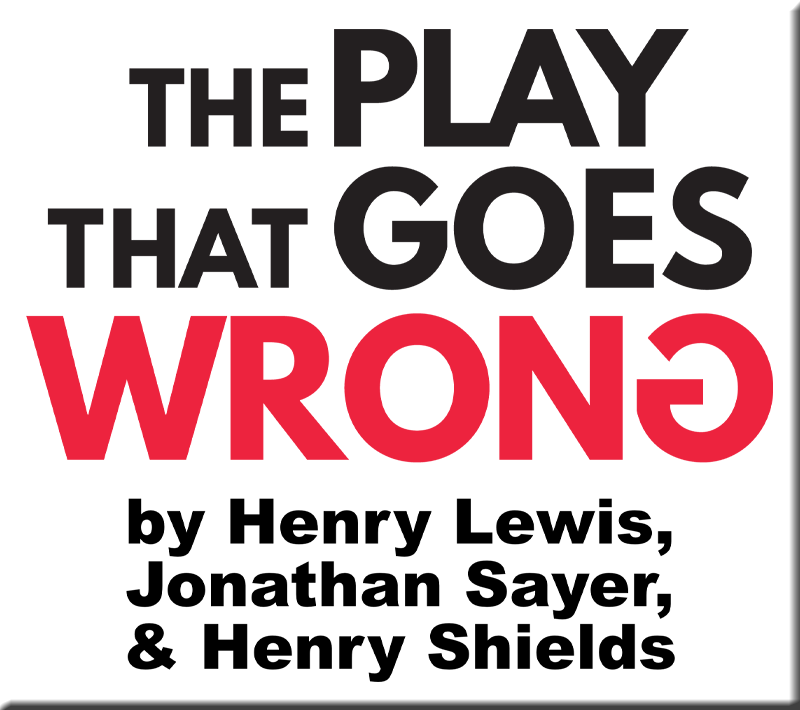 Directed by Brian Kelly
All actors must be fully vaccinated for COVID-19. Please be prepared to offer proof of vaccination, either with your card, or a photo of your card, if you are cast. (To review our complete COVID-19 policy and precautions, click here.)

About the show and the actors: The Play that Goes Wrong shows us The Cornley Drama Society as they present their new production, The Murder at Haversham Manor, an early 1900's murder mystery. The members of the society have had a string of bad luck with previous productions and are excited to have finally gotten it right. As the show progresses, a multitude of accidents and problems occur that threaten the production, but the actors continue with as much professionalism as possible to ensure the audience's pleasure. The comedy of the production must be based on how the actors react to surprising events, so that the play "goes wrong" and is not just poorly done.

The cast of The Play that Goes Wrong needs to have impeccable comedic timing and the ability to convincingly improv dialogue and actions. All of the actors must be able to perform physical comedy, including fighting and falling. During the show there is sword fighting, physical violence, and stunts performed on an incline above the stage (when the second level collapses).

---

Auditions will be held at 51 Walden St., Concord, MA, on:

Sunday, May 21, 8:00–10:00 PM
Tuesday, May 23, 7:00–10:00 PM
Wednesday, May 24, 7:00–10:00 PM

Actors will be seen in groups of up to 15, by appointment only: to reserve your place in an hour-long appointment slot, please use our signup form below. Sides will be available in advance of the audition. Actors should expect a short improvisational portion at the audition.

See the Character Descriptions below for more details.

Callbacks will be held (as needed) on Thursday, May 25, 7:00–10:00 PM, at 51 Walden St. — actors, please reserve this date.

Rehearsals / Important Dates:

Our preliminary readthrough will take place on Thursday, June 22 at 7PM. Actors will receive scripts at the read through and will be expected to be as off book as possible by the first rehearsal.
Rehearsals: Sunday, Wednesday, and Thursday evenings from 7-10 PM beginning on Wednesday, August 30. We will also be rehearsing on Fridays September 8, 15, 22, and 29.
Mandatory rehearsals will begin on Sunday, October 15.

There will be seven performances in November 2023, over three weekends:

Friday, November 3, at 8:00 PM
Saturday, November 4, at 8:00 PM
Friday, November 10, at 8:00 PM
Saturday, November 11, at 8:00 PM
Sunday, November 12, at 2:00 PM
Friday, November 17, at 8:00 PM
Saturday, November 18 at 8:00 PM

Please note that conflicts are not permitted on performance dates, nor for the mandatory rehearsals, which begin on Sunday, October 15.

---

To sign up for auditions, please complete our online form, below. Before you fill it out, please note the following:

Be ready to select a hour-long appointment slot on one of
Sunday, May 21 (8:00-10:00 PM), Tuesday, May 23 (7:00-10:00 PM), or Wednesday, May 24 (7:00-10:00 PM):

If you cannot make any of these times, you will be able to select None of the above, and we will contact you to discuss an audition time.

Be prepared to upload your resume and headshot (when you receive a confirmation email for your signup):

Resume: PDF format is preferred, but most any document type will do (no image files, please).
Headshot: If you do not have a headshot, a front-facing picture of your head or head and torso, with just yourself centered in it, is acceptable. JPEG or PNG format is preferred, but any image format will do. (no PDF files, please).

Instructions for uploading your files will be in the confirmation email sent to you when you sign up.

Instructions for downloading sides for the audition will also be in the confirmation email, or you may download them now. Please read the introduction on the first page of the sides.

If you have any questions, send an email to the staff at
ptgw-staff@concordplayers.org

---

Character Descriptions

Concord Players is committed to diversity and inclusion. As such, we encourage performers of all races and ethnicities, gender identities, sexualities, and abilities to audition. We also recognize that these characters are written on the binary (use he/him or she/her pronouns) and we invite gender non-conforming, genderqueer, transgender, and non-binary actors to submit for the roles they most identify with.

All speak with an English accent, unless otherwise specified. Characters range in (playable) age from 20's-50's and casting is open to all actors regardless of race or ethnicity.

Please note: We will not be casting anyone under the age of 18, due to the risks based on the physicality of the show, as well as the adult interactions that have to happen between the characters.

Annie Twilloil
Annie is the Stage Manager of The Cornley Drama Society. She is very much not an actress and is very frantic and concerned with making everything perfect backstage. Annie is responsible for handling anything that goes wrong, including having to go on as the leading lady when Sandra is knocked out. She goes quickly from not wanting to be on stage to being willing to "fight for her light" after a taste of performing. American accent.

Trevor Watson
Trevor is The Cornley Drama Society's sound and lighting operator. Rough around the edges with a soft spot for Duran Duran. Not a huge fan of the show but willing to do what it takes to make everything work including going on for the leading lady when Sandra and Annie are both knocked out. American accent.

Jonathan Harris (Charles Haversham)
Jonathan is a Cornley Drama Society member. Charles is the murder victim in the play within the play. Jonathan is an overzealous performer with a terrible sense of timing. He also believes that if he doesn't look at the audience, they can't see him.

Sandra Wilkinson (Florence Colleymoore)
Sarah is a Cornley Drama Society member. In the play within the play, Florence is Charles' fiance and is having an affair with Cecil. Sandra is a serious actress who takes her craft to heart. During the performance, she is knocked unconscious and becomes furious to find that she has been replaced by Annie. She will do anything to get her role back.

Chris Bean (Inspector Carter)
Chris is the head of the Cornley Drama Society; he directs the play within the play. Chris wants everything to go perfectly and operates with a sense of humility and optimism. He also cannot stop directing even when he is on stage.

Robert Grove (Thomas Colleymoore)
Robert is a Cornley Drama Society member. Thomas Colleymoore is an old university friend of Charles Haversham. He is bold and showy. In real life, Robert mirrors his onstage character. He is alway trying to steal attention and is somewhat of a showboater.

Dennis Tyde (Perkins)
Dennis is a Cornley Drama Society member. Perkins is the butler in the play within the play. Dennis should probably look for a new profession. He has a very difficult time memorizing his lines and pronouncing words. Although he is not a bad actor, he is easily embarrassed/upset and does not like audience attention.

Max Bennett (Cecil Haversham / Arthur the Gardener)
Max is a Cornley Drama Society member. In the play within the play, Cecil is Charles' brother and is having an affair with Florence. Max is inexperienced as a performer and has not developed the skill of playing two different characters. He is easily impressed by his own performance and often mugs to the audience (breaking character as he does so).

The Stage Crew of the Cornley Drama Society
We may cast several individuals as crew members who will be part of the "back stage" performance.