NOTES FROM THE BOARD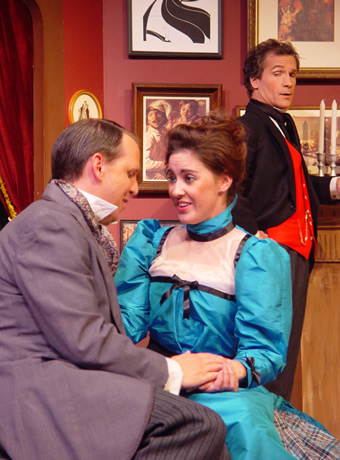 Kendell Hodder, Shawna O'Brien, and Jay Newlon will reprise their rolls in The Importance of Being Earnest at the EMACT festival
Great news! Following the recommendation of Concord Community Preservation Committee,
the Town of Concord awarded an additional $60,000 at Town Meeting to The 51 Walden Stage Renovation Fund. This brings the total of CPA support for the stage renovation project to $120,000. Thanks to everyone whose dedicated efforts made this possible!
Attention Historians and archivists! We are making an effort to gather all our historical documents into one place with the intention of sorting, filing, and preserving these mementos of our long history. Please offer your services if you are able to help with this project.
The board accepted the resignations of Pamela Sturgis, who has so competently managed the advertisements for our programs, and of Marion Pohl from the board of directors. We thank you both very sincerely for all your work and surely hope we'll still see you in other capacities
While the financial report is still not finished, our production of She Loves Me was a great success for our audiences, cast and crew. Everyone involved had a wonderful time and it was a thoroughly successful show. And isn't that what it's all about? Thanks to everyone involved in this project!
It's spring, and time for the annual Spring Frolic! Get out your recipes for your picnic supper and come along for an evening of fun at 51 Walden St. The date and time: Sunday, June 3, at 7:03 ½ PM. Wine, soft drinks and cheeses will be provided, but be sure to save some room for our famous Strawberry Shortcake!
We would like to re-institute a Concord Players tradition next season: offering theatre workshops on various topics. If you have any thoughts on this project, please send David Gould your thoughts david@gouldcollegeplanning.com.
The board voted unanimously to donate to the Concord Orchestra's current fundraising effort to buy new chairs for the members. We wish them well in their project.
We are proud to submit for this year's EMACT Festival the first of act of The Importance of Being Earnest directed by Mario Salinas. Kendall Hodder, Jay Newlon, Bill Maxwell, Shawna O'Brien, and Pamela Dritt will reprise their roles in this comedic exploration of manners, morals, and society. A bittersweet drama/comedy of life, love, class, and the social code of manners and behavior seen then and today. (See more production pictures)
Performance on Friday June 8 at 7:00 pm at the Marion D. Campbell Performing Arts Center at the Groton School, Groton MA. Tickets are $10 at the door. Directions available at www.groton.org. More information at www.emact.org.
And more exciting news about our Players! Be sure to check PBS TV program times to see several of our Players in "The People's Attorney": The Life of Louis D. Brandeis, 1856-1941. The program will air in September, 2007, and performing in this will be our own Bill Maxwell (The Importance of Being Earnest), Jay Newlon (The Importance of Being Earnest), John Small (Lend Me a Tenor), Jonathon Niles (And a Nightingale Sang), Philana Gnatowski (Angel Street), and Christopher DiGrazia (1776).
Members: Don't forget the deadline is June 30, enabling us to have our book completed in time for the new season. (Memberships received after 6/30 may not be included in the membership book). Checks should be payable to Concord Players and mailed to PO Box 22, Concord, MA 01742
Subscriptions are also on sale for $40.00 per person for all three of our productions coming up next season.

Visit the website at concordplayers.org or call 978.369.2990, mailbox 1 with questions.
Deadline for this newsletter is the third Friday of the month.
Send us your news at news@concordplayers.org