NOTES FROM THE BOARD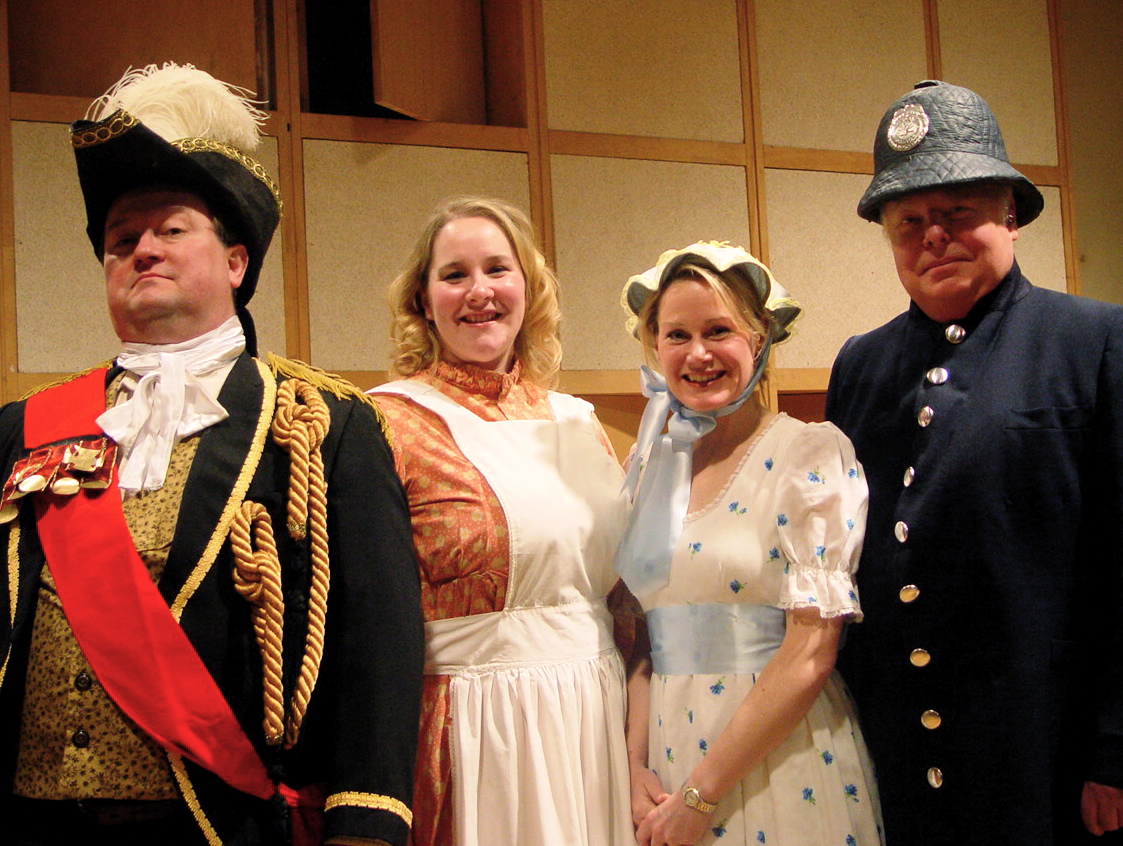 John Small, Nectaria Kordan, Sarah Telford and Bob Russell in FOPAC's concert production of Pirates of Penzance
The Concord Players send their deepest sympathy to member, Dr. J. Leland Sosman for the loss of his daughter, Judge Martha Sosman on March 10th. Gifts in her name may be sent to the Longy School of Music, One Fallon St., Cambridge, MA 02138.
…and some happy news; our two fundraisers were both enormous successes in every way! Our "Don't Stop the Rock" dance show not only raised almost $2,500, it brought a lot of new visitors to 51 Walden Street. Come back again soon! Thanks to Karrie Stang for this wonderful idea and her efforts to bring it about. Thanks to conductor Alan Yost the performance of Pirates of Penzance was equally successful in that we discovered the rewards gained when the Concord Orchestra, Concord Band and Concord Players join in a collaborative effort. It was great fun for all, and, just by the way, netted more than $4,000.00 in profit! Let's see more of these collaborations! Our very sincere thanks to Alan Yost and Carole Wayland for her effort in seeing this to fruition.
While those fundraisers might be highly visible means to support the Stage Renovation, the gritty business of applying for the large amounts from the Concord Preservation Act had to be undertaken. In this matter the application was filed by FOPAC and so its president, Dorrie Bean, is due our great thanks. She and Sheryl Blair provided the leadership for the fundraising campaign. Carole Wayland, David Atwood and Susan Tucker helped immensely with gathering information for the CPA application. David Gould and the entire executive board of the Players was fully involved in the process as well. Concord's Community Preservation Committee is supporting our application for another $60,000 in CPA funds, so we are hopeful that this will be approved by Town Meeting in April.
Our spring play, the romantic, musical comedy She Loves Me, is cast and in rehearsal.. We are still looking for someone to head up properties and set dressing. If you are interested email us at SheLovesMe@concordplayers.org. Tickets for all performances are on sale on our web site.
The Membership committee has met and in an effort to have the membership book ready by the beginning of the fall season, will be contacting members to renew memberships a lot earlier this year than in the past. In future, our memberships will run our fiscal year (July 1-June 30). Having the membership drive over by the beginning of summer will ensure enough time to have the book ready for distribution by early fall.
Many hands make…lots happen. The Greenroom is still in need of a final touch of paint, and Bill Maxwell, crew chief extraordinaire is asking for a little of your time. Please contact Bill (wimaxwell@comcast.net) if you can help with this last bit of painting. AND – we are now offering two free tickets to opening night for the lucky winner of the raffle to be held on "work Saturdays". Come help paint the set, build the set, be a general do-er, and put your name in the hat for a drawing for two free tickets to opening night of the show.
Plans are underway for our participation in the EMACT festival to be held at the Groton School in June. We will be presenting the 1st Act of "The Importance of Being Ernest". Emily Lovering and Mario Salinas will direct the players.
Please welcome our newest members and add them to your membership book…
Deadline for this newsletter is the third Friday of the month.
Send us your news at news@concordplayers.org