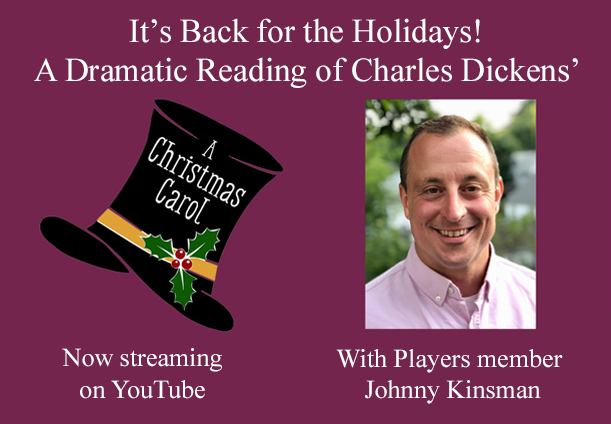 As of November 30, 2021
The Concord Players will present a dramatic reading
of the traditional "A Christmas Carol", a little less traditionally…
As part of Concord's annual holiday celebration, The Concord Players will present Johnny Kinsman, via the Players' Youtube channel, performing a dramatic reading of the beloved holiday classic "A Christmas Carol" by Charles Dickens.
Victorians rejoiced when Dickens' novella was published in 1843, hailing it as "a new gospel," and adopting Scrooge's happy new greeting for the holiday: Merry Christmas! Readings and performances of "A Christmas Carol" quickly became a beloved holiday tradition in Victorian England, and the story of Scrooge's redemption has remained a classic for every generation since.

Kinsman, who grew up in Concord, is an actor, director, producer, writer and storyteller who cut his teeth in theatre at Act/Tunes, now Concord Youth Theatre. His professional career was launched with a BFA in Theater from Syracuse University where he received the prestigious Edward G. Greer Award for Excellence in Classical Acting.

He is currently Associate Artistic Director for Anthem Theater in Boston where his work includes both Dromios in A Comedy of Errors; Fezziwig in Charles Dickens' A Christmas Carol; Coach "Friar" Lawrence in Romeo vs. Juliet (which he also penned); Flynn in The Merry Way; and Sir Toby Belch in Twelfth Night of the Living Dead.

Kinsman admits to being sentimental and has loved Dickens' story since he was a child. "I feel like my soul is refreshed every time I read it," he says. "It's a feeling I want to share with everyone I meet."
As you plan your end-of-year giving, please consider making a donation:


It will help the Players stay active during this challenging time for live theater.
And God Bless Us, Every One!