People who sometimes feel homicidal over a spouse's love of a pet will recognize their marriage configuration on stage at the Concord Players' fall production of "Sylvia."

Directed by Joseph Zamparelli Jr., the two-act comedy by A.R. Gurney, stars Sylvia, a mixture of Lab and poodle, played by Shana Dirik; Greg, played by Rik Pierce; Kate, played by Phyllis Walters, and the triple role of Tom, Phyllis and Leslie, played by Brad Walters.

The curtain is up as theater-goers enter, revealing an illuminated Manhattan skyline. The set is simple. A park bench doubles as a living room sofa. A desk fits into both home and office scenes. As the play unfolds, the skyline lights dim to show the change from night to day. Musical interludes indicate shifts in time sequences or location

Gurney presents a middle aged couple, recently liberated from raising children and pets, who has moved into a city apartment. English teacher Kate has just acquired a master's degree and is planning her fall middle school curriculum, but husband Greg's business career is floundering. He's feuding with his boss and grappling with mid-life feelings. To bolster his drooping ego, he bonds with a friendly stray dog in the park.

When the canine, Sylvia, bounds onto the stage, the audience must engage in willing suspension of disbelief and accept a singing, talking, feminist dog who wiggles her determined butt, creating an immediate breach between Greg and spouse, Kate. Her sophisticated strut belies a crude vocabulary as the park pickup cajoles, wheedles and assumes a position of first wife, to Kate's growing dismay. The blandishments and adoration of his fourlegged lady subjugated Greg, who is blind to his infatuation despite warnings from fellow dog walker, Tom, and growls from his wife of many decades.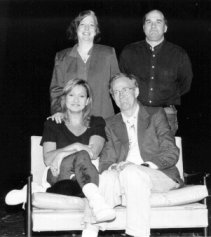 Phyllis and Brad Walters with Shana Dirik and Rik Pierce

The actors interact well on stage and sustain a rapid pace in the delivery of their lines. Shana Dirik, as Sylvia, excels in acrobatics, mood-shifting facial expressions, flea scratching and excitable body language. Key words like "out" and "cat" send her into audience-pleasing orbit as she shifts between canine and feminine moves and vocabulary. Her ambiguity is very convincing as the audience, entertained by her performance, nevertheless seems to pledge allegiance to Kate and marital stability. Dirik (Sylvia), Pierce (Greg) and Phyllis Walters (Kate) sustain throughout the comedy the metaphore of the wife scorened and explore the explosive emotions of a menage a trois.

Sylvia's costumes range from her initial park-pick-up sweatshirt and baggy pants to elegant velvet leg-warmers and ultr-chic party dresses Greg chooses for his femme fatale. Kate's wardrobe is teacher tailored and correct for the Shakespeare spouting educator.

Director Joseph Zamparelli Jr. uses the whole theatre as his setting. Sylvia frolics off stage and enjoys an amorous adventure in the park by running down the aisle to join her pack of fellow dogs while Greg and dog walker Tom (Brad Walters) philosophize on stage.

Walters titillates his audience in his two other roles. As Phyllis, Manhattan socialite trying to stay on the wagon, he/she garners so much laughter that the dialogue is almost drowned out. As marriage counselor, Leslie, he tries to patch up Greg and Kate's marriage in a raucous scene full of doubles entendres.

The Concord Players have another howling hit on their paws and are jumping up and down to welcome the area pack of two-legged dog lovers.