The Concord Journal Feb 3, 1977

'Jo Sosman, Craftsman for the Theatre'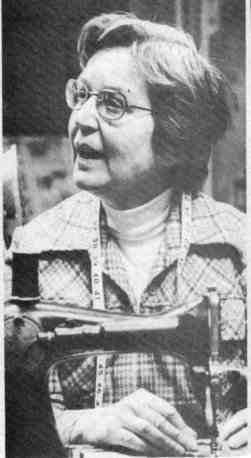 Abraham Lincoln in plaid trousers?
'I'll bet you a cookie that he actually wore them," says Jo Sosman, costumer for the Concord Players forthcoming production of "An Italian Straw Hat." "But you could never put plaid trousers on an actor playing Abe Lincoln in a modern production. The audience just wouldn't accept it.''
So it is the "feel" of a period of history that a play tries to reproduce. Precise details —like Abe Lincoln's plaid trousers - may be historically accurate but inappropriate, and may even alienate an audience. Or alienate the actors. The genteel ladies in "An Italian Straw Hat" are not costumed in the bone-wrenching corsets and tight-fitting gowns so typical of18th century Paris. But the grand dames of that time didn't ordinarily take crashing leans and swoops across theatrical stages. A bit of historical accuracy is sacrificed for the sake of good comedy.
"Of course, no community theater has the money or resources to recreate a period perfectly," Mrs. Sosman said.
"And even if you could, it might not be right. A play has to be larger than life. All those exquisite little details just don't carry beyond the third row of the house."
The design of "An Italian Straw Hat" placed extraordinary demands on costumes. The set is black and white. Four basic colors —green, gold, maroon and hot pink — are used in set dressings and costumes to establish relationships between characters and settings.
"The show depends on strong visual appeal," she said. 'There is a certain plush, extravagant air about the characters. But what little costume material we had in stock from the period was the wrong color. We had to start from scratch.
"I began the hunt for materials -- checking my familiar sources first. It was frustrating. I knew exactly what I wanted, but couldn't get my hands on it. Time began to get away from me during the Christmas season, and all of a sudden I had to scramble.
"Then I saw an ad for the Quincy Bargain Center. Have you ever visited this place? The most incredible mish-mash of stuff. And, by golly, there it was. Thick upholstery fabric, brocade, gold cloth, a whole bunch of 69-cent wigs -- all at prices I could afford. It's pure magic when you find exactly what you had envisioned"
Jo Sosman describes herself as a craftsman -- not a designer. And her standards for the art of creating costumes are simple: "They must be sturdily sewn together, and they must fit. An actor has enough to worry about without wondering if his sleeve will fall off when he makes the grand gesture."
A music major at Wooster College in Ohio, Mrs. Sosman had no particular training in theatre arts. She had acted in a few musicals, done a bit of domestic sewing, but none of her experience prepared her for the 300 hours of cutting, measuring and fitting needed to outfit some two dozen actors and actresses for "An Italian Straw Hat."
But Jo Sosman is obviously one of those problem-solvers so prized by organizations everywhere. It all began nine years ago when she volunteered to help out with costumes for a Concord Players production of "The Night Thoreau Spent In Jail."
A few early mishaps conspired to put the production behind schedule and, with two weeks to go before opening night, most of the costumes had yet to be assembled. The sewing machines were smoking!
"The help just came out of the woodwork. It was the most heartening experience of my life. But for the next show, I decided that costuming might be a lot more fun if we approached deadlines gradually -- just to demonstrate that it didn't have to be a mad scramble."
Since that first frightful experience, Mrs. Sosman has costumed about 15 shows. She also runs the Concord Players costume rental shop, a task that always seems to spill over into unlimited advice and counsel to novice theatre groups and schools.
The most interesting shows to costume? "That's easy. A production like 'Little Women' or others from the Civil War era. A very pretty period. An plays like this one, where the men dress so gloriously."
And the least interesting? "Any modern show that strives for realism. 'Streetcar Named Desire' was a fantastic success for us, but any costumer would call it dull. A bunch of poker players in wash-and-wear pants and faded sport shirts."