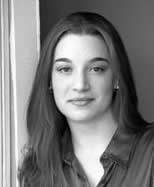 Alexandra Neville
Alexandra Neville (Mona) - Has been doing theatre since she was 12 years old and graduated from Salem State University with a BFA in Theatre Performance.

Alex is very excited to be doing her first show with the Concord Players with such a talented cast. She has been enjoying sharing the stage with former cast members as well as new ones.

Favorite roles include Honey in Who's Afraid of Virgina Wolfe and Elaine in The Graduate.

Alex now resides in Wilmington with her husband, Scott. She would like to thank Ben for casting her, her family, friends and of course her husband for all their love and support.