Concord Players Present Side Man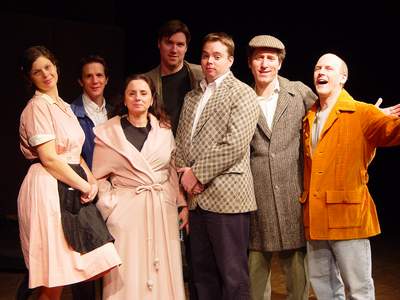 CONCORD, MA: The Concord Players present their second show of the season, Side Man, a portrait of the jazz era by Warren Leight, at 51 Walden Street, Concord. Performances are at 8:00 pm (matinee at 2:30 pm) and run February 8, 9, 15, 16, 17 (matinee), 22 and 23. Tickets are $14 ($12 matinee) and may be purchased at the Harness Shop or by calling 978-369-2990.
This emotional, moving drama takes the audience to the waning days of the jazz era, and one family's poignant story. The sidemen of the title - talented, supporting jazz musicians - are colorful characters, obsessed with their music and where their next gig will take them, to the detriment of their family life.
The story is seen through the eyes of the now-grown son of one of the sidemen, who has struggled to urge his alcoholic mother and jazz-obsessed father toward some sort of cohesive family unit. Woven throughout this family story is the chronicle of the music and musicians that made jazz famous.
Directed by Michael Jacobs, who also directed Rumors for the Players two years ago, the cast features Concord resident Lida McGirr. A long-time member of the Players, McGirr was last seen in Our Town. Other cast members include Robert De Vivo, Larry Jay Tish, Gordon Ellis, Mark Baumhardt, Mark Soucy, and Meghan Snowden. To find out more about Sideman or the Concord Players, check out their website at www.concordplayers.org.