Laura (Lisa Curtis)is so shy that she can't face dinner with Jim O'Connor, the "Gentleman Caller" (Jay McManus)

Amanda (Joan Wood) finds out that Laura has dropped out of business school.


"So what are we going to do now, honey, the rest of our lives?.Amuse ourselves with the glass menagerie?"
back to The Glass Menagerie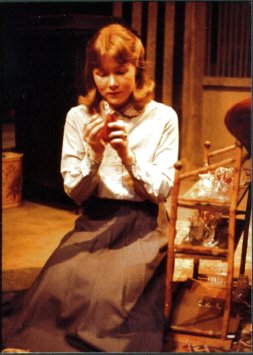 Laura and her treasure, the glass unicorn. "He loves the light. See how the light shines through him."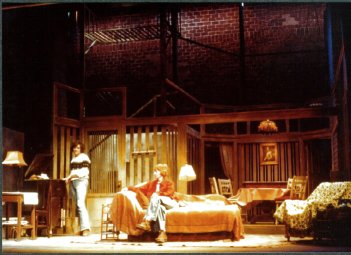 Technicians waiting for action on Ron Placzek's unique lattice-work set-a basement apartment with entrance from the sidewalk above.
| | |
| --- | --- |
| | |
| In a rage at his mother's nagging, Tom's (John McAuliffe) violent move shatters some of Laura's glass menagerie. | Jim tells Tom he wants to sell him a "bill of goods-a course in public speaking.which develops social poise." Both long to move up in the world. |

Players win theatre award
The Emact Award

Dorothy Schecter (second from left), accepts the Moss Hart Memorial award given in recognition of the production's excellence. Renowned drama critic Elliot Norton (lefty) and actress Kitty Carlisle made the trophy presentation.

Cast with award

Harry and Dorothy wrapping up their award

Dorothy flanked by producers
Michael Henchman and Lillian Anderson
back to The Glass Menagerie

---