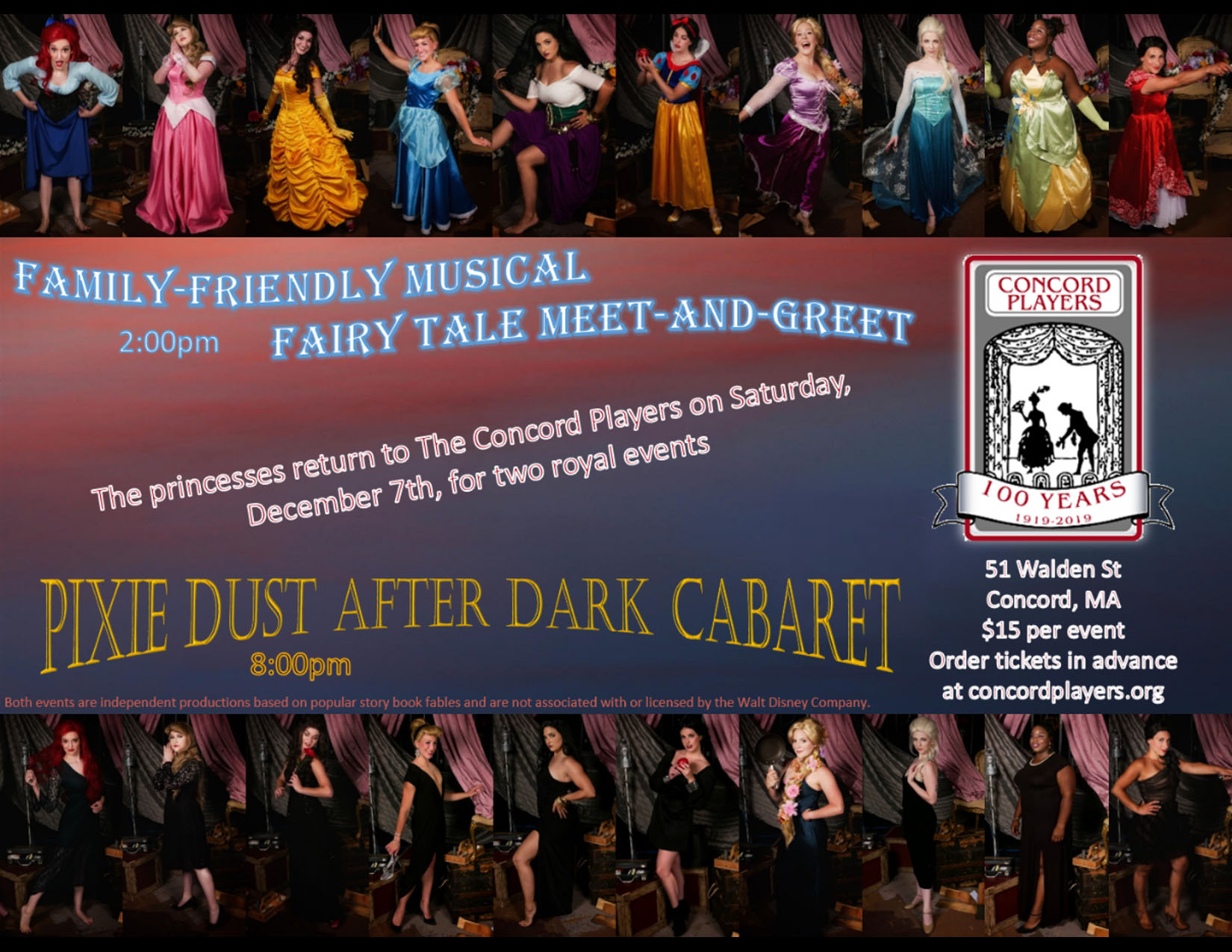 After last year's great success, your favorite fairy tale princesses and special guests are returning to the Concord Players on Saturday, December 7th, for two events: a musical fairy tale meet-and-greet in the afternoon, and an adults-only "Pixie Dust After Dark" cabaret at night. Local talents include Concord Players members Amanda Casale (Spamalot) and Meghan Rose (Funny Girl), as well as Lauren Cantos Smith, Samantha Casale, Audrey Clark, Jessica DePalo, Cara Guappone, Adina Lundquist, Jose Merlo, Kara Nelson, Barbara Pierre, Eric Rehm, Tristyn Sepersky, Carole Shannon, Daniel Sullivan, and Ryan Trapani-Goldberg.
The meet-and-greet at 2pm invites children (in age or at heart) to interact up close and personal with twelve fairy tale princesses as each performs their trademark musical number. There will be exclusive time put aside for photos with all of the princesses, as well as royally inspired gifts, food, drinks, and a surplus of musical and magical spirit. Your every dream will come true, for nowhere else can you meet THIS MANY princesses in one place!
Who says fairy tales are just for kids? Our twelve performers are joined by several special guests to present a cabaret (at 8pm) of villainous and more mature musical numbers, featuring a series of solos, duets, mash-ups, and medleys of your favorite royal numbers. Join us for beer, wine, food, laughs, and some magical nostalgia for a truly enchanted evening.
A wonderful time is sure to be had by all the fairest guests in the land!
Tickets are $15 per event; admission is for general seating.
Click here to purchase tickets online, or here for more options.