REMINDER: SHOW BUS ON THE ROLL AGAIN
Thursday, April 15, 2010. Alvin Ailey American Dance Theatre at the Wang Center, 7:30 p.m. Program includes: Uptown, Dancing Spirit, Revelations. 34 tickets available at $90 each (great seats!). Includes bus fare and refreshments. Bus leaves 51 Walden Street at 6:00 p.m. For more information call Susie Baldwin at 978-287-4898, or email

susanbal@verizon.net




LEROY NEWBOLD, BELOVED MEMBER OF PLAYERS




LeRoy died Thursday morning, February 25. His daughters, Beth and Wendy, and I were with him and I held him in my arms! I told him he was hanging on by a thread and to let go and he did. All told it was a good death and he looked like he was sleeping peacefully. I am, of course, heartbroken. He was such a nice man and I dearly loved him!

Cynthia Newbold





LeRoy was a big supporter of FOPAC and The Concord Players. He served as president of the FOPAC board, and was a long-time member and ex officio member of that board. He designed the ladder that goes up to the grid so that we could avoid expensive safety requirements involving a steel cage for the original ladder to the grid. I remember doing props with his first wife, Mary, many moons ago. She, too, was a big supporter of The Players and one of our most accomplished producers, until her death from lung cancer. The original green room kitchen was named in her honor. I do remember that they had a house in Vinalhaven ME with a lobster trap or two. She used to bring lobster salad as a "snack" for the actors and crew in plays she produced. LeRoy was an extremely nice, and a very quiet, but important part of 51 Walden.

Susan Tucker





For those who didn't know him, LeRoy was a super set builder, and was instrumental in many projects at 51 Walden. His son Stephen recently joined The Concord Players. Just last week I was standing backstage (stage left) and was looking at the ladder there, and it says on it: LeRoy's ladder.

Corinne Kinsman





The Newbolds were great contributors to the Players--even some of their children were involved. Beth, for one, did lighting and may have gone on to do it professionally; and Steve, the new member of The Players, also went on to a professional career. Mary Newbold, as Susan says, was the first great producer and compiled a producer's manual that was the bible for many years. She was the one who asked me to do my first show for the Players--a cutting of

The

Importance of Being Earnest

for NETC which became a full production the following fall. Quite a history for many of us.

Dorothy Schecter





A Memorial service is planned for March 20 at 10 a.m. at the First Parish Church.




REMINDER: BOX OFFICE MANAGER NEEDED




The position of box office/subscription manager is open as of June/July 2010 and offers a stipend. The Players produce three shows/year and sell subscriptions late summer to early fall. The job responsibilities are:
Fulfill all ticket requests (subscribers, web sales, phone orders, walk-ins, etc.).
Manage the box office on performance nights with the help of a team.
Monitor web sales and have web-ordered tickets available at performances.
Record all requests in an online database and provide periodic reports to the Board of Trustees and producers of a given show as needed.
Welcome guests at the door, resolve ticket issues, and answer any questions.
We will provide hands-on training this spring during our production of
The Scarlet Pimpernel
. If you are interested in filling this key and very important position for us, please email
jnewlon@logixinc.com
ABOUT LAURA LEVAN, VOLUNTEER COORDINATOR
I grew up in Oregon, so when I moved to Concord in 1990, I was excited to be living in a town with such a great history. All Americans know Concord, MA. When my sister visited me in 2003 we took a guided walking tour of historic sites in Concord. During the tour, I learned that Louisa May Alcott founded what became The Concord Players. I thought, as a Concord resident, I should support this important and historic organization, so I joined The Players. Each year, when renewing my membership I was asked if I would be interested in volunteering. I checked off backstage crew. Marion Pohl phoned me as she was getting people gathered to help on Sunday in the Park with George.

Since then, I've been hooked. I love the work, getting to know the wonderful volunteers, and I am still in awe of the amazing talent for each show! I never see theater anywhere now without appreciating what has gone on behind the scenes to produce it. Then, last fall, when I overheard discussion of a new position for Volunteer Coordinator, I suggested that I might be interested. And ... I am now the Volunteer Coordinator for Concord Players! To conact me, email
volunteers@concordplayers.org
Laura LeVan

NEW MEMBER OF THE CONCORD PLAYERS
Roland "Boot" Boutwell, recently seen as Dr. Bradley in The Man Who Came to Dinner, is the Players' newest member. Welcome, "Boot" and congratulations on entertaining us during every performance of the show.
COREY JACKSON DIRECTS
THE SCARLET PIMPERNEL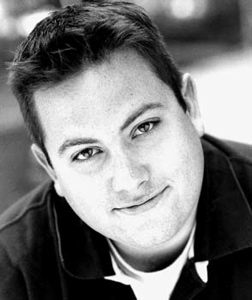 Corey has been involved in theater in one way another since 1984. As any theater person will tell you, once one has been bitten by the bug, there's no turning back. When Corey returned to Boston to begin a career in the computer software industry, he found community theater to be a perfect outlet for his creative energy. He has worked with Theatre III, Savoyard Light Opera Company, and The Sudbury Savoyards. He also performed professionally at Stoneham Theatre and joined The Village Theatre Project. Directing became a passion instantly. Since then, he has directed several plays and musicals in the area. For the Players he directed

She Loves Me

and the Spring 2010 production of

The Scarlet Pimpernel

.
The major reason he wanted to direct this show, and why most other theatre companies are too frightened to try, is the incredible production values needed to pull a production like this off. The set must create stunning visuals of British Estates,

Place de la Bastille

, and The Royal Palace. At one point the set will transform from a British estate to a schooner right in front of the audience's eyes. The dress of this period in European history is incredibly ornate, a challenge that The Concord Player's costuming team took on with a passion. It is going to be one of the most visually stunning performances The Concord Players audience has ever seen. That, combined with an important message, both timely and historic, and an incredibly talented cast of performers, and Corey believes The Players will have a very special creation on its hands.



MARIO CRUZ DIRECTS

SCARLET PIMPERNEL

MUSIC



Mario is back with The Concord Players and looking forward to working with the score of

The Scarlet Pimpernel

. He was last seen with the Players music directing

The Spitfire Grill

, and prior to that,

Chicago

. Mario has directed music around the Boston area for over 25 years. Other groups include Quannapowitt Players, Stoneham Theatre, Seacoast Rep, Vokes Theatre, The Footlight Club, Newton Country Players, Winthrop Playmakers and Arlington Friends of the Drama. By day he works as an e-Learning Director for John Hancock's HR Training group.
Here is what he has to say about working on

The Scarlet Pimpernel

with The Concord Players: "If I were to say something special about

The Scarlet Pimpernel

, it's that I'm a big fan of the show's composer, Frank Wildhorn. For this production we are fortunate to have a pit of 15 musicians, including, of course, live strings. The score is lush, with some gorgeous melodies, and the script is a great mix of drama, romance and light, well-placed comedy. Top this all off with a cast of some of the best voices from around the Boston area, and I can comfortably say this is one show you'll want to be sure to see! I am very happy to have been given the opportunity to once again work with The Concord Players and with director Corey Jackson."



PUBLICITY FOR

THE SCARLET PIMPERNEL


The Publicity committee is making plans for

The Scarlet Pimpernel

publicity campaign. They would be glad to have additional publicity help for this show. Anyone who wants to get involved, please contact Publicity Chair Marilyn Cugini at m.cugini@ampersand.com



ANNUAL MEETING DATE CHANGE


Due to building use issues, the date of the Annual Meeting has changed from Sunday March 14 to Sunday April 11. The time is still 7:00 p.m. At the meeting The Concord Players will be announcing next year's 2010-2011 slate of plays, voting for new Trustees, meeting the directors of next years' slate, hearing about their accomplishments of this last year, socializing with friends, and seeing a small entertainment directed by Faith Pelletier. Please put the date, April 11, on your calendar. Bring your friends for an evening of learning more about what The Concord Players are all about.



SHANA DIRIK SCORES IRNE NOMINATION


Shana Dirik has received an IRNE (Independent Reviewers of New England) nomination for Best Actress in a Musical. Shana wishes personally to thank the many Concord players and board members who have supported her throughout the years. Click here to see the nominations



DIE FLEDERMAUS AT 51 WALDEN



Johann Strauss Jr.'s operetta

Die Fledermaus

(The Bat) will be performed at 51 Walden St. on March 26 and 27 (8:00 p.m.) and March 28 (2:00 p.m.). This is a semi-staged performance entirely in English, with full orchestra, chorus, and professional soloists in costumes designed by Dolores Carabillo (Concord Players costumer), directed by Sarah Telford and conducted by Alan Yost (both of Gilbert and Sullivan fame in prior years). Soloists include Ray Bauwens, Robin Farnsley, Thom Kenney, Jeramie Hammond, Brad Amidon and others.
This show is a collaboration of The Concord Orchestra, Concord Band, The Concord Players and FOPAC to benefit operations and repairs of 51 Walden. General admission, but reservations advised: $25, $20 seniors/students. Call (978) 369-7911 or go to www.51walden.org