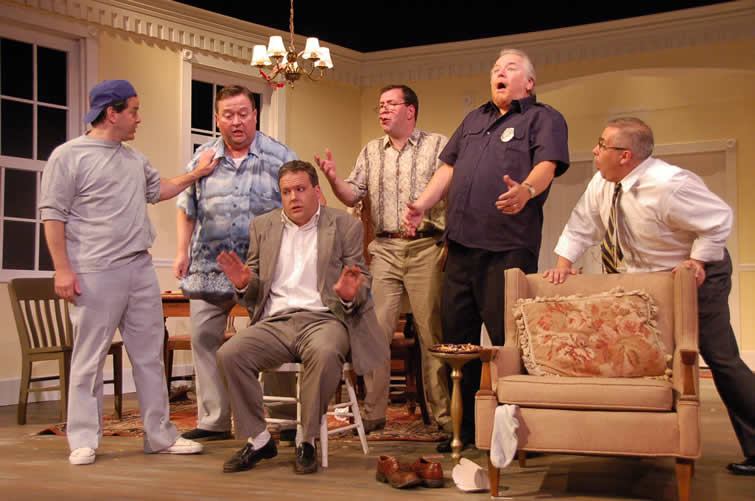 Julio Gomez, John Small, John Alzapiedi, R. Michael Wresinski, and Christopher DiGrazia react to Paul Murphy's "Felix" explaining that "he took a whole bottle of pills"
NOTES FROM THE BOARD
The Odd Couple opened on November 2 to the delight, laughter, and applause of a wonderful opening night audience! Thanks to all who contributed to making our first show of the season a resounding SUCCESS!
The Fall Huddle on October 21 was a fun time for all who attended! Concord Players members enjoyed the opportunity to reconnect with friends, discuss plans for the upcoming year, and enjoy the two superb one-act plays that were performed on 51 Walden's stage that evening: The Rental and Perfect.
The new stage curtain was installed and immediately put to work in our first production of the season, The Odd Couple.
Casting News:
Our second show of the season, The Lion In Winter, has been cast! The cast includes Tom Large, Lis Adams, Kimberly Schaeffer, Michael Babish, Tom Lawrence, Ian Dowell, and Mark Nimar. Performances will be on February 8, 9, 15, 16, 22, and 23 at 8:00pm, and February 17 at 2:00pm. The three ways to get your tickets are: (1) Order online on our website, http://concordplayers.org/ , or, (2) Call (978) 369-2990 and leave a ticket request on the answering machine, or, (3) Send an email with your ticket request to tickets@concordplayers.org .
Gordon Ellis is starring in, and JulieAnn Charest Govang is directing, "First Night" with Acme Theater Productions, November 16 thru December 8 at ArtSpace, on Summer Street in Maynard. Visit http://www.acmetheater.com for more information. JulieAnn will also be directing "The Drawer Boy" at Vokes Theatre in 2008

Other News:
FOPAC will be presenting the First Annual New Year's Eve Bash at 51 Walden on Dec. 31st, 2007. The Orion Big Band comprised of many of the musicians from the resident performing arts groups will provide lively dance music and will feature vocalists Brad Amidon (Frederic in last season's concert performance of The Pirates of Penzance) and Sarah Telford (Shelby in The Spitfire Grill and Kate in The Pirates of Penzance). Tickets are $90 per couple ($45 single) and include a live 15-piece dance band, party favors, hors d'oeuvres, and champagne toast. A cash bar will be available. Proceeds are to benefit FOPAC and may be reserved now! The hall has a limited capacity, so get your tickets early by calling 978-369-7911 or by visiting http://www.51walden.org.
Hear ye, hear ye! In conjunction with the Concord Center Holiday Open House, join the Concord Players for our annual Winter Welcome festivities on Thursday Dec. 6, 2007, following the lighting of the tree in Monument Square. The revels begin at 51 Walden Street, at approximately 6:45 p.m. It's a not-to-missed, free event for the whole family, featuring Madrigal Singers, Sword Dancers, and the classic play St. George & the Dragon performed by a cast of Mummers drawn from the spirited ranks of the Concord Players! A splendid time is guaranteed for all!
Paul Gill reports as missing the Players' only copy of his behind-the-scenes VHS videotape from the 1990-'91 season (the year of HMS Pinafore, Broadway Bound, and Lysistrata). Paul shot footage of auditions, rehearsals and green-room activities in support of all three shows. Paul asks everyone who recalls borrowing the tape to please search their personal library. You can contact him at pgee62@earthlink.net or 978-369-3006.
Visit the website at concordplayers.org or call 978.369.2990, mailbox 1 with questions.


Deadline for this newsletter is the third Friday of the month.
Send us your news at news@concordplayers.org