NOTES FROM THE BOARD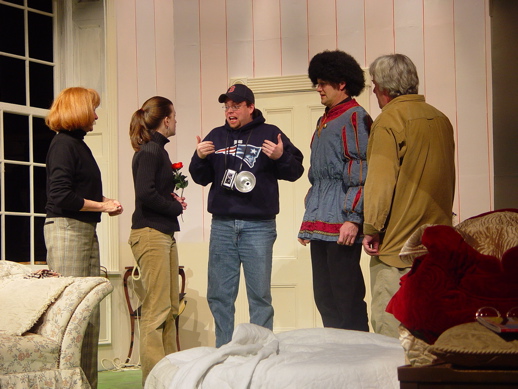 Gordon Ellis, as the Bellhop, explaining why he needs to get a photograph of the great opera star Tito Merelli. Lend Me A Tenor opens Friday, Feb 9
Board meetings are held on the third Tuesday of the month and we remind that all members of Concord Players are invited and urged to attend.

The Hutchins provided a delightful venue for our January board meeting, providing a great atmosphere and, by the way, delicious food and drink. A fine way to begin the New Year! Thanks!

The Heddie Kent Greenroom is back. A truly hardworking and dedicated crew of people showed up last Saturday to help with the moving of all the things that had been stored in the basement during construction. There will soon be another day set aside for the remaining clean-out work that needs to be done, and we'll keep you posted and ask your help. Pat Kane, Katy Blair and Lori Livermore Hack are doing some shopping and research regarding new furniture for the greenroom. As we have lost some storage space in the g.r. from the renovation. And P.S., at "workdays" we'll be having a raffle for two tickets to opening night of the next show!

Bill Maxwell is finishing the painting of the greenroom and asks for volunteers to help with the project. Please contact bill at ** if you're willing to lend a hand.

Thanks to Middlesex Bank, who have promised a grant of $5,000.00 toward our renovation project!

Welcome to our new costumer for Lend Me a Tenor. Susan Yanofsky will be dressing our cast for the show.

We have some conflicts of date, personnel and funds regarding this year's Follies. All things considered, it was decided to cancel Follies for this year.

…and speaking of conflicts, two of the exec. Board members are unable to attend the annual meeting on the usual date, so the Board moved to change the date for this year's annual meeting to March 25. Mark your calendar!

New Slate of Plays for next season! The committee has been diligently working on finalizing a proposed list of plays for our approval and will be presenting a slate at the next board meeting for vote.

Lillian Anderson reports that the nominating committee is working on a proposed slate of officers for the coming year. The committee anticipates presenting a report by March.

Please add these members to your 2006-7 membership book:

Kathy Booth, 44 River Rd., Carlisle 01741 978 369-5702
Mitch and Susan Eckel, 108 Crescent Rd., Concord 978 369-9374
Marcella Fischer, 50 Garfield St., Watertown 02472 617 924-1264
William "Fritz" Kussin, 22 Concord Greene, #4, Concord
John McAuliffe, 4 Leonard Rd., Boxboro, MA 01719 978 263-0745

SHE LOVES ME is looking for publicity people to help work on the show. If you have an interest in writing articles or heading up this area please call Cheri Fletcher at 978-369-1561, or email: Cheri_Fletcher@hotmail.com. Come join the team and let's have fun!
HELP! In our continuing effort to raise money for the new stage, we'll be presenting a dance show, Don't Stop the Rock, with Karrie Stang on February 25 at 2 PM. We still need some technical help, specifically, people to run lighting and a stage manager. Please be kind and contact Jay Newlon at jnewlon@logixinx.com to offer your help.
Deadline for newletter items is the third Friday of the month.
In a show? Let us know!