NOTES FROM THE BOARD
The board meeting this month started off with a celebration of the efforts of all those people who worked so very diligently to bring this tremendous project to completion. The honored guests were on hand to be welcomed and thanked before the board meeting on Tuesday. Great job everyone! Thanks so very much!
All My Sons is in its final weekend and has enjoyed very good audience response. We're all very proud of the production, and extend thanks to all the people who worked so hard to make this the wonderful production it's been. We're off to a great season!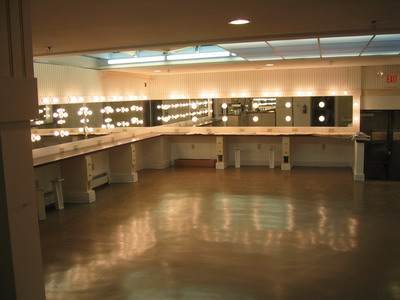 the greenroom near the end of the renovation. Now we need volunteers to get it sorted and set
Getting back into the Green Room is going to take a lot of effort, so we're asking for some volunteer help for cleaning, sorting, painting. We'll be deciding on a date at our next meeting, but please try to set some time aside in January to help. We'll need lots of willing hands!
Thanks to all the audience members who completed our questionnaires at the recent performances of All My Sons. We're hoping to bring plays to our theatre that will please our audiences, and your input will help us greatly in determining what you like best.
And our next show, Lend Me a Tenor, has been fully cast! Indeed, two of the actors cast are currently playing in All My Sons! Guess they like it here…Joining these two troupers (Michael Govang and Allison Rudmann) in the cast of Lend Me a Tenor will be John McAuliffe, Sarah Telford, John Small, Rachel Robiner and Gordon Ellis. Break a leg!
Some winter fun! There will be three great fundraisers planned for this winter, and we hope you can come and join the festivities. Starting us off will be a Messiah Sing at 51 Walden St. on December 17th at 2:00. If you have your own libretto, please bring it along. Next on deck is Karrie Stang in her show "Don't Stop the Rock!" planned for February 25, 2007, and finally, to welcome spring, a concert version of Pirates of Penzance, a collaboration of all three tenants of 51 Walden St. If you'd like to be part of this production, watch for more details.

Kristen Orfanos is starring as Madame de Tourvel in the Wellesley Players production of Les Liaisons Dangereuses opening Nov 3rd at the Sorenson Theater
The Concord Players would like to extend their sincere sympathies to Joseph Zamparelli, Jr. for the loss of his mother, Margaret, on November 2nd, after a 30 year battle with Alzheimers Disease. Joe, as he is known to us, has been a long time participant in the Players and many other theaters , both in the acting and directing venues. If you would like to make a donation in Peggy's memory, please send to:
St. Joseph's Church, 118 High St., Medford, MA 02155
In a show? Let us know!