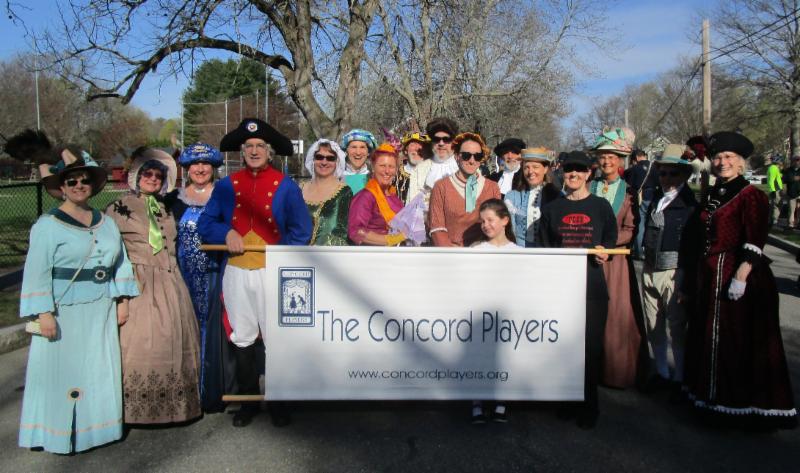 The Concord Players were well-represented in the Patriot's Day parade on April 17. l-r: Connie Benn, Susie Schmidt, Sara Ballard, Mike Lague, Kathy Lague, Jay Newlon, Mary Turner, Keith Turner, Craig Howard, Nicole O'Keeffe, Lizzie Springer, Dana Booth, Meg Springer, Anne Bantly, Andrea Roessler, Andy Swansburg and Kathy Booth.
THE PRODUCERS A REAL HIT

Not one. Not two. But three, count 'em, three standing ovations for the Concord Players' opening weekend performances of Mel Brooks' The Producers. "I want you to have fun up there," said director Brian Kelly to his performers on opening night. And boy did they! Twenty four cast members sang and danced their way through 27 musical numbers, dozens of scene changes and too-many-to-count split-second costume changes in the wings. Crew and costumers stayed busy juggling set pieces, costumes, props and even actors to keep the show apace.

The fun was infectious. Audience members voiced their appreciation with cheers and applause throughout the performance and rose to their feet to pay worthy tribute to an ensemble that would surely make Mel Brooks proud. And why wouldn't he? This production has all the "tinsel and glamour" one would expect on The Great White Way. Allen Bantly's ingenious sets move and fly throughout the show; scenes change as if by magic. Carol Antos' costumes glitter, even the prison stripes! The orchestra, led by Lee Condakes, sounds as though they've been playing together for years - not a note out of place. Choreographer Katie Alexander has combined ballet, jazz and the great rhythms of tap dancing to create a moving masterpiece with her dancers. It all comes together under the artful direction of Brian Kelly, who inspires collaboration among the entire talented ensemble. The result is a night of theater that leaves audience members with a smile on their faces and a spring in their step. Tickets are moving fast, so go now to our website to reserve your seat - and have fun out there.




MAY EVENT AT 51 WALDEN

May 19, 20 and 21. Friday and Saturday at 8 p.m., Sunday May 21 at 2 p.m.

The Concord Orchestra Pops:

Ol' Man River

. Vocalist Jeffrey Corn sings a Jerome Kern medley by Bernard Hoffer. Also on the program is

The River Suite

by Duke Ellington,

The Moldau

by Smetana, and selections from

The King and I.

Table seating, refreshments for purchase. Call 978-369-4967 to reserve or buy

on-line

DICK HATCH HAS LEFT US

Richard M. "Dick" Hatch, Jr., 96, a founder of the 51Walden organization and an award-winning set designer for The Concord Players, died peacefully in his sleep on April 11. Born in Watertown on July 24, 1920, Dick was a child of parents who had grown up in Concord. He and his wife Mary Jac took up residence in West Concord in 1952. Dick's first volunteer effort as a set designer (followed by a dozen more) goes back a half century to

A Taste of Honey

, for which NETC awarded him Best Set Design. Along the way he also served as Players president.

As a founder and president of Friends of the Performing Arts in Concord (now known as 51Walden), he famously re-conceptualized the auditorium at 51 Walden St. to include a music stage at the opposite end-which opened the way for Band and Orchestra events by night and concurrent set construction by day. He also designed and created the lobby. Upon his retirement, he and Mary Jac relocated to Cape Cod. There he became president and acting executive director of the Academy of Performing Arts in Orleans. But he and she never lost interest in Concord events, and rarely missed a Players opening-night gala.

After her death in 2010, Dick moved back to Concord to reside at Newbury Court. The family has requested that gifts in his memory be directed to the 51Walden Performing Arts Center, P.O. Box 251, Concord, Mass. 01742.




PLAYERS NEWS

The Burlington Players will be presenting the musical Man of La Mancha from May 5 through May 20. The show is directed by Ben Delatizky. The role of Don Quixote will be played by Tom Frates. Current and former members of The Concord Players appearing in the show are Roland Boutwell, Robert Hallisey, Arthur Comer, Alexandra Neville, Kate Beattie, Maria Sundquist, Peter Nawrocki and Margaret Healey.

Craig Howard will be appearing as Tevye in the Colonial Chorus Players' production of the classic musical Fiddler On The Roof, to be performed at the Parker School in North Reading MA the weekend of May 12. Information and tickets at ccp1961 And please mention Craig when you order your tickets!