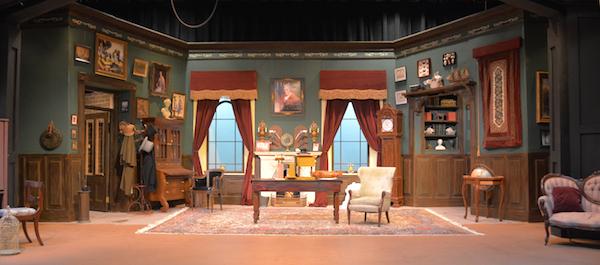 Another Allen Bantly masterpiece, the set for Around the World in 80 Days.
WOULD-BE DIRECTORS TAKE NOTE!

The Play and Director Selection Committee is about to begin the director interview process for the 2017-18 season. While emails with our recommended play list will be going out shortly to directors, we also invite any and all interested directors to get in touch with PDSC chair Craig Howard, so that we can be sure to send you our invitation and Board-approved playlist (keeping in mind that we are also open to workable suggestions from directors). The RSVP deadline is Nov. 7. Craig can be reached at

PSEUDOL@aol.com




AUDITIONS FOR THE WINTER SHOW

Auditions for our winter production,

Blithe Spirit,

will be held on Nov. 16 and Nov. 17 by appointment, starting at 7:00 p.m. Callbacks on Sunday, Nov. 20, if necessary. Auditions will consist of readings from the script. Sides will be sent to auditioners by November 10. The director is looking for actors and actresses who have solid comic timing and can master a British accent, with the possible exception of Madame Arcati. Roles available for 5 women and 2 men. To arrange an appointment, go to the Players

website





PLAYERS NEWS

Kate Beattie is in the Theatre to Go production of Dancing at Lughnasa, Nov. 4, 5 and 11-13. Ticket prices $13 for students/seniors, $15 ordered in advance and $17 at the door. For more information, go to theatretogotheatretogo




Craig Howard will be appearing as Ebenezer Scrooge in the musical version of A Christmas Carol. Other Players include Joshua Wright as Bob Cratchit, Tom Richardson as Marley's Ghost, and Laura Deschaines as Mrs. Mops/ Ensemble and Assistant Choreographer. Weston Friendly Society, Weston Town Hall, November 26 to December 4. Tickets for cabaret-style and balcony seating at westonfriendly




Tom Frates will be starring as Jimmy Winter in the Savoyard Light Opera's production of Nice Work If You Can Get It, November 12-20. The cast also features current and former Players Diana Doyle, Jon Saul, Connell Benn, Mike Giblin, Lonnie Powell,, Katy Downey, Laura Gouillart, Briana Bensenouci, Lisa Tierney, Joe Kandra, Chris Karalekas, Graham Daley, Joy Playter, Heather Pruiksma and John Lynch. Music direction by Katherine Engel Meifert and choreography by Crisanto Guadiz. Tickets at savoyardlightopera




MEMBER SPOTLIGHT: RIK PIERCE

You already know him. If you're old enough that is. He was the star of then-infamous Hai Karate cologne commercials in the 1960s. You can see them here:

commercial

What you can also see is that Rik Pierce never needed a fancy cologne to attract a gaggle of beautiful women. His good looks, effusive charm and exceptional talent were all he needed to snag the girl of his dreams, and he's been living with Nancy happily ever after.

But we digress.

Rik is Concord Players' resident photographer, actor, comedian and webmaster. When he isn't busy with those jobs, he's entertaining seniors at retirement and assisted living communities in the area as part of the The Concord Traveling Players.

He began his career as a thespian by way of literary aspirations. He thought he'd be a writer, but in college discovered that the stage was calling. His instincts were right. An off- Broadway producer saw him in an amateur comedy club production of Boy Meets Girl and offered him a part in Pirandello's The Lesson. It was an offer too good to refuse, so he quit his job at a publishing company and hit the boards. But The Lesson closed after two weeks. So Rik did what any self-respecting unemployed actor would do. He commissioned a headshot, applied some creative embellishments to his resume and pounded 42nd Street looking for another acting job. When that didn't happen, he enrolled in the Hubert Berghoff acting school, studying under Uta Hagen. Soon came work in commercials, and then the BIG BREAK, a part on Broadway! Here's how he describes what happened:

DON'T MISS AROUND THE WORLD IN 80 DAYS

Hold onto your seats for the original amazing race! Join fearless adventurer Phileas Fogg and his faithful manservant Passepartout as they race to beat the clock! To win an outrageous wager, Fogg sets out to circle the globe in an unheard-of 80 days. But his every step is dogged by a detective who thinks he's a robber on the run. Danger, romance, and comic surprises abound in this whirlwind of a show.

Buy your tickets to opening night and join us for the Opening Night Gala, a spectacle of food and drink. Tickets

can be purchased at the Players website, or by calling 978-369-2990.




Around the World cast acting up and out.




WE HAVE LOST A STAR PLAYER

Betsy Connelly passed away on Tuesday, October 18. She was involved in many Players productions, including

The King and I, Once Upon a Mattress, A Taste of Honey, The Night Thoreau Spent in Jail, Riders to the Sea, Equus

and

Evita

. She was president of The Players during the 1976 Bicentennial celebration. In 1988, she won the Best Actress award at the New England Theater Conference competition for her role as Fanny in

Painting Churches

. A memorial service will be held at 2 p.m. on Saturday, November 19, at the First Parish Church, 20 Lexington Road, Concord Center. In lieu of flowers, donations may be made to The Concord Players, 51 Walden Street, Concord, MA 01742, or to The First Parish, 20 Lexington Road, Concord, MA 01742.

-----------------------------------------------------------

RIK PIERCE CONT.

"

In the late 1960s I got a small part in a show on Broadway called Avanti, written by Samuel Taylor. The play opened with Robert Reed and me on stage giving expositional dialogue, and ended with me slamming a door. I'll never forget getting applause on opening night with my exit! But Avanti lasted only one week longer than The Lesson."

Undaunted, Rik continued to act, making a living for 25 years doing summer stock and commercials. Then, just about when Nancy was finishing her PhD, Rik decided he might be getting too long in the tooth to land any more work in commercials.

So they moved to Carlisle, where Rik's cousin told him all about The Concord Players. He called Tillie Sweet, who told him to hurry on down to 51 Walden and try out for Chorus of Disapproval. He got the part and has been a regular on the Concord Players' stage ever since.

But that's not all he does at 51! Curious, savvy and multi-talented, Rik has taught himself photography and easily keeps pace with new technologies. You may not see him at rehearsals, but that's because he's high on a ladder shooting close ups and wide shots for the shows' publicity. Those headshots in the lobby are probably by Rik, too. And, ever the autodidact, he taught himself how to build a website and... voila! The Players had a website. That was in 1997, and ever since he has been posting our shows, our pictures, our schedules, our special events, and keeping our site up to date.

The Concord Players is a remarkable organization for many reasons, not the least of which is that its mission and work are propelled almost entirely by volunteers. For more than 100 years, people like Rik have donated hundreds of hours each year to the Players, producing shows of professional quality that not only entertain, but build and sustain community.

Players' president Tracy Wall knows better than most the value of volunteers in community theater. She spends hundreds of hours herself each year designing and building award-winning costumes, assuaging artistic egos and rolling up her sleeves to dig into the nitty gritty of keeping an organization afloat. When it comes to Rik, she expresses what anyone who knows him would surely say:

"Rik is a treasure," she says. "On stage, back stage, in the greenroom, behind the lens, and every place in between, he delivers a bravura performance for us, and is a mainstay of support for the work we do."

So, even if you're not old enough to remember those Hai Karate commercials, make it a point to introduce yourself to our very own Rik P. You'll be doing yourself a favor.