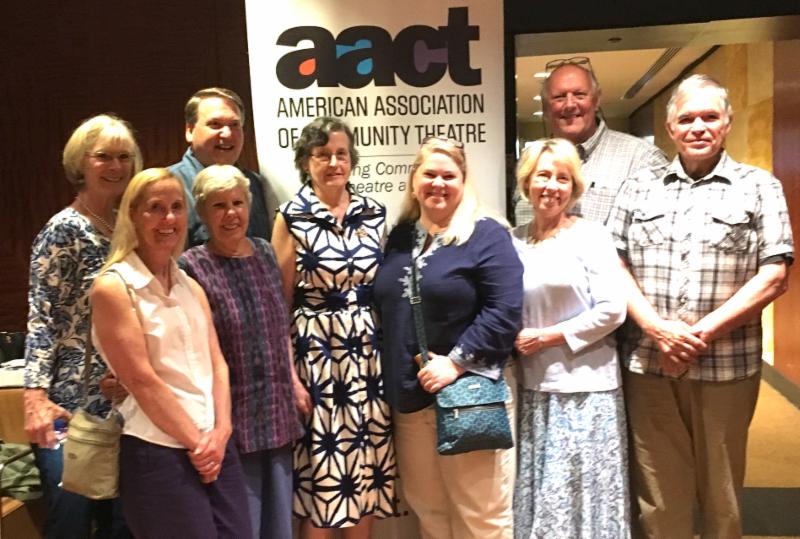 Players attending NYC AACT
Robert E. Gard Superior Volunteer Award
to Susan Tucker.
She is a constant presence, like the theater ghost, except that ghosts make trouble. She makes things right. At 69, Susan Tucker has been a member of The Concord Players for more than forty years. Forty years, more than eighty shows, a few hundred production meetings and thousands, no, millions of moments expertly practicing the alchemy we call theater.

When gold and purple threads of light weave into an Alabama sunset on The Concord Players stage, we find Susan at the board. When the actor reaches for his prop so surely placed that he knows he doesn't have to look, it is Susan who has placed it. She is the script doctor, the crew chief, the mentor, the designer, the doer. She is the unflappable stage manager who navigates us through the dark; calm and steady as the pages turn and the flats slide through the legs. Susan listens keenly and takes action quietly. Problems appear and then they are gone. Disagreements get settled, sets get built. And flats, aloft in the fly space, materialize exactly when and how they should.

Susan was only in her twenties when drawn to The Concord Players. Soon after, the venerable Heddie Kent, herself a recipient of the Robert E. Gard Superior Volunteer Award in 2001, became Susan's mentor, tutor and friend. Heddie imparted years of acquired knowledge in the practice of theatre, as Susan honed and refined her own instincts for the craft. Heddie consistently demonstrated that good theater combines free flowing creativity with the discipline of a calm head and steady hand. The student surpassed the master and generations of theater goers have benefitted as a result.

It isn't possible to quantify the value of Susan Tucker's contributions to our historic organization, or to calculate how those contributions have inured to the benefit of an entire community. She regularly employs her expert knowledge and negotiating skill to acquire technical equipment for three performing arts organizations that share the same space, saving thousands of dollars in the process. Most recently, she stewarded the installation of state-of-the-art equipment for the hearing impaired in our facility, enabling audiences for concerts, vocal performances and drama to have a fully enjoyable acoustical experience. She has overseen the purchase and installation of curtains, lighting equipment, pipes and rigging, ensuring both optimal production values and highest standards for safety.

Susan builds bridges as well. As a representative for the Players in the Town of Concord and the eastern Massachusetts regional theater community, she has served on numerous boards for this theater and several community theaters in neighboring towns. She frequently functions as mediator, negotiating difficult compromises in the interest of the communities at large. Her personal integrity is unimpeachable, inspiring others to cooperate and conciliate when conflict threatens to persist.

PLAYERS NOMINATED FOR 22 DASH AWARDS

Proof

(Play): Allen Bantly for Best Set Design; Susan Tucker for Best Lighting Design; Anne Bantly for Best Set Dressing.




Amadeus

(Play): for Best Production; Kirsten Gould for Best Direction; John Alzapiedi for Best Lead Actor; David Gould for Best Stage Management; Brian Harris for Best Set Design; Anne Bantly, Allen Bantly, Larry Blundell, Page Evett, Brian Harris and Linda McConchie for Best Set Dressing; Tracy Wall for Best Costume Design; Marie Petrie

and Liz Bishop for Best Make-Up and Hair Design; Anne Bantly and Linda McConchie for Best Prop Coordination.




Follies

(Musical): for Best Production; David Berti for Best Lead Actor; Margaret McCarty And Lea Oppedisano for Best Lead Actress; John Murtagh for Best Stage Management; David Allen Prescott for Best Set Design; Anne Bantly for Best Set Dressing; Robert Pascucci for Best Sound Design; Shahn Knights for Best Costume Design; Marc Capizzi and Karen Burum for Best Make-Up and Hair Design; Anne Bantly for Best Prop Coordination.




Cast

: Phileas Fogg,

Andrew Harrington

; Passepartout,

Slava Tchoul

; Aouda, Newspaperwoman, etc.

Mary Helan Turner

; John Sullivan, Fix, Elephant Owner, Young Parsi, and more!

Terry Tamm

; Andrew Stuart, British Consul, Sir Francis, Judge Obadiah, Bunsby, and more!

Chuck Holleman

; Gaulthier Ralph, Oysterpuff, and more!

Alex Jordan

.

Production Team: Director, Teddy Crecelius; Stage Manager, Paula McNabb; Producers, Kent Miller and Paula McNabb; Set Design, Allen Bantly; Props, Anne Bantly and Linda McConchie; Lighting, Susan Tucker; Makeup, Charlie Atherton.

________________________________________


SUSAN TUCKER CONT.

Susan is the spine of our organization: steely, straight and strong, supporting all of the ways we need to bend and flex to adapt to the happy surprises that come with making theater. Her acumen in the theater is surpassed only by her quiet grace and unassuming demeanor. She seeks no reward other than to do good work in mutual respect with her peers. It is to honor these rare attributes that we nominated Susan Tucker for the Robert E. Gard Superior Volunteer Award, which she recently received from AACT. It is because of these rare attributes that the impact of her work will remain, making things good for many generations to come. Even the ghosts will behave.