THE HOUSE BEAUTIFUL
The crumbling Weissmann Theater in Stephen Sondheim's
Follies
is a not-so-subtle metaphor for the show's characters, who gather for one last look at their glorious past. The show itself is a definitive example of art imitating life. Flo Ziegfeld, the true-life "Dimitri Weissmann," began his infamous Follies in small vaudeville halls in New York, but his first true spectacle appeared in 1913 at the New Amsterdam Theater.
Built in 1903, it was described as "the house beautiful." Within its walls were two theaters, an elaborate lobby, a grand staircase, offices, lounges, murals and glorious architectural details, all lavishly appointed in the rich art nouveau style of the time. A rooftop theater was reserved for some of the girls' saucier performances, most notably dancer Claire Luce riding a live ostrich with a bejeweled collar across a jungle setting.
It wasn't just Flo Ziegfeld's beauties who graced the boards of the theater. For decades, works from distinguished playwrights were performed by the era's greatest performers.
The Great Depression marked a slow decline of the architectural grand dame, and the decades took their toll. The splendid theater was reduced to a movie house for action films, and its glorious past was forgotten, until a redevelopment project in 1992 earmarked $36 million for its restoration.
By 1997, the "house beautiful" was beautiful again and began her second life with the opening of Disney's The Lion King, a spectacle worthy of Ziegfeld's memory and the building's magnificent history.
Ziegfelds' own theater didn't fare so well. In 1923 he built a 1700-seat palace as a home for his lavish productions, and for a while his beauties were on display there. But even Flo Ziegfeld couldn't escape the Depression's broad decline. Like the New Amsterdam, the house was relegated to the role of movie theater. But unlike the "house beautiful," it didn't survive modern urban development and was torn down to make room for a skyscraper in 1965.
As we follow the narrative in Follies, we see that the past can never be recaptured. Beauty fades, fame evaporates. The old must always step aside for the new. But director Donnie Baillargeon says the show teaches us something else. There's always another chance, he says, we can always find another way. It was true for the New Amsterdam, which stands again in architectural splendor. And it's true for Ziegfeld, whose own palace is no longer extant, but whose legacy as one of the great Broadway producers of the 20th Century is secure. --Linda McConchie
Follies opens on November 6 and tickets will be on sale soon.
MARK YOUR CALENDARS!
AUDITIONS FOR PROOF, AMADEUS
Auditions for the winter show, Proof, directed by Nancy Curran Willis, will be in November, dates TBD. The audition dates for the spring show, Amadeus, directed by Kirsten Gould, are January 6, 7 and 10, 2016, at the Fenn school. More info soon!
PLAYERS NEWS
Paul Murphy will be playing the part of Bill in Marblehead Little Theater's production of August Osage County. This riveting play is the winner of both a Tony Award and Pulitzer Prize. Performances October 9, 10, 15, 16, and 17 at 7:30 and October 11 and 18 at 2:00. Tickets can be ordered online here
A Celebration of Life for Dorothy Schecter, who passed away in August, was held at 51 Walden on Sunday, September 27. The celebration went exceptionally well. Her granddaughter Jenna Worsham organized it, and everyone who spoke was most eloquent, especially Dorothy's god-daughter, the actress Nancy Carroll, who was excellent and very funny. Stephen Collins performed an introduction, a variation on his opening speech as the stage manager in Our Town (The theme of the celebration was "Our Dorothy".) A reception followed.
DOWNTON ABBEY DIVAS!
The United Woman's Club of Concord invited the Concord Players' Costume Divas and friends to model turn of the century fashions at their September "Downton Abbey Tea." Tracy Wall, Players President, gave an excellent talk and slide show on how technological advances helped liberate women and encouraged them to drop their corsets and shorten their skirts. Models Kathy Booth, Carol Antos, Anne Bantly and Liz Bishop strolled through the audience in fashions from Concord Players' costume closets. Their outfits were authentic in period style with beautiful gowns, hats, shoes and gloves, including even knickerbockers and a WWI nurse! Shortly after their performance, they received another invitation from the Concord Council on Aging to repeat the fashion show. Brava ladies!
GIANT RUMMAGE SALE
Saturday, Oct. 10 from 10 a.m. to 5 p.m. to benefit the Opera51 production of Romeo and Juliet next June. Clothes (including some designer stuff), household goods, antiques, books, toys, crafting supplies and more! Saturday, October 10, 10 a.m. to 5 p.m. at 51 Walden, in beautiful Concord Center. Admission is $1, refunded with a purchase. For further information call 978 369-7911.
BLAME THOSE GERSHWINS, A WILL McMILLAN CD
Do you remember Will McMillan, a Broadway and cabaret artist who performed for one of our big fundraisers?
I was delighted when he asked me to review his CD, Blame Those Gershwins, with music composed by Steve Sweeting, who also is on piano. I've listened to it several times now, and I really love it. The title song playfully borrows themes from the greats: the Gershwins, Cole Porter, Johnny Mercer, Jerome Kern, Irving Berlin, and more.
The lyrics for many songs were written by Sweeting, and McMillan wrote the words for several of the other songs.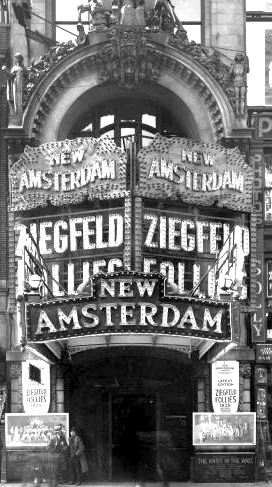 Original Ziegfeld Theatre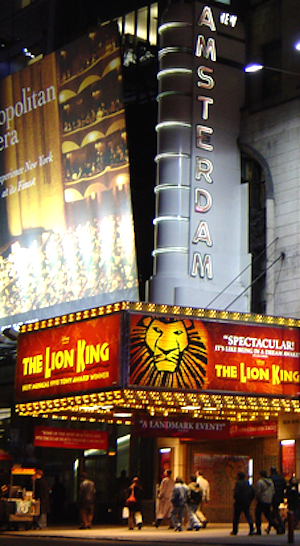 The new New Amsterdam
GET YOUR SUBSCRIPTION NOW
Have you ordered your subscription yet? Tickets for Follies will go on sale soon! Order a subscription for all three shows. The rate of $55 is 20% off the ticket price, and you can request a seat assignment before they go on sale to the general public. Don't miss out on this acclaimed season, with its line-up of all-star directors! Visit our website to get your subscription today.
CHECK OUT THE OFFICE!
Folks have been hard at work tidying up the Players office space. Office? You might very well ask. The office is that dark, crowded little space in the corner of the Green Room, next to the stairs from the tunnel. It has been a repository for everything from leftover T-shirts, makeup, posters, programs, old scripts and post cards to a giant stuffed cow. Well, all that has changed! A team of folks including Brian Harris, Kathy Lague, Craig Howard, Allen and Anne Bantly and Tracy Wall has been dusting, cleaning, painting, sorting scripts, putting up shelves and filing boxes of stuff that have been until now scattered to the winds.
There is also a copier, and soon we'll have WiFi in the Green Room. The end result is a tidy, clean space we can use for a long time to come, to keep track of all of the doings of The Concord Players.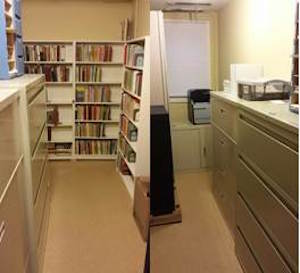 Stop by when you're at the theater next to take a look at the "new" space. Support for this project comes from a grant from the Valerie Beth Schwartz Foundation, who gave us funds to revamp the downstairs area of 51 Walden. This is only the first part of the project. We'll be tackling the tunnel, bathrooms, dressing rooms and the Green Room, too! More to come.