SEASON SUBSCRIPTIONS ON SALE
You aren't going to want to miss the upcoming 2015-16 season! We'll kick things off (literally) with Follies by Stephen Sondheim and James Goldman. Donnie Baillargeon (Drowsy Chaperone) will direct this lavish, nostalgic look at musical theater between the two wars. To warm up the winter, Nancy Curran Willis (Cabaret, Kiss Me Kate) will be back to direct the Pulitzer-prize and Tony-award winning Proof by David Auburn, which investigates genius and insanity. And finally to close the season, we'll follow the relationship between Salieri and Mozart with Peter Shaffer's Amadeus, directed by Kirsten Gould (Sound of Music, West Side Story, 1776, Honk). Go to the Players website today to sign up for a $55.00 subscription to our 2015-2016 season. Because we have had quick sellouts of past shows, we encourage you to take advantage of this great subscription price now, before our big marketing push. Tip: Opening Night ticket holders are invited to a 7 p.m. reception with hors d'oeuvres, drinks and desserts before our first performance. These receptions are great reunion opportunities for local actors and friends.

OUR NEW PLAY/DIRECTOR SELECTION COMMITTEE
The 2016-17 Play and Director Selection Committee is ready and rarin' to go! Ongoing chair Craig Howard (back for a third year as chair, frequently onstage with The Players and various other companies, as well as a past board member in Weston and Carlisle) is happy to welcome back Laura Gouillart (performer in many musical, operatic and G&S productions, as well as a member of our costume department) and Russ Gannon (often onstage, and no stranger to TV and big-screen cinema). Our new committee members include Michael McGarty (a respected stage director of Dirty Rotten Scoundrels and Desk Set, as well as Executive Director at the Massachusetts Educational Theater Guild), Mary Fitzpatrick (an experienced stage director of The Matchmaker), and Jay Newlon (past Board member and President, and member of the Concord Chamber of Commerce).

ADVERTISING IN PLAYERS PROGRAMS
Are you looking for new and additional ways that you can provide some material support to the theater that we all love and admire? Have you ever wondered how we're able to produce such well- designed programs that provide so much detailed information about the remarkable theatrical experience that awaits you each time you come to a show? Have you thought about bringing your business to the attention of the other 6,000 people who come through the halls at 51 Walden Street each year just to see our plays? If you have, please contact Jay Newlon, Program Ad Chair, at jnewlon@concordplayers.org By contributing in this way (we offer ridiculously modest rates on advertisements of all sizes) you will help your business flourish and keep the most professional community theater in Greater Boston thriving.
DON'T MISS SUMMER SHAKESPEARE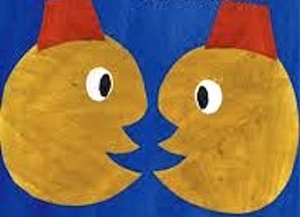 The summer Shakespeare production of The Comedy of Errors will be performed on the lawn of the main library at 5:30 p.m. on Saturday and Sunday, July 25-26 and August 1-2. For details, see the Players website
PLAYERS NEWS
Jill Henderson has stepped down as VP of Operations for The Players, though she won't be too far away. She will continue to assist with fundraising, auditions and the fabulous Opening Night Galas that have become a tradition. As of July 1, Brian Harris, who has been serving as Secretary, will be stepping up as VP of Operations and Paul Murphy will be returning to the Board as Secretary. We thank Jill for her many years of service and welcome Paul.
The EMACT (Eastern Massachusetts Association of Community Theaters) Dash awards nominations will be announced Wednesday evening, July 15.
Reilly Harring, a Concord Player, sang the National Anthem at Carlisle's Old Home Day and was awarded a $2500 scholarship for her community service.
Concord's July Fourth Picnic in the Park at Emerson Playground will feature bluegrass music, Jill Henderson's UWCC Jewel Queens (with 40 feet of jewelry to raise money for CCHS scholarships), food, non-profit booths and a Concord Band Concert at 3:15 p.m.
Players Craig Howard, Cathy Merlo and Janet Ferreri will be appearing in the Moonstruck Theater's production of the musical Xanadu! July 24 through August 2, at the Amazing Things Art Center, 160 Hollis Street in Framingham. For info go to moonstruck
The Concord Traveling Players have been busy this summer, performing at the Action COA, Nashoba Park in Ayer and at Stonebridge in Burlington, and they are scheduled to perform at St John's Lutheran Church Sudbury on October 13. In the meantime, Traveling Player Tom Viers played the Old Shakespearean Actor in Fantastiks for the TCAN Players in Natick.
RENEW YOUR MEMBERSHIP!
Membership letters will be going out in the next week or so. It's time to renew, and we hope you'd like to sign on again--still the low price of $25 per family. Contact Corinne Kinsman if you have questions: corinne.kinsman@gmail.com
MORE ACTING WORKSHOPS
Kate Clarke will be holding a second round of free acting workshops in July. The first, a 2-part workshop, will be on July 14 and 21, 5-7 p.m. at 51 Walden St. The workshop will focus on body and voice warm-ups to prepare for the physical, mental and emotional demands of acting. Group improvisational exercises will concentrate on attention, reaction and movement. Smaller groups will work on exploring character and situation. The second, a 2-part acting/scene study workshop, will be held on July 24 and 29, 5-7 p.m., and build on the basics of the acting workshop, but will focus more on specific scene work. Please bring in a short scene (2 or 3 characters and no more than 2 or 3 pages) you would like to work on, if you have one. Otherwise, I will provide one for you and your partner(s). You can sign up for both workshops or one. Space is limited.
ONLY TEN TICKETS STILL AVAILABLE FOR THE SHOWBUS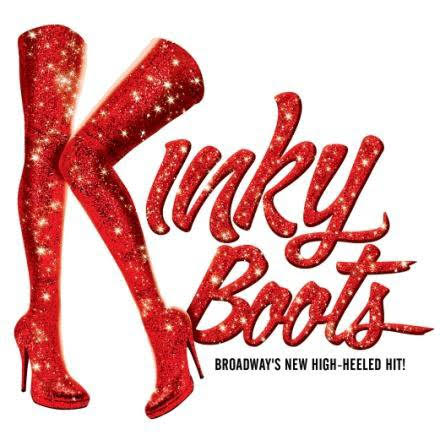 The Show Bus trip to the Boston Opera House is still on to see Kinky Boots. Date: Thursday, August 27, 2015, leaving 51 Walden at 6:00 p.m for a 7:30 performance. Cost: $124.00 per person, which includes center orchestra seating, transportation by motor coach, all fees and gratuities (plus snacks!) To reserve tickets, please contact Brian Harris at brian@baharris.org
HONORING THE ISHIHARAS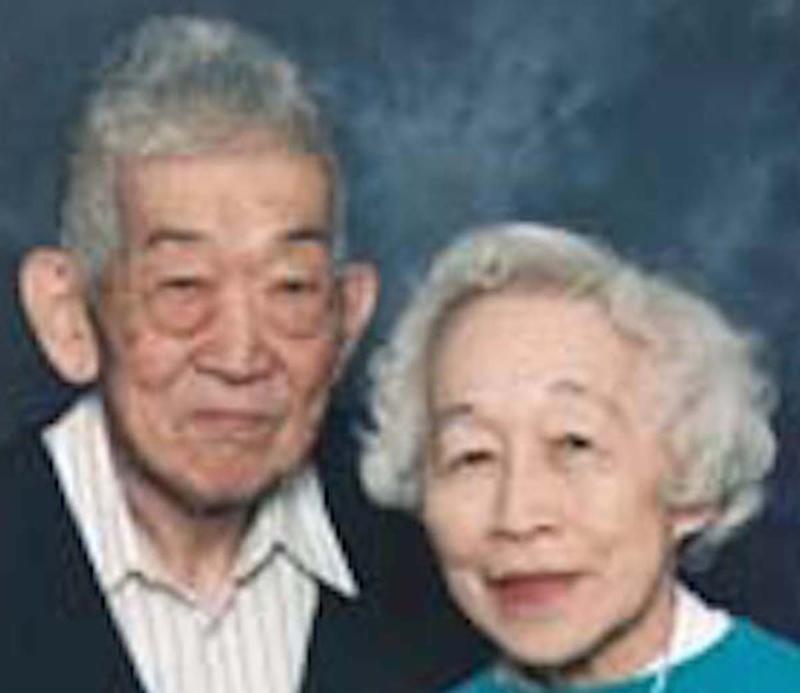 Jiggs and Tama Ishihara
At noon on July 15 at 51 Walden, in honor of Jiro and Tama Ishihara, actor and poet John Farrell will recite T.S. Eliot's Four Quartets, with a performance of Beethoven's Heiliger Dankgesang by the Egg Rock String Quartet. (Farrell was a life-long friend of the Ishiharas, and the event is a special fundraising event for 51 Walden.)
Jiro (Jiggs) and Tama Ishihara, long-time Concord residents and supporters of 51 Walden, were among 120,000 people of Japanese heritage who were forcibly removed from their homes in 1942 and placed in internment camps during World War II. Tama's family, who lived in Richmond, California, was taken to San Bruno when she was 16 and placed in the Topaz Relocation Center near Salt Lake City, where she graduated from high school in 1944. Under a relocation program of the American Field Service, Tama attended Carroll College in Waukesha, Wisconsin, where she earned a bachelor's degree in bacteriology. Tama then got a job in the microbiology department at Cook County Hospital in Chicago, where she met Jiro.
Jiro's father farmed in Los Angeles County, and his family was shipped off to a camp in Santa Anita. After the war Jiggs went to Roosevelt College and received a Masters Degree from Northwestern University. He worked on the Whirlwind computer project at MIT's Lincoln Labs, and then was employed as an electrical engineer at Mitre Corporation for many years.
The couple moved to Concord in 1958. Jiggs built sets for The Concord Players and also volunteered with The Concord Orchestra. Tama worked at the Concord Free Public Library, helped with Orchestra Pops concerts and was actively involved in the Concord-Carlisle Scholarship Fund.
Both were eligible to receive $20,000 in reparations in 1988, when President Reagan signed a bill to redress the losses suffered by Japanese-Americans. The Ishiharas used this money to fund a scholarship program at Concord-Carlisle High School in honor of their parents. Tama died in 2005 and Jiggs in 2012.
--Carole Wayland

GEORGE M. COHAN, AMERICAN THEATRE ICON
"A beloved figure is lost to our national life in the passing of your devoted husband. He will be mourned by millions whose lives were brightened and whose burdens were eased by his genius as a fun maker and as a dispeller of gloom. My heartfelt sympathy to you and all the family."
--President Franklin D. Roosevelt to the widow of George M. Cohan, November 5, 1942.
George M. Cohan's legacy far exceeds his formidable body of work. It is the spirit, optimism and vitality he infused into American theatre that are remembered. The self-proclaimed Yankee Doodle Dandy eschewed the histrionic style of Victorian-era music and the gravity of European drama for a fresh, uniquely American approach to entertainment. His songs and stories were light, amusing, witty, and most memorably, patriotic. Mayor Fiorello La Guardia praised him for putting "the symbols of American life into American music." Indeed, at the time of his death at 64 a movie about his life,Yankee Doodle Dandy, starring James Cagney, was in theaters all over the country. Cagney won an Oscar for his bravura performance of the gifted Cohan in the film.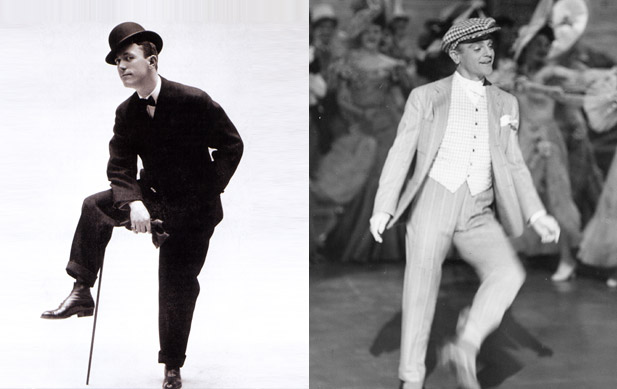 George M. Cohan and James Cagney

Cohan was born to the theatre. His Irish immigrant parents, Nellie and Jerry Cohan had a traveling vaudeville act at the time of his birth on July 3, 1878. They interrupted their tour long enough to return to Nellie's hometown of Providence, Rhode Island, for her to give birth, but in just a few weeks were back on the road with baby George and sister Josephine. Cohan played the violin by age 10, was writing music by age 11 and at the age of 15 took over the management of the family act, The Four Cohans, quickly turning their lagging sales into box office gold. They became the most highly paid four-act in vaudeville, eventually earning $1,000 a week, a tremendous sum for the 1890s. Vaudeville impresario B.F. Keith realized that a genuinely devoted family performing together had an irresistible appeal, and he now booked them at his best houses.
By his late teens, Cohan was writing and producing, and was so prolific that before the end of his life he had written hundreds of songs and fifty plays and had produced and co-written more than ninety more plays. His finger was always on the pulse of human sensibilities, enabling him to buoy the ravaged morale of all Americans with his most enduring work, the WWI hymn Over There. The composition earned him the Congressional Medal of Honor, bestowed by President Franklin Roosevelt in 1936. It's a Grand Old Flag, Yankee Doodle Dandy, Over There and Give My Regards to Broadway became the signature songs of 20th century American spirit and there is no sign that their popularity will diminish anytime soon.
As a master storyteller and brilliant promoter he quickly recognized the value of pronouncing the date of his birth to the fourth of July, not the third, but nobody seemed to mind. Cohan had a signature line at the end of The Four Cohan's act when audiences demanded an encore. In an affectionate parody of the family's renowned emotional closeness, he would graciously bow and say "my mother thanks you, my father thanks you, my sister thanks you, and you can be assured, that I thank you."
On this Fourth of July, we thank you, Mr. Cohan. Happy Independence Day.
--Linda McConchie