THE HISTORY OF FOLLIES cont.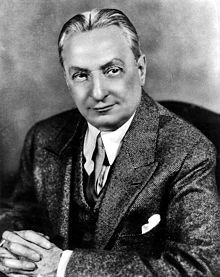 Florenz Ziegfeld
Born in Chicago in 1867, Ziegfeld was the son of a college music professor who, in 1893, sent his son to find musical talent for the Chicago World's Fair. The younger Ziegfeld returned instead with Eugen Sandow, billed as "the world's strongest man". His father wasn't pleased, but the experience whetted Ziegfeld's appetite for novel, sensational entertainment and ignited his talent as a promoter.
His early productions were variety revues in the vaudeville genre, but in 1907, he hit the jackpot when he starred little-known European performer Anna Held in a play called A Parlor Match. Anna was versatile, talented, beautiful and lusty. Born in Warsaw, Poland, she came to New York by way of Paris where she was performing in a musical revue when Ziegfeld spotted her. Anna was an instant sensation. Later, as Ziegfeld's common-law wife, she hatched the idea of creating an elaborate show in the style of Paris' Folies-Bergère.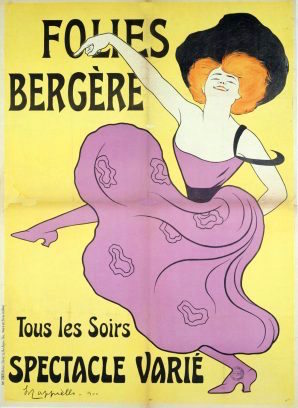 Toulouse-Lautrec poster for the Folies-Bergère
The Folies-Bergère, which opened in May 1869, was the first music-hall in Paris. It was conceived in conscious imitation of the Alhambra in London, a music hall known and much-loved for broad comedy, opera, ballet and circus. A Folies-Bergère show typically included ballet, acrobatics, pantomime, operetta, animal acts, many including spectacular special effects. However, the Folies-Bergère was perhaps better known for its sensual allures. Built in 1860 as an opera house, and named for the nearby Rue Bergère, the theatre featured musical revues, operetta and light comedy. Acts that included snake charmers, acrobats, pantomime and even a Greek prince covered in tattoos were common displays in the Folies bill of fare until nude or semi-nude women trumped boxing kangaroos and dancing elephants as major attractions at the gate.
Anna Held knew well the power of feminine charms, and being no fool, Ziegfeld followed her lead when creating his own American spectacle.
Ziegfeld exploited Held's sexy, naughty persona with press releases of her "milk baths," and other salacious fallacies. In 1907, they mounted their first "Ziegfeld's Follies" as a light, comical summer entertainment. It featured the saucy Hannah and the nearly naked "glorified girls" who became Ziegfeld's trademark.
Over the years, these extravaganzas became more elaborate, with lavish costumes and sets, featuring beauties chosen personally by Ziegfeld. Production numbers choreographed to the works of prominent composers such as George Gershwin, Jerome Kern and Irving Berlin featured Ziegfeld's beauties. His "glorified girls" often appeared in bizarre and sensational headpieces, like the miniature battleships he perched upon their crowns in a 1909 revue with a patriotic theme.
Zeigfeld prized beauty over talent, but his shows attracted some of the most gifted performers of the time. Fanny Brice, Ruth Etting, W. C. Fields, Eddie Cantor and Will Rogers were among the many whose celebrity could be attributed to their appearances in Ziegfeld's Follies.
Ziegfeld may have glorified his American girls as showpieces in his spectacles, but in his personal life he fell short. Anna eventually divorced him for his flagrant womanizing. Billie Burke, a Follies girl and his second wife, used her substantial income as a performer to support his lavish productions. She is known to many generations as Glenda the Good Witch in the 1929 film The Wizard of Oz.
-Linda McConchie