SAVE THE DATE
The Annual Meeting of The Concord Players is Sunday, March 22, 7 p.m. at 51 Walden. We will announce our 2015-16 season.
PDSC HAS BEEN HARD AT WORK
In addition to this year's Play and Director Selection Committee having pored over a multitude of scripts, they have recently completed their interviewing of potential directors as part of the process of putting together a 2015-16 season to present to the Board of Directors. This exciting season will be announced at the March Annual Meeting. Chairperson Craig Howard would like to send many thanks to his committee members, John Alzapiedi, Nick Bennet-Zendzian, Linda Burtt, Russ Gannon and Laura Gouillart, for all the time, effort and thought that they've put into their recommendations for the coming stage season for The Concord Players!
THE TRAVELING PLAYERS GOT A GRANT!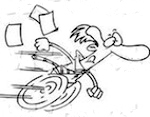 The Concord Cultural Council (CCC) has awarded a grant of $400 to The Concord Traveling Players, matched by The Concord Players, giving the Traveling Players a budget for 2015 as they travel from nursing home to rehabilitation facilities to retirement homes to councils on aging and other venues, taking live theater to elders all over the region. Our hats are off to our Traveling Players, who give so much pleasure through their theatrical performances to patients and elders in so many towns touching Concord and beyond.

SUMMER SHAKESPEARE AUDITIONS
Auditions for three characters in the upcoming summer Shakespeare production of The Comedy of Errors are being held at 51 Walden on Saturday, February 21, 1:00-3:00. For details, see the Players website

PLAYERS NEWS
Sandy Armstrong plays Felicity and former Player Larry Lickteig plays Brian in Michael Christofer's Pulitzer Prize and Tony Award-winning play, The Shadow Box, now playing through February 8 at Theatre III in Acton MA. Tickets at 978-263-9070 or theatre III
Concord Players Paige Winn, Amanda Casale Eldridge and Craig Howard will be competing at the end of February at the New England Regional Festival, to be held in Torrington, CT. As cast members of the Lexington Players' production of Spring Awakening, they won one of the two Outstanding Production awards at the EMACT competition this past June. Come on down and cheer them on! See netonline
KISS ME, KATE IS CAST
The Cast for Kiss Me, Kate has been announced. Concord Players members Tom Frates, Elaine Crane, Craig Howard, Kathy Lague, Connie Benn, Jenny Gratz and Chuck Holleman are included in a stellar group of actors. Directed by Nancy Curran Willis and produced by Anne Bantly and Paula McNabb, this show will be fabulous. Be sure to get your tickets early because you know this one will be sold out!