WORKSHOP GRANT
The Players have received a $5,000 grant from the VBS Foundation for workshops for potential actors, current actors, and those interested in community theater management. The Foundation gives grants in memory of a late family member who was very involved in the all kinds of performing arts. One family member has acted on our stage, and it was her idea in 2010 to ask us if we were interested in applying for a grant. Our first workshop in February 2015 will be a gift to the Daughters of the National Charity League for all the volunteer help they have given the Players. The title of this workshop will be "On Stage/Back Stage," covering acting techniques and an overview of the off-stage roles required for a play or musical.



NO SMALL ACTOR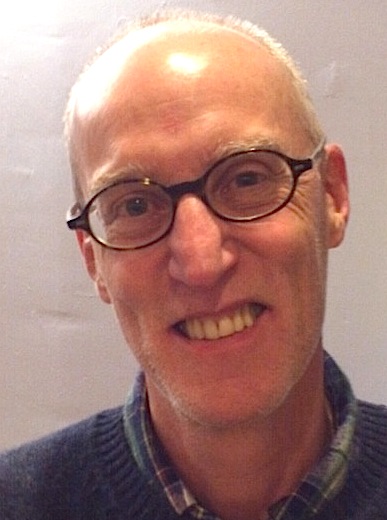 Imagine
On the Waterfront
without Karl Malden,
Rocky
without Burgess Meredith, or
Goodfellas
without Joe Pesci. Character actors--you really can't tell a story without them. It's the same on stage. As the adage goes, "there are no small parts, only small actors."
Ed Bernard of The Concord Players has never been a small actor. Not even when he split the part of Dr. Doolittle with Joe Dworetsky in the third grade. Only half a part, but a big performance. He didn't find himself on the boards again until well after college, but this time it was for a whole part, the Narrator in the stage adaptation of
A Christmas Story
. The script was so long it took him 90 minutes just to recite his lines after he memorized them. The performance bug bit him, and since then he's been bringing character to a number of shows in Concord and throughout the region. Ed played four, count 'em, four roles
in The Concord Players production of
The Man Who Came to Dinner
a few years back, including a hyperactive, overwrought radio producer; definitely playing against type for the affable, laid-back Ed. He brings the necessary flexibility to playing character parts, too. "Can you dance, Ed"? No. "Ok, then, here's what you do, move from one foot to the other and rock back and forth while holding your hand in the air." Of course it wasn't that easy, but by the time the lessons were done, Ed was waltzing gracefully on the set of
Little Women,
along with all the other wedding guests. When he wasn't playing Papa that is.
He toggled seamlessly from Joe the barber to Rudolph the waiter in the recent Players production of The Matchmaker, slipping from a convincing Yonkers New York accent in Act I to an indignant German in Act III. And, as the bumbling detective in Cannon Theater's Murdered to Death, he was playing against type once more. Ed doesn't bumble.
Not only is he gifted at acting, as a writer by trade he has recently taken a turn at writing. His one-act called A Matter of Death and Life is "a serious play with some comedic elements that asks questions about how and why we choose to live our lives," he says. "It showed me how challenging it can be to tell a story with only dialogue--when you can use prose to tell a story (as in a novel or short story), you can use a narrator's voice, but that's not practical in most plays. So you have to use dialogue to get at the whole story. Of course, you also get a great and powerful tool--actors!
As a writer, Ed can be very critical of the scripts from other playwrights, even the best. He's been in some classics: Arsenic and Old Lace, Blithe Spirit, The Matchmaker. Does it feel presumptuous to criticize the likes of George Kaufman, Noel Coward and Thornton Wilder? "Sometimes they seem to have lines that make little sense, are difficult to speak or could be easily improved upon," he explains. In his own play, words matter. "I futz around with word selection a lot, to make it economical but also natural. If I have to choose between sounding like a real person or turning a particularly wonderful phrase, I generally choose the former."

AUDITIONS FOR KISS ME, KATE!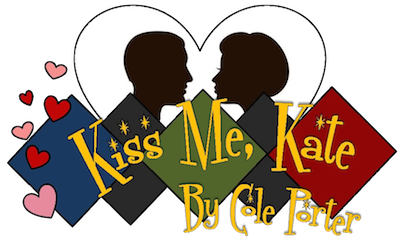 Music and lyrics by Cole Porter. A musical version of Shakespeare's The Taming of the Shrew. Stage Direction by Nancy Curran Willis, Music Direction by Steven Bergman, Choreography by Julia Fiske. Auditions will be in three sessions: Saturday, Jan. 10, 11:00-1:00 and 2:00-4:00, Sunday, Jan. 11, 12:00-2:00. Sign-ups will be taken on the Concord Players website beginning Dec. 27. Rehearsals: read through on Wed., Feb. 4, Wednesdays 7:00-10:00 p.m, Thursdays 7:00-10:00 p.m; Sundays TBD. Tech Sunday April 19; Full Dress April 22 and April 23. Performances: April 24, 25, 26 (matinee) May 1, 2, 3 (matinee), 8, 9 2015. Six principal and six secondary singing roles along with many featured roles/solos in the ensemble. For details, go to the Concord Players website.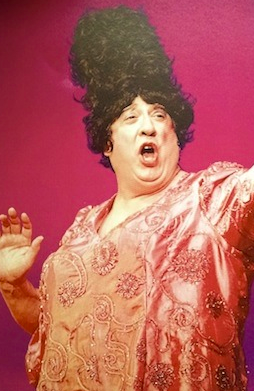 Craig Howard channeling Marge Simpson as Edna Turnblad in the recent Needham Community Theatre production of the musical
PLAYERS NEWS

The Nashua Theatre Guild production of Ken Ludwig's
Postmortem
, directed by Robert Runck, was nominated for best drama by the New Hampshire Theatre Awards.
______________________________________
But back to those essential tools: the actors. During production of his own play, Ed learned that actors play an even bigger role than he knew. "I was astonished to discover that the actors found a level of meaning in the script that I hadn't thought of myself--they discovered a layer of sexual tension that I didn't consciously write into the play! Seeing how they interpreted the script, it was definitely there, but it wasn't something that I intended. Not only did that point out to me how much actors can bring to the production but it also made me question the critical reading that I've done in my life." Hmmm. Maybe Thornton Wilder and Noel Coward got it right after all.
Ed plans to write more plays, and in the meantime will continue to bring big performances to character roles on The Concord Players' stage. He will play Mr. Bennet in the Players upcoming production of The Desk Set. And don't forget Shakespeare. " I love Shakespeare, and the shorter versions and excellent editing by Robert Runck for the summer productions on the library lawn makes them a joy," he says. " I really enjoyed playing Snout (and Wall) in A Midsummer Night's Dream and Sir Andrew Aguecheek in Twelfth Night."
After that? "Well, if I can learn to dance, I can learn to sing!" Move over, Stephen Sondheim

.