HOLIDAY HAPPENINGS IN CONCORD
Lots of holiday fun is available this season in Concord. A Holiday Book Sale will be held at the library Dec. 5-7, offering mint-condition books and DVDs and CDs suitable as gifts. Categories include children's books, like-new hardcover fiction, cookbooks, travel, garden, holiday novelties, poetry, mystery and sci-fi. Visit the Winter Market at the Umbrella on Dec. 5-7 to explore the studios and shop for artwork from both resident and visiting artists. During the Holiday Open House, Dec. 7, 12-5 p.m., there will be a plethora of events in Concord Center: stroll the shops, drink hot chocolate and coffee, ride the holiday train, see the parade, and watch Santa light the tree at 5:30. Then attend Family Trees: A Celebration of Children's Literature at the Concord Museum. The Museum's history galleries and period rooms will be filled with trees of all shapes and sizes, dressed for the occasion with original ornaments inspired by a selection of children's picture books. A full list of events can be found at chamber of commerce

PLAYERS NEWS
At Theatre III in Acton, Ed Bernard is directing a one-act play he wrote called A Matter of Death and Life, part of a 10-play festival of one-act plays that runs Dec 5-6 and Dec 12-13. Sandy Armstrong has had a busy fall. While continuing to perform with The Concord Traveling Players, she managed to squeeze in the role of Dottie in David Lindsay-Abaire's Good People at Hovey Players, and is currently rehearsing for Michael Christofer's The Shadow Box, Jan. 30 through Feb. 8 at Theatre III.

YEARBOOK IS ON ITS WAY
The Players 2014-15 Yearbook is being printed and will be mailed this week. It should arrive soon after that, with all the current information about the board, the committees, the season, and a current list of Players members.

AUDITIONS FOR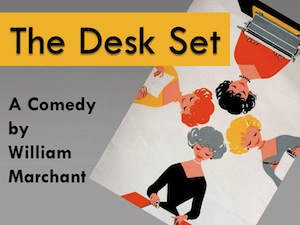 will be held at 51 Walden St., Concord, MA, on Wednesday, Dec. 3, at 7:00 p.m., and Sunday, Dec. 7, at 7:00 p.m. with callbacks the same day at 8:30 p.m.
Performances: Feb. 13, 14, 20, 21 at 8:00; 22 matinee at 2:00; 27, 28 at 8:00 p.m.
Cast: eight men and eight women, 20-55.
Synopsis: Before Google, there were Gals--more precisely, there was The Desk Set, the International Broad-casting Company's reference department librarians in 1950s Manhattan. Besides being equipped with encyclopedic knowledge and whip-smart wit, these hilarious working girls know how to have a good time while getting the job done. But, when a male efficiency expert with an "electronic brain" enters this all-female world, rumors of pink slips fill the air. Have the gals met their match?
For details, go to the Players
website
.
GROUP SALES
Let it be known that tickets for groups of 10 or more attending Players productions are $17 for straight plays and $22 for musicals, as compared to the regular prices of $20 and $25. If you represent or know of such a group, please pass the word!