TICKETS NOW ON SALE FOR THE COMING SEASON
Tickets for the 2014-15 season will go on sale on October 1. The best way to purchase tickets is to go to the Players web page to select seats. There is a discount for groups of 10 or more. Email to tickets for information.

COSTUMES FOR THE MATCHMAKER
Actors animate their characters, but let's face it, costumes maketh the show. Especially in a show like Thornton Wilder's The Matchmaker, scheduled to open Nov. 7. Set in late 19th-century Yonkers, New York, the show's costumes are striking in their silhouettes, varied in texture and rich in color and hue. A moving work of art if you will, created by Tracy Wall, who researches and constructs her costumes with a keen eye and a deft hand. "I start with the silhouette of the time period to inform the general shape," she says.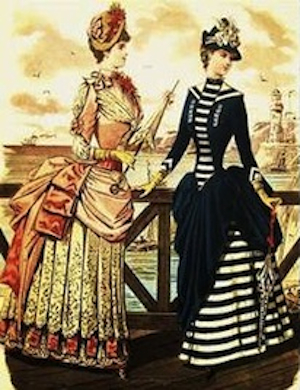 In this show, that means an S shape for the women, effected by extravagant bustles which are offset by smaller hats, perched, feathered and beribboned. After that, myriad elements come into play. "The director and I sit down to talk about her vision (along with the set designer) which can mean color, economic level, realism and accuracy," Tracy explains. She considers personalities, too. "Are they young, old, fashionable, rich, poor, funny, commanding, sentimental"? In a comedy like this one, a costumer often adds witty elements to accentuate a character's disposition. From the 17th to 19th centuries, a variety of sartorial gimmicks were employed to create the impression of an hourglass figure for women. Hoops, corsets, crinolines and bustles were chief among them. "We're using modern reproduction 'bustle hoops' for Matchmaker," Tracy explains. "We're trying to go for the biggest bustles-they were at their largest from 1885 to 1888." So what happens when a woman's posterior is so prominently endowed? Sitting lessons for one thing. Tracy could be seen at a recent rehearsal tutoring the ladies on the art of gracefully positioning their abundant costume rumps into a chair. "Lift, tilt, pause and down." Happily for the ladies, reproduction bustles are constructed of modern materials and securely fastened. Not always so for ladies of lesser means in the 19th century. Some inventive women of that era used burlap or various cast-off fibers to create the fashionable look of their wealthier counterparts. Problem was those make-shift rears often shifted or even slipped right out from under petticoats. One creative lady in Chester, England, unwittingly provided lunch for a hungry donkey who couldn't resist the sack of grain she had so cleverly employed in the interest of haute couture!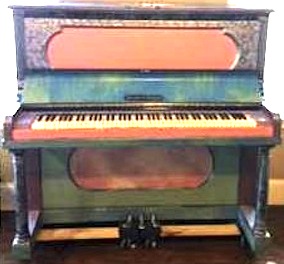 HAPPY HOME FOR OUR OLD PIANO
Last fall we painted our old upright piano and it graced the green for a month advertising Les Mis while being played by many. When it came time to remove it, the Chamber of Commerce offered to take it for the Visitor Center. So we rolled it over there one crisp, fall day. It lived in the Center for the winter, and come spring it was wheeled out to be enjoyed throughout the summer by the many visitors to Concord. This fall, the Chamber decided it was time to say, "farewell," so they put an ad on Craigslist. It has now found a happy home in Dorchester, Mass. It's great to see the piano being used and well-loved.

KIRSTEN GOULD HONORED BY FENN SCHOOL
After the Fenn school's Homecoming game with Groton on September 27, the Ward Hall stage was dedicated to and renamed for long-time arts teacher and drama director Kirsten Gould, also a long-time member and director for the Players.