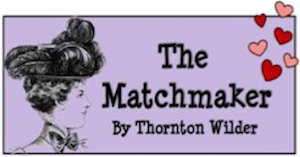 Our fall show, The Matchmaker, has been cast: Horace Vandergelder, Paul Murphy; Dolly Gallagher Levi, Linda Burtt; Irene Molloy, Diana Doyle; Minnie Fay, Rachael Rabinovitz; Cornelius Hackl, Randall Lawrence-Hurt; Barnaby Tucker, Andy Swansburg; Ermengarde, Stephanie Mann; Miss Flora Van Husen, Lida McGirr; Malachi Stack, Kent Miller; Ambrose Kemper, Webb Tilney; Gertrude, Davida Lowenstein; Miss Van Husen's Cook, Ellen Simmons; Joe (the cabman), Chuck Holleman; Joe Scanion/Waiter, Ed Bernard; Waiter, Johnny Kilcoyne. Production team:
Director, Mary Fitzpatrick; Stage Manager, Susan Tucker; Producers, Corinne Kinsman and Paula McNabb; Costume Design, Tracy Wall; Props Chair/Set Dressing, Linda McConchie; Props/Set Dressing; Charlotte Kelley; Set Design/Dressing, David Allen Prescott; Publicity, Stefanie Cloutier; Makeup, Charlie Atherton. Set construction: Allen Bantly, Larry Blundell and Frank Gill.
YOUNG PLAYER WINS DASH AWARD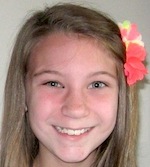 Brigit Smith, who played Young Cosette/Eponine in Les Miserables, won a DASH award for Youth Actress in a Musical. A student at St. Patrick School in Wakefield, Brigit has appeared with Stoneham Theater, Wakefield Repertory Youth Theater and Creative Arts, Reading. A champion-level Irish dancer with the O'Shea Chaplin Academy of Irish Dance, Brigit enjoys voice and guitar lessons with Onset School of Music and singing with the St. Patrick Parish Children's Choir. Brigit also enjoys basketball, soccer and skiing.
SUBSCRIBE FOR THE SEASON!
Please go to the Players website today to sign up for a $55.00 subscription to the upcoming season: The Matchmaker by Thorton Wilder; The Desk Set by William Marchant, and Kiss Me Kate, the wonderful Cole Porter musical adaptation of Shakespeare's Taming of the Shrew.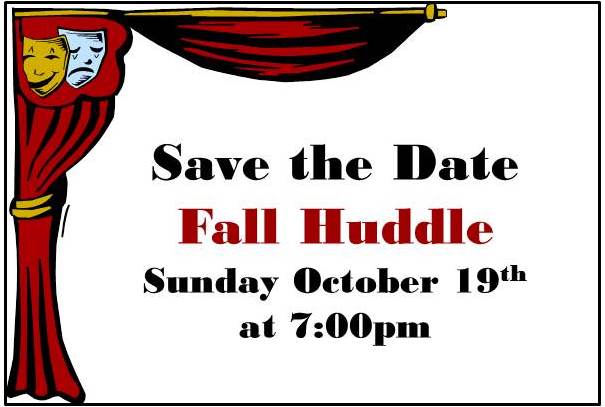 PLAYERS NEWS
In August, Tillie Sweet was part of a group who performed a staged reading at Vokes Theatre of a new play by New York based playwright Judith Pratt, called The Wright
Place. Pratt wrote the play about life in her family home in Cohasset.
PLAYERS TO HOST CHAMBER OF COMMERCE RECEPTION
On Tuesday, September 16, The Concord Players will be hosting another "Business After Hours" reception for the members of the Concord Chamber of Commerce at 51 Walden Street. Jay Newlon, past President of the Players, now serves on the Chamber's Board of Directors. Stephanie Stillman is the Executive Director of Concord's chapter. She has been instrumental in growing the Concord Chamber business membership and has launched many relationships between local businesses and non-profits. She is also a loyal Players subscriber.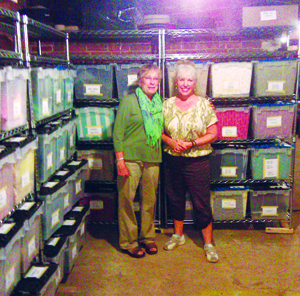 Pat Kane and Linda Burtt in front of new racks in the tunnel that house sorted fabric. The racks, boxes and bins were purchased with the refurbishment grant received from the VBS Foundation.
PLEASE RENEW YOUR MEMBERSHIP
If you haven't renewed your membership, this is last call for yearly dues ($25) if you want to be in the Yearbook, which is going to print very soon. Corinne will hold a space in the booklet for you if you contact her: corinne.kinsman@gmail.com