"PLAY ME I'M YOURS" COMES TO CONCORD!

The Players have brought the painted piano project to our own town. Last month, 75 pianos were scattered around Boston, each one painted by a different artist, inviting anyone and everyone to play them. So the Players took their own upright and had two of OUR artists, Page Evett and Brian Harris,

personalize it. Then more Players hoisted the piano onto a wheeled scaffold and paraded it through town, to a place of honor in Monument Square, across from the green.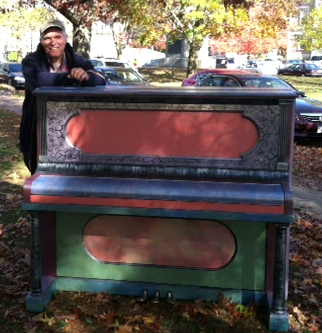 Allen Bantly and the piano.
Anyone who plays it is encouraged to take a picture or video of themselves, then upload it to our Facebook page via the QR code on the piano. That way everyone can see who's enjoying our piano. Plus, the piano is acting as promotion for the fall musical, Les Miserables, with a banner promoting the show affixed to the back of the instrument. The piano will be out there until November 18, at which point it must go away. Check it out - it's a really fabulous piece of art!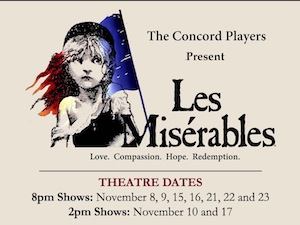 COMBINE DINNER AND THE SHOW!
Two great Concord restaurants are offering deals for our theatergoers during the run of Les Miserables. Serafina's on Sudbury Road is offering 25% off the food portion of your meal when you show your ticket or receipt for the same day. Grab dinner before or after the show! And Merchants Row at the Colonial Inn has a fabulous promotion where patrons get a three-course meal and a ticket to the show for $65. Book a seating for 6 or more and you'll get a gift certificate to Merchants Row as well. You do need to make a reservation for this promo, and space is limited, so book soon by calling Briana McCormick at 978-371-2908, ext. 532, or BMcCormick@ConcordsColonialInn.com with "Les Mis" in the subject line.
PLAYERS NEWS
Ed Bernard is appearing in The Porch at the Chelmsford Center for the arts on Nov. 8, 15, 16 at 7:30, and Nov. 10 at 2:00. Leslie Wagner is also in the show (as his wife), and Elizabeth Hoermann is directing.
Tom Frates and Laura Goulliart are performing in SLOC's production of The Mikado. Brian Harris is designing the set and Susie Appel Schmidt is working on costumes for the show.
Nancy Tutunjian Berger is Clairee in the Winthrop Playmakers' upcoming production of Steel Magnolias Nov. 15,16, 22, 23 @ 8 p.m. and Nov. 17 @ 3 p.m.