COSTUMING LES MIS
There's a song from Chicago that would serve well as the theme music for Concord Players: "I Can't Do It Alone." That's surely the case for the costume crew working on this fall's production of Les Mis. Stop by the theatre most days and evenings and you'll find four, five, even a dozen people cutting, sewing, altering, ironing, labeling, fitting and organizing the hundreds of costumes for this monumental show. And that's not counting all those who work on costumes at home! But what you'd see in the Green Room is merely the tip of the iceberg. Hours of research have gone into designing the costumes that bring Victor Hugo's characters to life. What did French prisoners wear in 1815? (Those sentenced to life imprisonment wore green caps, all the others red caps.) How did Parisian students dress in 1832? (Influenced by Beau Brummell's "dandy" fashion, men of means wore cutaway frock coats, double-breasted waistcoats, tapered trousers, and white cravats.) What did fashionable women wear to a wedding during the Romantic era? (Dresses featured gigot sleeves above large full conical skirts. A pelerine or tulle canezou often was worn over the bodice.)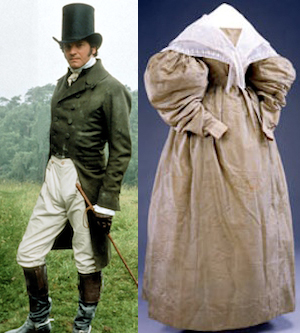 We hope you enjoy the realism we are attempting to bring to Les Mis, for many of the characters in Victor Hugo's novel were based on real people. If you are interested in learning more and working on some of these fabulous clothes, contact carolantos@gmail.com to join in. We'll be sewing for another month and then it's "on to the barricades!" --Carol Antos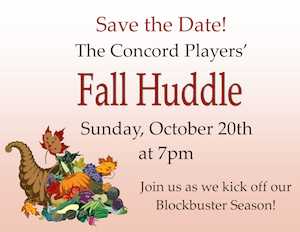 LONG RIFLES NEEDED FOR LES MIS We need some authentic-looking long rifles for Les Mis. We would take special care of the rifles, and the cast has been working with the weapons coach and and will be well-trained by showtime. Does anyone have any contacts with a group, such as the Concord Minutemen, who might have such rifles? Email Charlotte Kelley at grauntie777@gmail.com or call her at 978-973-3325 if you can help us.

NOT TOO LATE TO SUBSCRIBE!
We are still offering subscription seats for our 2013-2014 season: the timeless classic, Les Misérables, the gripping thriller, Night Watch, and the hilarious musical comedy, Monty Python's Spamalot. Purchasing a subscription will give you a significant discount of over 20%, compared to buying tickets individually! To purchase, visit our website or mail your request to Concord Players Subscriptions, PO Box 22, Concord MA 01742.

NEW SEATING PLAN FOR 51 WALDEN
FOPAC's Safety Committee has done further analysis on last month's Players seating plan and discovered a way to get the old familiar chairs with arms back onto the first and third risers. The Committee is still waiting for formal architect's approval of the revised plan. The upright piano is going, going, and soon gone, and will be replaced with an electronic one that can be easily stored out of the way.

YEARBOOK PUBLISHED!
The Concord Players 2013-14 Yearbook has been printed and will be mailed out to members soon. Look for a complete update on the new season and a current list of members.