JOIN US FOR ANOTHER EXCITING SEASON!
After an award-winning 2012-13 season, The Concord Players are ready to kick off another blockbuster year, and we want you to be a part of it! We are still offering subscription seats for our 2013-2014 shows: the timeless classic, Les Misérables, the gripping thriller, Night Watch, and the hilarious musical comedy, Monty Python's Spamalot. Purchasing a subscription will give you an opportunity to make sure you don't miss any of these fantastic shows, as well as giving you a significant discount of more than 20% compared to buying tickets individually! To buy, visit the Players website or mail your request to Concord Players Subscriptions, PO Box 22, Concord MA 01742. We can't wait to see you at the theater!

STEP UP FOR 51 WALDEN
Nearly $50,000 was raised in the Step Up for 51 Walden capital campaign, and an additional $15,000 was received from the Massachusetts Cultural Facilities Fund. The egress project is well underway and should be finished by Labor Day. The electrical upgrades in the shop are completed. The interior refinishing is done--the floor of the main hall and the upper and lower music stages have been sanded, sealed and finished. Our venerable venue for theatre and music now sparkles, inside and out!

NEW SEATING PLANS FOR 51 WALDEN
Now that 51 Walden's exterior stairways and landings are being rebuilt with a fresh appearance and feel, FOPAC is giving the interior a close look to assure compliance with state regulations for safe emergency exits. To that end, FOPAC has established a Safety Committee to modify the various seating plans used by the Orchestra, the Band, and the Players so that the physical dimensions of aisles, access ways between rows of seats, etc., comply with state regulations. The committee has drafted floor-plan diagrams covering the gamut from concerts and Pops nights to plays and musicals with a "pit" orchestra. These drafts have been submitted to a local architect for professional approval. The new plans have presented some surprises! For example, the so-called "first riser" supporting the 38 seats of Rows J and K is too small to accommodate the standard armchair-style stackable chairs in the new configuration. Unfortunately, that first riser cannot be enlarged. Instead, the problem will be solved by setting 38 of the smaller "musician's chairs" typically seen on the concert stage. One more surprise: regardless of where in the hall it is parked, the upright rehearsal piano has been ruled as interfering with exit safety. So, it may soon be offered for sale to the highest bidder. (There's a hint to collectors of old pianos.)

MEMBER NEWS
Just to prove that the casting of The Tempest for the past summer's production was no fluke, members of that cast are appearing in several fall productions. Jon Linden plays the clown (again) in 39 Steps for Flyleaf Theatre in Berlin, September 6, 7 and 8. Luisa Badaracco is in Twelfth Night at Theatre@First in Somerville, Sept 19-21 and 26-28. Andrew Harrington is in Measure for Measure at Hovey in Waltham, opening Sept. 13 and running 3 weekends. He is also in Arlington Friends of the Drama The Importance of Being Earnest, which opens October 11. Robert Runck is directing a new play, Broken Legs, performing in the Cambridge YMCA theater in Central Square Dec. 5, 6, 11, 12, 13, and 14.
As a reminder, Johnny Kinsman's Anthem Theatre production of A Comedy of Errors is at the Boston Center for the Arts Sept. 12-28 (John does not perform on Wednesdays or Fridays). See the link to their theatre on the Players website with a 10-minute video showing who they are.

MEN'S AUDITIONS FOR LES MIS


Sunday, September 8, 2013, starting at 1:00 p.m. 51 Walden. Looking for men aged 18-25 interested in auditioning for ensemble roles and the students. See the Players website to schedule an audition time.


PLAYERS DASH AWARDS FOR 2013

The Concord Players won seven DASH awards at the recent EMACT Gala: Best Set Design for a Play, Allen Bantly (Mister Roberts); Best Musical Production of the 2012-2013 season, The Sound of Music; Best Set Design for a Musical, Brian Harris (The Sound of Music); Best Supporting Actress in a Play, Dayle Ballentine (The Musical Comedy Murders of 1940); Best Youth Actress in a Musical, Paige Winn (The Sound of Music); Best Hair and Makeup for a Musical, Charlie Atherton and Jake O'Hara (The Sound of Music); Best Lead Actress in a Musical, Elaine Crane (The Sound of Music). Congratulations to all!

FALL SHOW REVEALED!
We can finally announce the title of our fall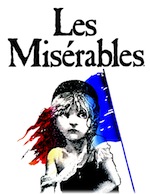 blockbuster musical, by Alain Boublil and Claude-Michel Schönberg; lyrics by Herbert Kretzmer. Directed by Celia Couture, with Musical Direction by Art Finstein and choreography by Kelly Murphy. Set designed by Doug Cooper and constructed by Allen Bantly, Larry Blundell and Frank Gill. Performing November 8, 9, 10 (matinee), 15, 16, 17 (matinee), 22, 23.

VALUE OF PROGRAM ADVERTISING
The advertisements which help pay for the playbill of each show are a visual way that our local businesses support the theater. Each year we make a concerted effort to meet all the owners of the Concord business community both through individual contact and monthly Chamber of Commerce meetings. Each company that advertises with The Concord Players receives not only exposure to thousands of people, but also free tickets to a choice of shows and great satisfaction in knowing that they've assisted in promoting the arts with an award winning non-profit theater. If you are in business or part of a community organization in Concord or in a nearby community, you too can have that same experience! Write Jay Newlon at advertising@concordplayers.org

TRAVELING PLAYERS FORGE AHEAD

The Concord Traveling Players have been busy speeding from Councils on Aging to Retirement Homes and back again, throughout the local area, visiting Acton, Carlisle, Chelmsford, Maynard, Concord, and points in between in their task of taking theatre to shut-ins and other interested parties. Dorothy Schecter, Tillie Sweet, Tom Ruggles, Tom Veirs, Sandy Armstrong, Michael Henchman, Birgitta Knuttgen, Rik Pierce and Robert Runck have been busy concocting new programs for much-requested repeat visits. They are now up to four separate programs of comic skits and cuttings from classic plays.
MEMBERSHIP RENEWAL
Don't forget that the deadline for getting your information into the membership book is September 1. If you have not renewed your membership yet, or heard from Corinne Kinsman regarding it, there's still a short time to do so. She'll hold your space in the membership book open for a few more days. It's going to print around mid Sept. Contact corinne.kinsman@gmail.com