WHAT'S NEW WITH 51 WALDEN
Renovations are underway inside and outside our venerable building at 51 Walden. The floor of the main-stage area has been completely refinished; it will glow beneath our audiences for some time to come. Outside, the egress platforms and stairs on both sides of the building are being replaced with new structures, in order to comply with current Concord building code. There are four new structures, three on the bank side and the loading dock at the back of the building on the Tuttle Livery side. All will have a steel framework. The ones on the bank side will have pressure-treated wood decking and steps, but the loading dock structure will have a steel grate on the horizontal surfaces of the landing and steps. The fundraising effort for the egress work, called "Step Up to 51 Walden," has to date raised $61,150, exceeding the goal of $60,000, with additional contributions still coming in.

PLAYERS NEWS
Fred Robbins is playing Sir Toby Belch in Shakespeare's Twelfth Night for the Open Door Theatre at New England College. Dates: August 2 and 3 at 7:30 p.m. and August 4 at 3:00 p.m. on the Mainstage Theatre at 58 Depot Hill Road in Henniker MA. Tickets are $12.00 for adults, $10.00 for seniors. For reservations or more information call 603.428.2382 or email nectheatre@nec.edu
The Wizard of Oz at Theater III goes up in October. Paula McNabb is stage managing and David Allen Prescott, who was in The Player's The Drowsey Chaperone, is director/set designer. The producer is Rick Woods from She Loves Me, and the lighting designer is Michael McGarty.
Players members Johnny Kinsman (Amateurs, Evita, Lysistrata) and his wife, Lindsay McConchie, teamed up with friends in NYC to form the Anthem Theatre Company. They brought it to Massachusetts, and are mounting their first production in September, A Comedy of Errors. Johnny is playing a dual role, but will not be in all the performances. This adaptation features just four actors playing all of the roles. September 12-28 at the Boston Center for the Arts, 539 Tremont Street, Boston. Tickets $16. For more information, visit anthemtheatre.org Facebook page facebook.com/AnthemTheatreCompany or contact Lindsay McConchie at lindsay@anthemtheatre.org

SUMMER SIDEWALK SALE
The Concord Players will be hosting a table at the Concord Sizzling Summer Sidewalk Sale on Saturday, August 3. Join us for a day of bargains, sales, music, fun activities and entertainment, food and fun! More than 45 participating businesses, two music stages, events for children, and more. Walden Street will be closed from Main Street to Hubbard Street.

OUR DIRECTORS FOR THE NEW SEASON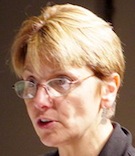 Celia Couture will be directing our fall musical. She is an award-winning director whose productions have won Moss Hart and Boston Critics Awards, NETC/EMACT Best Director awards, and have gone on to the national AACTFest competitions a number of times. The last time, this year, was Burlington Players Radium Girls, receiving several nominations and, best of all, a win as best production. Celia has an MFA from Emerson College with a focus in directing, and she has been active as one of the "go to" directors for well over 15 years in regional theater, both at the community and professional level.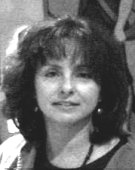 Lida McGirr, directing the winter play, Night Watch, began her theatrical antics as a 7- year-old singing and dancing leprechaun at Nathan's on Coney Island. She spent her early twenties as one of three start-up members of the Little Theater on 26th Street before moving back to Boston to take on the role of mother. Aside from acting, she directs and writes. Her short plays have been performed in festivals, retirement centers, a romance novelist convention, a bakery and board meetings throughout New England. Having performed in plays here, she is thrilled to be directing for The Concord Players.

Brian Kelly is making his debut with The Concord Players as the stage director for the spring musical, Spamalot! Some of his favorite credits include directing Sweeney Todd for Westborough Players' Club, an EMACT-nominated Best Direction of a Musical; Beauty and the Beast for Encore Repertory Company; Songs for a New World for Flyleaf Theater; and Anything Goes for the Savoyard Light Opera. When not sitting in the director's seat, Brian is an Assistant Professor of Psychology at Fitchburg State University, so he understands the need to escape the routine of life for the novelty of theater.

REMINDER: AUDITIONS FOR THE FALL MUSICAL
The unnamed fall musical is holding auditions this month, and although we cannot announce the title for a few weeks, so many people have signed up to audition that we have added an audition date. Adult auditions: Thursday, August 22, 6:30-10:00 p.m.; Friday, August 23, 7:00-10:00 p.m.; Sunday, August 25, 5:00-9:00 p.m.; Monday, August 26, and Tuesday, August 27, 7:00-10:00 p.m. Callbacks August 28, 7:00-10:00 p.m.; names will be posted on concord players.org Children's auditions: Sunday, August 25th, 1:00-4:00 p.m. All children auditioning must be at least 8 years of age. All auditions will take place at 51 Walden Street, Concord. For detailed audition requirements and to sign up, see concord players.org

GET YOUR SEASON TICKETS
Save big on our blockbuster season: two musicals and a play for $55! That's a savings of more than 20%! Become a subscriber NOW.

To find out how

go to concordplayers.org

MEMBERSHIP RENEWAL
The membership renewal letters have been mailed out, and if you have not received your notice and would like to renew for another season, please email Corinne Kinsman at corinne.kinsman@gmail.com She will be happy to send the info out to you! The deadline for placing information in the book is Sept. 1.

AND THE DASH AWARD NOMINEES ARE...
Congratulations to all of those nominated for EMACT Dash awards for their work this past 2012-13 season! Mister Roberts was nominated for seven awards, including Best Supporting Actor in a Play, Set Design, Set Dressing, Lighting Design, Sound Design, Stage Management, and Best Lead Actor in a play. The Musical Comedy Murders of 1940 earned four nods, including two Best Supporting Actress in a play, Costume Design, and Best Play. The Sound of Music garnered 14 nominations, including Set Design, Set Dressing, Lighting Design, Sound Design, Best Youth Actress in a musical, Costume Design, Hair and Make-up, Props, Specialty Ensemble, Best Actress, Music Direction, Choreography, Direction, and Best Musical. A special thanks also goes to all those folks who do the jobs that don't have a category at EMACT; without them, there would be NO season. So hats off to the producers, photographers, website designers, publicity folks, front of house crews, box office managers, assistant stage managers, set building crews, painters, backstage crews, costumers, building maintenance folks, membership and subscriptions coordinators, light and sound crews, lobby designers, and opening night gala coordinators.

NEW BOARD CONVENES
The Players have a new Board of Directors on board, beginning July 1. Tracy Wall is the new President, and both continuing and new members are Jill Henderson, VP Operations; Paula McNabb, VP Productions; Kathy Lague, Treasurer; Brian Harris, Secretary; Lisa Astbury, Special Events; Stephanie Cloutier, Marketing/Publicity; Robert Runck, Newsletter and community outreach; Corinne Kinsman, Membership; Doug Cooper, EMACT rep; Susan Tucker, FOPAC rep; Charlie Atherton, Finance Committee, and Craig Howard, Chair of the PDSC. That committee has as members Russ Gannon, Linda Burtt, Mike McGarty, Nick Bennett -Zendzian and Laura Gouillart.

SUMMER SHAKESPEARE A SUCCESS
The second annual Summer Shakespeare on the main library lawn, a production of The Tempest, was described by many as a great success. Attendance was good, and the contributions to The Players came to nearly $800, easily covering the budget for the show. The actors performed admirably, and the tech support from Tom Sikina, Paul Gill, Shahn Knights, Charlotte Kelley, Anne and Alan Bantly, Pat Kane and Kathy Booth was first rate.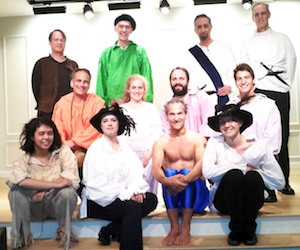 The cast in the photo are, in front left to right, Miranda Cashman as Caliban, Natalia Musatova as Sebastian, Jay Newlon as Ariel, Luisa Badaracco as Antonio; second row left to right, Jon Linden as Stephano, Jacquie O'Kelly as Miranda, Nick Meunier as Prospero, Jon Plesser as Ferdinand; back row left to right, Bill Hoermann as the boatswain, Andrew Harrington as Trinculo, Arthur Barlas as Alonso, and Ed Bernard as Gonzalo.