WINTER SHOW CAST NAMED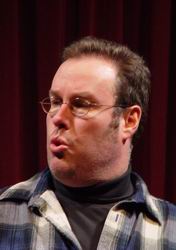 John Pease, director, and his casting committee have cast most of the Players' winter show, The Musical Comedy Murders of 1940.
Helsa Wenzel: Dayle Ballentine; Elsa Von Grossenknueten: Kathy Lague; Ken De La Maize: Paul Held; Nikki Crandall: Kerry Moe; Eddie McCuen: Solomon Sheena; Marjorie Baverstock: Tricia Akowicz; Roger Hopewell: Paul D'Onofrio; Bernice Roth: Linda Burtt. TBA: Michael Kelley and Patrick O'Reilly. Corinne Kinsman and Sandy Armstrong will be producing our second show of the season which opens February 8, 2013. Rumor has it that Allen Bantly is up to his ears planning a very complicated set. When you see the show, you'll need to pay attention to the plot because there are some real twists and turns.

PRODUCTION TEAM HELP NEEDED
For The Musical Comedy Murders of 1940, we need a sound designer and someone to head up the publicity team. If you have expertise in either of these areas, we would appreciate hearing from you. You can contact Corinne at corinne.kinsman@gmail.com or Sandy at sandyarmstrong@verizon.net

THE SOUND OF MUSIC
Director Kirsten Gould has posted the audition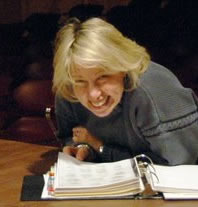 notice for our April production of The Sound of Music on the Players website. Please read through the extensive write-up and role descriptions because there are separate auditions for adults and for children (there will be two children chosen for each role.) Pam Holleman, Tom Sikina and Doug Cooper are producing this show, which opens on April 26. Susan Minor will be the Music Director.

NOMINATING COMMITTEE
The following Players have accepted our invitation to serve on The Concord Players' Nominating Committee: Donnie Baillargeon, Chair, Connie Benn and Sandy Armstrong.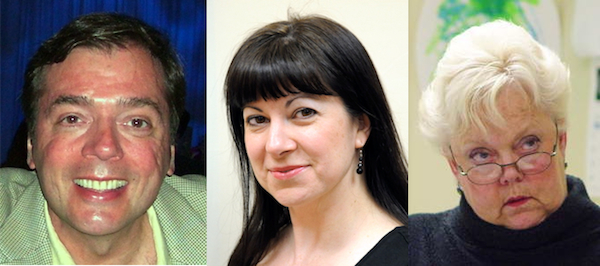 They are working with the Executive
Committee and the Board to research the openings we will have next year, and we are grateful that these seasoned Players are helping us. All will be revealed at the Annual Meeting in March 2013.

ORCHARD HOUSE'S JAN TURNQUIST GOES TO JAPAN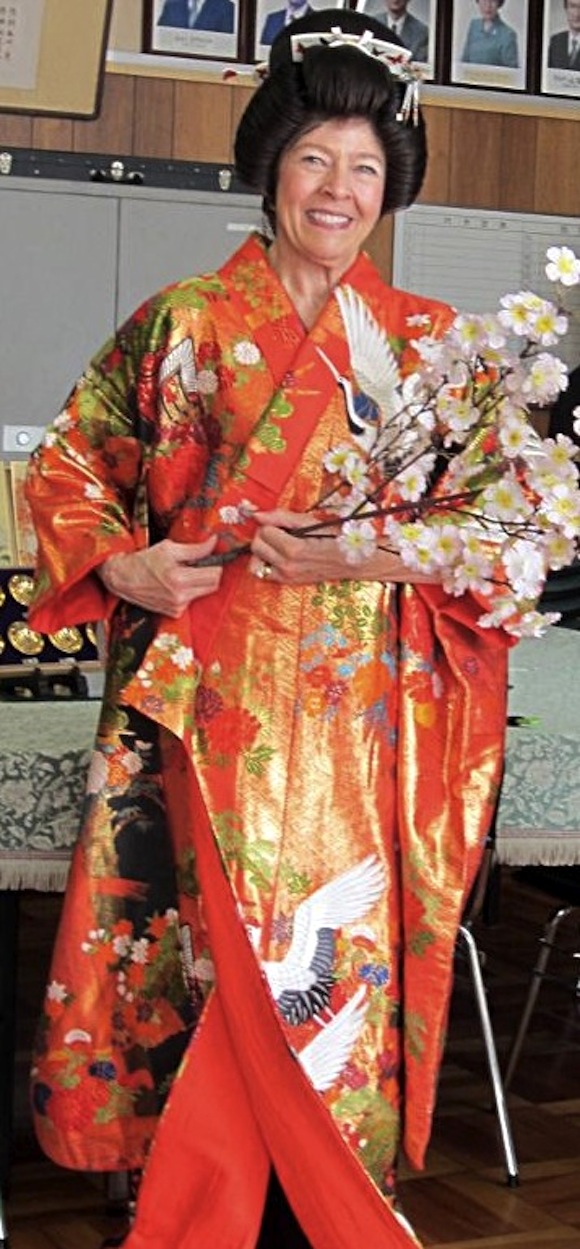 Jan in traditional Japanese bridal attire.

Jan Turnquist, Executive Director of Orchard House, and who has played Marmee in three Players productions of Little Women, spent three-and-one- half weeks visiting Concord's "Sister City" in Japan: Nanae-cho, in the Prefecture of Hokkaido, as well as Tokyo, Kyoto, and Gamagori. The book Little Women is extremely popular in Japan and a favorite of Empress Michiko, who with her husband visited Orchard House in 1987. The Empress personally arranged for Jan to attend an intimate birthday tea in the Imperial Palace.

OTHER PLAYERS NEWS
Jay Newlon will be featured in the Northern Ballet Theater's production of The Nutcracker as Herr Drosselmyer, performing 12/15 and 12/16 at 2:00 pm at the Keefe Auditorium in Nashua NH. For more info on this professional ballet holiday treat visit www.nbtcd.com

NEW MEMBERS OF PLAYERS
We want to welcome our newest members, David and Mary Clarke, Kate and Michael Henchman and Christopher Matheus, all from Concord, Stephen Russo from Winchester, recently seen in the role of Insigna in Mister Roberts, and Leland Bixby from Millis, who was seen in Mister Roberts in the role of the Navy Shore Patrolman. To preserve privacy, we will share mailing or email addresses only by request at concordplayers@gmail.com

A REPRISE OF LAST YEAR'S HIGHLY SUCCESSFUL AMAHL
Amahl and the Night Visitors, the one-act opera by Gian Carlo Menotti that played to an overflow house last year, will be performed twice this year, at 2 p.m. and 4 p.m. on Sunday, December 16, 2012, at 51 Walden. This popular American opera, which includes full orchestra and chorus, will be conducted by Alan Yost, with artistic direction by Robin Farnsley. It is being sponsored by Friends of the Performing Arts in Concord (FOPAC). The roles of the three kings will be sung by Ray Bauwens, Craig Tata, and Michael Prichard. Soloists are Robin Farnsley as the mother, Brad Amidon as the page, and Julia Shneyderman as Amahl. Julia, 11, is a sixth grader at The Edward Devotion School in Brookline. A member of the PALS Children's Chorus, she sang in the children's chorus in FOPAC's production of La Bohème last June. Other credits are Moth in A Midsummer Night's Dream with the Boston Lyric Opera and Businessman in The Little Prince. Julia studies voice with Pamela Wolfe, Vocal Instructor at Brandeis University.