AUDITIONS COMING UP!
Auditions for The Concord Players winter show: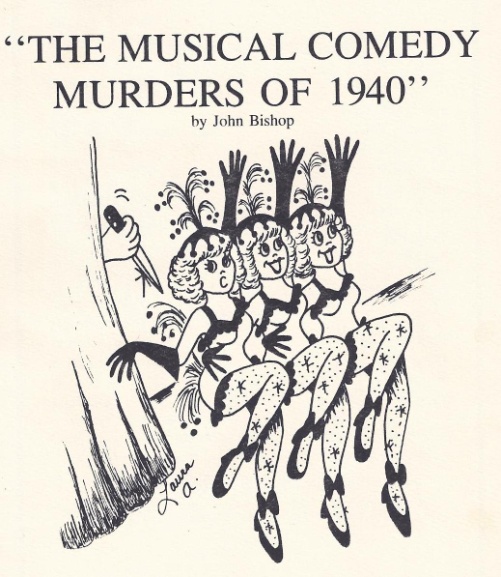 directed by John Pease, will be held at 51 Walden St., Concord, MA, on Thursday, November 8, 7-10 p.m., and Saturday, November 10, 1-4 p.m. Callbacks, if needed, will Sunday, November 11, at 7 p.m. Performance dates are February 8, 9, 15, 16, 17 (matinee), 22, 23, 2013. Auditions will consist of cold readings from the script. Perusal copies are available at both libraries in Concord (in Concord Center and West Concord). This is not a musical (although there is some singing), but it is a comedy! Cast descriptions (5 men and 5 women) and the audition form are posted on www.concordplayers.org
This wildly comedic romp pokes non-stop fun at show business and the corny thrillers of old Hollywood. The story revolves around a snow-covered reunion of the cast of a recent Broadway flop during which a murderer went on a killing spree on the cast. The tale unfolds in a Chappaqua, NY, estate library, complete with secret passageways, sliding panels, and people who aren't what they seem to be.

NEW MEMBERS
Hello Players. Since the Yearbook went to print we have had two new members join, so please add these names to your booklet if you'd like. The new members are Robert Najarian from Concord and Thaddeus Nieduzak from Acton. Welcome to both of them! To preserve privacy, we will share the information of mailing address or email addresses only if you request them at concordplayers@gmail.com Also, Geoff Weaver's email address was printed incorrectly. The provider is @yahoo.com not @aol.com.

THE PLAYERS NEED HELP
WITH FACEBOOK




The Concord Players are looking for someone with the interest and expertise to manage the Players' Facebook page. It needs to stay up to date with photos and current information about Players activity. This person will have full support from the webmaster, who can provide photos. Anyone interested, please contact webmaster@concordplayers.org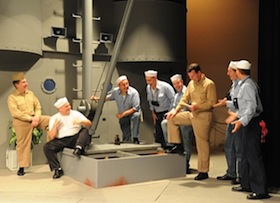 Actor-sailors rehearsing at dress.



USS RELUCTANT READY TO LAUNCH!
The Concord Players' cargo ship the USS Reluctant is manned and ready to cast off for its three-week Pacific tour. Having begun early this past summer at its shipyard berth 51 Walden Street, construction of the ship is now complete. The AK 601 is fortunate to have aboard a highly dedicated crew of officers and seamen who have spent countless hours training, drilling and preparing for its launch and maiden voyage. A celebratory Christening and Dock Party are planned for the evening of Nov. 2, before the Reluctant leaves port, navigates a trial run, and gets underway for its mission in the Pacific. Officer of the Deck and ladies and gentlemen, make ready to sail!

VINTAGE HUDDLE ENJOYED BY PLAYERS REGULARS
One of the better and more successful Huddles was held on Sunday, October 21, for a sturdy group of Players, both young and veteran. A splendid time was had by all, busy catching up with one another before being informed and entertained on the coming 93rd season of The Concord Players.
Piano entertainment enjoyed by everyone was supplied by Jerry Hurley, who also accompanied the Players Board as a chorus, singing a farewell tribute to master lighting designer Bruce Gray, who is moving to Maine.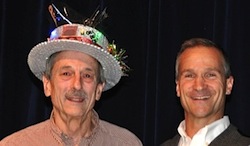 Bruce Gray with funny hat and Jay Newlon


The festivities were greatly enhanced by a visually impressive spread of tasty treats supplied and arranged by Lisa Astbury, Susie Baldwin, Sally Bull and Joanne Hines (see above). What followed was more than up to the standard. Kirstin Gould led off with a thoughtful presentation of her vision for The Sound of Music, the spring musical. John Pease, undaunted, joked his way through detailed remarks about The Musical Comedy Murders of 1940, the winter comedy. This was followed by Chuck Holleman in the persona of Captain Morton of the USS Reluctant, who spoke vigorously (standing in for director Doug Cooper) of the upcoming production of Mister Roberts, and then introduced an excerpt from the play, performed with great panache by Gordon Ellis (Ens. Pulver), Ben Delatizky (Dolan), Craig Howard (Doc) and John Alzapiedi (Lt. Roberts).