DASH AWARD WINNERS
The Concord Players had four DASH award winners, for their work on the 2011 fall musical The Drowsy Chaperone, at the recent EMACT awards banquet:
Best Ensemble (Musical): the cast of The Drowsy Chaperone.
Best Actor in a Musical: David Berti.
Best Stage Manager of a Musical: John Murtagh. Best Costume Designer of a Musical: Linda Burtt.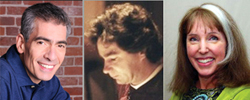 Congratulations to these winners and thanks to them for their excellent work on our show!

COME TO A LIGHTING WORKSHOP!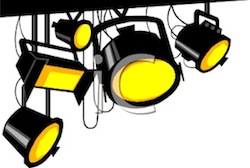 The Concord Players need volunteers to be designers and operators of our new lighting system!
If you want to learn the mysteries of lighting a stage production, come to our workshop, 1-4 p.m. on Sunday afternoon, September 30, 2012, at the 51 Walden Street Theater, Concord, MA.
The workshop will be conducted by Bruce Gray, one of the Players lighting experts.
The Players have bought a new lighting system to replace the light board donated nine years ago by WGBH, thanks to David Atwood.
All attendees, from beginners to experienced light staff, will learn about the new ETC Element Console (40 Faders, 250 Channels) and all aspects of its operation.
The workshop will include (1) demos of the types of lighting instruments the Players have and how to set them, (2) a general discussion of lighting a show, (3) a tour of the Players lighting equipment, and (4) a presentation on using the new light board to show patching, setting looks, storing and running cues, etc.
To sign up, email JillHenderson@rcn.com Join us!

CONCORD CULTURAL DISTRICT
The Massachusetts Cultural Council has approved the designation of Concord Center as a Cultural Arts District. Only ten towns in Massachusetts have this designation, which recognizes a specific walkable area in a town easily identifiable as a center of cultural artistic and economic activity. The result of this designation will include signs on the highway, ties to state, national and international tourism agencies, maps of the district for Concord visitors. On September 18 The Concord Players will host a Concord Chamber of Commerce "Business After Hours" reception at 51 Walden, and take that opportunity to raise a glass to toast Stephanie Stillman, Executive Director of the Concord Chamber of Commerce. She led this initiative and developed the successful application. This designation will stimulate increased participation in arts and cultural activities, and provide increased revenue for all the performing arts and arts organizations in our town.

SHOW BUS TICKETS AVAILABLE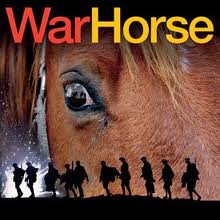 We have some tickets left for the fall Show Bus to see War Horse on Friday, Oct. 12 @ 8:00. The ticket price is $88 and the bus ride goes for $12 = $102 per person. We will meet at 51 Walden St. at 6:00 pm for a departure time of 6:15. If you would like to join us, please call Susie Baldwin (978-287-4898) or Sally Bull (978-369-2042).

OTHER CASTING NEWS
Shana Dirik will be performing in The 25th Annual Putnam County Spelling Bee, at Manchester Palace Theatre, opening Sept. 14. Robert Runck has been cast as Richard Bravo in Bad Seed for the Belmont Dramatic Club, Oct. 20, 21, 27 and 28.
We're always interested in hearing from you about any dramatic news, plays you're in, or other theatrical endeavors. Let us know!