COME FROLIC WITH US!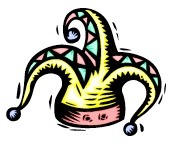 Come to The Concord Players Spring Frolic! Sunday, June 3, 2012, at 7:08 p.m. 51 Walden St. Concord. Celebrate the success of our 2011-2012 season. The Drowsy Chaperone invites all of Amateurs and Little Women (and men) to come join the fun! Potluck supper (bring something to share). Strawberry shortcake, Aunt March's lemonade and other beverages provided.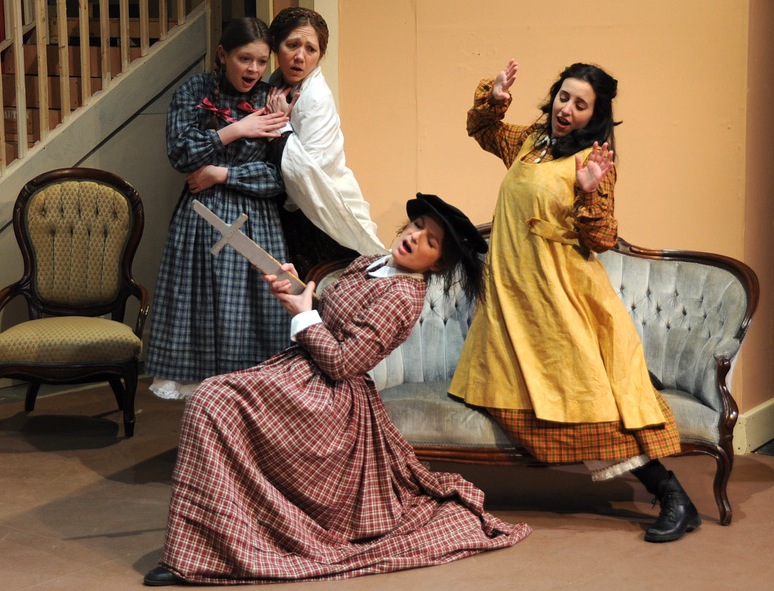 The March sisters rehearse Jo's play



LITTLE WOMEN 2012 PERFORMANCE
by Susan Bailey
I had the pleasure of seeing the Concord Players' historic production of Little Women. The quick pacing and energetic performances made this play a joy to watch. Casting on the most part was perfect. Nicole Dunn perfectly embodied Jo's spirit. I truly could feel Jo's love for her sisters, her buoyancy and joy for life and writing. The scene between her and Beth at the seashore brought tears to my eyes. David N. Rogers as Laurie in the pivotal scene between Laurie and Jo exploded with deeply felt passion. Jan Turnquist is such an integral part of Louisa's continuing legacy that it seemed very fitting to have her there as Marmee. Kimberly Rochette's Meg and Amelie Lasker's Beth were perfect. I wish the part of Professor Bhaer had been larger because the actor, Julio Gomez, was terrific. Michael Govang was very good as John Brooke, and Marcella Fischer provided comic relief as Aunt March. Knowing how connected The Concord Players is with the town, Louisa's ancestors and her history, made this production extra special.

OTHER NEWS ABOUT THE PLAYERS
Something to note: an extraordinary 3,242 audience members came to see the latest production of Little Women.
Also, we want to thank those board members who are retiring from the board this year: Ed Bernard, Cheryl Miller and Paul Murphy.

SAVE THESE DATES FOR SHAKESPEARE ON THE LIBRARY LAWN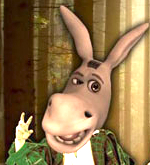 On each Saturday and Sunday, July 14-15 and 21-22 at 2:00 p.m., The Concord Players will be performing Midsummer Mechanicals: Scenes from A Midsummer Night's Dream by William Shakespeare, on the front lawn of the Concord Free Public Library. Free admission.
Bring a chair or blanket, and enjoy the best of comic shenanigans from one of Shakespeare's most beloved plays.


MISTER ROBERTS AUDITIONS
Auditions for the fall production of Mister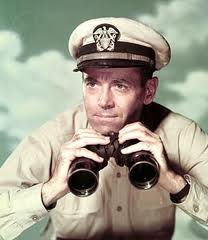 Roberts will begin at 7 p.m. on August 28 and 29, with callbacks on August 30, all at 51 Walden St. in Concord MA. Performance dates are November 2-17, 2012. Directed by Douglas Cooper, and written by Thomas Heggen and Joshua Logan, the play has roles for 19 men and 1 woman. Synopsis: Lt. Doug Roberts is the cargo officer aboard the USS Reluctant, a re-supply ship serving in the South Pacific. World War II is nearing an end. The war in Europe is over, although there's no end in sight for the war in the Pacific. Roberts is beginning to feel that the war will pass him by. He's repeatedly requested transfer to a combat ship, but his Captain knows Roberts is one of the best cargo officers available. Roberts cares about his zany crew and is often the buffer between them and the Captain, who is something of a tyrant, and who has not permitted shore leave for almost a year. In return for the Captain granting the crew shore leave, Roberts agrees to follow his orders without comment or objection. The men think he's let them down, but when they learn that it was Roberts who got them their shore leave, they return the favor in their own fashion.

NEED SPECIAL EVENTS DIRECTOR
The Players are looking for someone who can take responsibility for coordinating their three primary public meetings during the course of the year: the Fall Huddle, when we meet the Directors and get a taste of the season to come, the Annual Meeting, when board business is reviewed and approved, and the Spring Frolic, when madcap fun reigns. This is a chance to express your entertainment creativity, your organizational talents, and your excellent follow-through. If you're good at event planning and like throwing parties, please contact Jay Newlon at jnewlon@concordplayers.org

FOPAC CELEBRATES 40th
WITH LA BOHEME
To celebrate its 40th year of incorporation,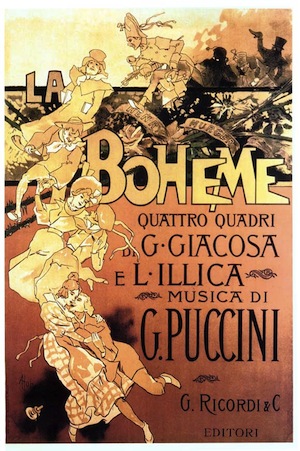 FOPAC will present Puccini's opera La Bohème on Saturday, June 9, at 8 p.m. and Sunday, June 10, at 2 p.m. This fully staged performance, a collaboration of The Concord Band, The Concord Orchestra, and The Concord Players, along with other friends of 51 Walden, will be performed in Italian, with surtitles. More information available at 51walden.org

PLAYERS NEWS ELSEWHERE
Amelie Lasker (Beth in Little Women) will appear in the Concord Youth Theatre's Young Adult Performers' production of Legally Blonde June 27-30 at Middlesex School. For info and tickets, go to www.concordyouththeatre or call 978-371-1482.