2012-13 PLAYERS SLATE CHOSEN
The Concord Players board has chosen, and the members have approved, the slate of shows for the 2012-2013 Players season. In the fall, we will see Mister Roberts, directed by Doug Cooper. The play is the one on which the popular film starring Henry Fonda, Jimmy Cagney, William Powell and Jack Lemmon was based. In the winter, we will see Musical Comedy Murders of 1940, directed by John Pease. Our Spring musical will be The Sound of Music, directed by award-winner Kirsten Gould. Susan Minor will be music director and Brian Harris will design the set. Unfortunately, Julie Andrews has a schedule conflict, and will not be able to appear.

NEWS OF PLAYERS AROUND
THE AREA
Cheryl Carter-Miller is playing Edith, Brian Harris is designing the set, Charlotte Kelley is doing props and Carol Antos is designing costumes for Grey Gardens at Arlington Friends of the Drama, opening March 30. Doug Cooper is designing the set, Paula McNabb is stage manager and Ethan Butler is starring in Harvard Community Theater's Crossing Brooklyn, which opens April 6.

AUDITIONS FOR SUMMER SHAKESPEARE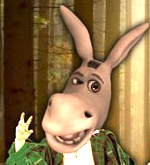 Auditions will be held for Midsummer Mechanicals: Scenes from A Midsummer Night's Dream on April 6 at 7:00 pm and April 7 at 4:00 pm at 51 Walden Street, Concord. Roles: Quince, Bottom, Flute, Snout, Snug, Starveling, Puck, Titania, Theseus, Hippolyta and Philostrate. Bring acting bio, headshot, and list of schedule conflicts for Mid-April to July 13. Performances will be on the lawn in front of the Concord Free Public Library. Dates: July 14, 15, 21 and 22, at 2 pm.
For more information, email r.runck@comcast.net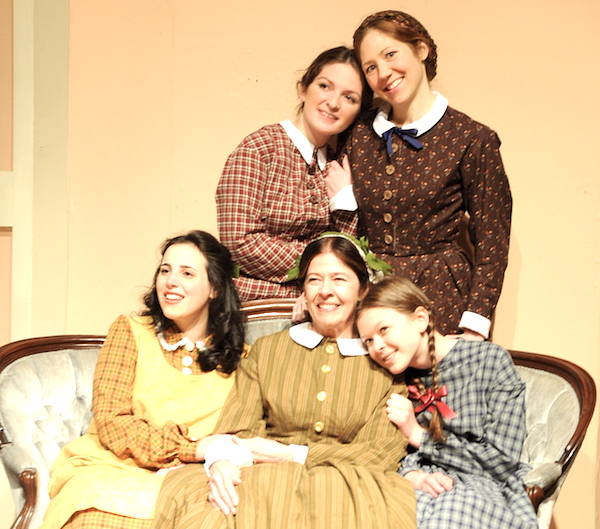 Top: Nicole Dunn (Jo) and Kim Rochette (Meg); Seated: Molly Weinberg (Amy) , Jan Turnquist (Marmee), Amelie Lasker (Beth).

WHY SEE LITTLE WOMEN?
Here are six reasons why you will want to attend the eighth decennial production of a dramatization of Little Women by The Concord Players, opening April 27 at 51 Walden Street.
1) The Concord Players have a well-earned reputation for spectacular productions. Little Women is presented in full period regalia, as displayed during the recent Costume Parade.
2) The production is historic, depicting the town in which it is presented, and Louisa May Alcott, author of the novel, helped found the drama group that became The Concord Players. Also, this year's production coincides with the centennial of the her home, Orchard House, as a Museum.
3) The story is a classic. Girls and their families from around the world have been reading Little Women since it was first published in 1868. In 1929, 60 years after its initial publication, more than 3 million copies had been sold. The book has spawned two sequels, three movie adaptations, one opera, and one musical.
4) Though it was written 150 years ago, the story involves a family struggling with tough times ... a divisive war ... a parent who can't find work. Sound familiar?
5) The story is about a special family, living in Concord during an especially significant time in our nation's history.
6) Each time The Concord Players present this show, we place a new stamp on this classic and on our history. Come see for yourself and share in our excitement!