FUND-RAISING A GREAT SUCCESS!
The Concord Players have been pursuing a three-part fund-raising plan. (1) Thanks to generosity and financial help from the Sudbury Foundation and the Valerie Beth Schwartz Foundation, they were able to install a new speaker system last April. It has been a great success. (2) After research by Paul Gill and Bruce Gray, with help from Allen Bantly, into hearing assistive devices, and the results of a focus group, Jill Henderson submitted two grant proposals.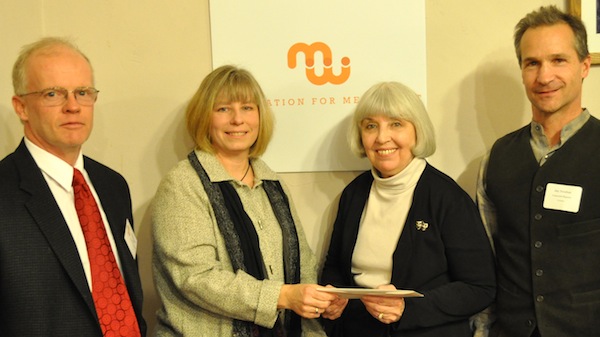 On December 6th, Jill and President Jay Newlon received a $2,000 check from Ken Vona and Meg Ramsey of the Foundation for Metrowest, as shown above. In that same week, the Valerie Beth Schwartz Foundation granted The Players $5,000! These two grants have fully funded new hearing assistive headsets now available for performances. When asked for his opinion, Rik Pierce said, "I have hearing aids that help me a lot so I thought I didn't need to wear a headset in the theater, but when I did try it, it made all the difference between hearing and understanding." (3) The third phase of Concord Players fund-raising will be replacing the lighting board and updating the lighting equipment.
SLATE FOR 2012-13 CLOSE TO FINISH
The Play/Director Selection Committee has identified a number of plays under consider- ation for 2012-2013. The committee has scheduled January interviews with eight directors matched to these plays. In February, the PDSC will present a slate of recommended shows to the Concord Players Board.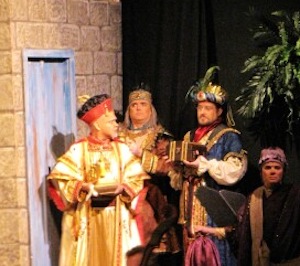 Ray Bauwens, Michael Prichard and Thomas Dawkins as the Kings and Brad Amidon as the Page ask for shelter at the door of Amahl and his mother.
AMAHL A RECORD SUCCESS!
The Friends of the Performing Arts in Concord produced, under the able music direction of Alan Yost and Robin Farnsley, a flawless performance of Gian Carlo Menotti's
Amahl and the Night Visitors,
to an overflow and record-setting audience of 285 on December 18. At the conclusion, the audience responded with a standing ovation.
AUDITIONS FOR LITTLE WOMEN
Auditions will be held Wednesday and Thursday, January 11 and 12, 2012, at 7:00 p.m. in Robb Hall at the Fenn School, 516 Monument Street, for The Players' decennial spring production of a stage version of the novel Little Women, written by Louisa May Alcott, who with her sisters founded the drama group that became The Concord Players. She wrote Little Women in 1868 at Orchard House in Concord, where she lived. Orchard House is this year celebrating its centennial as a museum. The Players have produced a stage version of Little Women every ten years since 1932, with the exception of 1942, during World War II. Performance dates will be Fridays at 8:00, Saturdays at 2:00 and 8:00 and Sundays at 2:00, on April 27, 28 (two shows), 29 (matinee), May 4, 5 (two shows), 6 11, 12 (two shows), 13 (matinee), 2012.

AMATEURS PROCEEDS APACE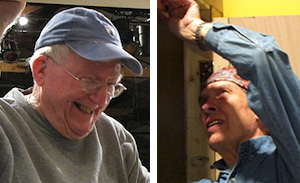 Technical Director Allen Bantly, with assistance from Frank Gill and Larry Blundell (above), are moving ahead rapidly with construction of the set for
Amateurs
-- along with progress of rehearsals of the play.
Below, Julian Willard, as Nathan, teacher and wannabe ventriloquist in
Amateurs
, practices with his puppet backstage.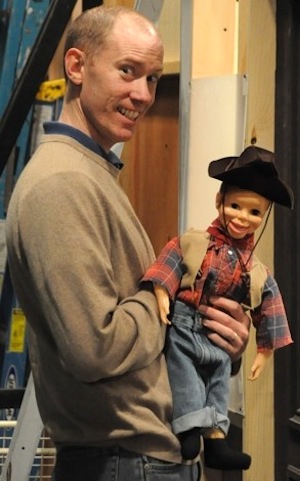 NEW MEMBERS
The membership committee would like to welcome three new members: Julian Willard, from the
Amateurs
cast, and returning members David and Louise Hannegan and Gerald and Lydia Lauderdale.