DON'T FORGET TO SEE BREAKING LEGS!
Opening February 11, and continuing Feb 12, 18, 19, 20, 25, and 26. Directed by John Alzapiedi and featuring the usual top-notch CP cast and production crew. Shown here are Dick Guzzi, Julio Gomez, and Paul Held in a early green-room rehearsal discussion of their roles, along with the director and the other actors.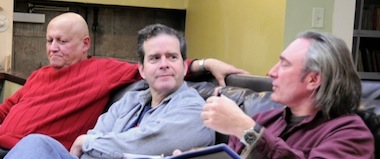 AUDITIONS FOR DIRTY ROTTEN SCOUNDRELS
Auditions for Dirty Rotten Scoundrels will be held on January 6 and 7 from 7 to 10 p.m., 2011, at 51 Walden, with callbacks on January 9 from 12 noon to 3 p.m. All actors who are cast will be required to become members of The Concord Players. Performance dates: April 22, 23, 29, 30, May 1, 6, 7, 2011.
Based on the popular 1988 film, The musical centers on two con men living on the French Riviera who each attempt to extract $50, 000 from a young heiress. The one who loses the bet must leave town.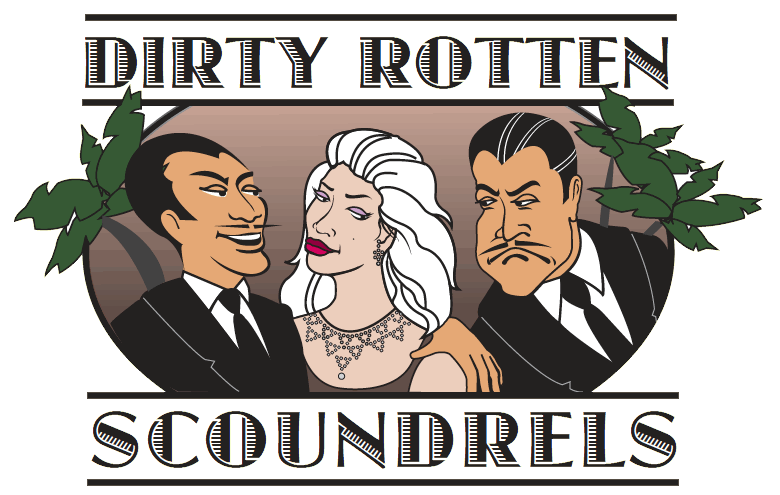 CHARACTERS
ANDRE THIBAULT Lawrence's French assistant. F2 - F4 (Bari tenor)
CHRISTINE COLGATE An American heiress vacationing on the French Riviera, and the target of Lawrence and Freddy's bet. A3 - F#5 (Mezzo-Soprano)
FREDDY BENSON A young, aspiring con artist. A2 - B4 (Tenor)
JOLENE An heiress from Oklahoma. A3 - D5 (Alto)
LAWRENCE JAMESON An older, wiser, and sophisticated con artist. G2 - Bb4 (Tenor)
MURIEL A wealthy socialite, Andre's love interest. E3 - C5 (Alto)
THE ENSEMBLE, consisting of 10 major dancers and a 4-6 member pit chorus, includes many featured roles.
For auditions, come dressed comfortably for learning a dance routine; prepare a section of two contrasting songs in the style of the show or character for which you are auditioning (does not have to be a song from the show); and bring sheet music in the correct key (no a capella singing). Acting auditions will consist of readings from the script. Visit the website at www.concordplayers.org to fill in an audition form or for more information. You can also email Scoundrels@concordplayers.org

SELECTIONS FOR 2011-2012 PROCEED APACE
The play/director selection committee has selected an award-winning musical for next fall, with a comedy to follow as the winter production. The decennial production of Little Women is scheduled for Spring 2012. Additionally, there are three excellent directors lined up for next season. Concord Players members and subscribers can look forward to a full announcement of the season selections at the Players Annual Meeting on March 20, 2011.

HATS FOR SALE!
A new concession will appear at our performances: A Concord Players hat! Buy one and be cool!


HEAR YE! HEAR YE!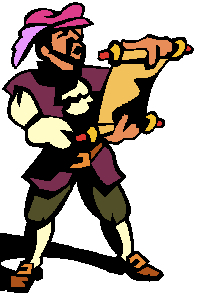 In early December, Jay Newlon, President of The Concord Players, and John Hutchins, Honorary Chair of our Sound Enhancement Project, sent out a letter to members, subscribers and friends requesting donations to purchase new sound equipment. As many of you know, we have had major sound problems with the last several shows. We need to purchase a new speaker system and to upgrade our hearing assistance devices so that our audiences can fully enjoy our productions. This is the first phase of a multi-year project.
Our goal is to raise $25,000 for this equipment before we open our musical Dirty Rotten Scoundrels on April 22. In this economy, this is a difficult challenge. At the end of the year, the members of the Board of Directors have sent individual letters to the actors who have appeared on our stage at 51 Walden Street in the last several years. We have added a new donation capability to our website www.concordplayers.org so that gifts may be given via the Internet. We are very grateful for the donations that we have received. Gifts have been given in honor of Heddie Kent, Jack Sweet, Miles Petrie, Scarlet Pimpernel, and Harry Schecter.
If you have acted, sung, or danced on our stage; directed or produced our productions; designed our lighting; worked on our sound system; built and painted our sets; designed, sewn and fitted our costumes; gathered our props and dressed our sets; written press releases, articles and advertising copy; distributed our subscription brochures; sold tickets, ushered; baked and served refreshments, and volunteered in all corners of The Concord Players, we hope that you will send a donation to help us purchase these needed components of our sound system. We want everyone to hear every word.

WEBSITE NEEDS SOCIAL MEDIA HELP
The Concord Players is looking for someone with the interest and expertise to manage the Players' Facebook page. It needs to stay up to date with photos and current information about Players activity. This person will have full support from the webmaster, who can provide photos. Anyone interested, please contact webmaster@concordplayers.org

TRAVELING PLAYERS AT MESSIAH SING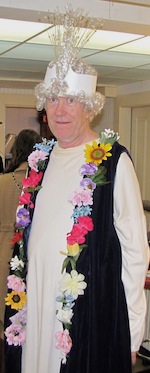 The Concord Traveling Players, plus four, performed a reading of a short version of Charles Dickens' A Christmas Carol at the Messiah Sing on December 19. The performers were garbed in Victorian and character costumes supplied by Tracy Wall, and were received enthusiastically by the audience.
Those performing were Robert Runck as narrator; Sandy Armstrong as Mrs. Cratchit and a 'Change businessperson; Rik Pierce as the ghosts of Christmas Past (shown here), Present and Future; Charlie Streff as Scrooge; Tom Ruggles as Josiah Marley, Bob Cratchit, a 'Change businessman, and Old Fezziwig; Sarah Telford as the fiancee of young Scrooge, Martha Cratchit, and Scrooge's niece-in-law; and Miles Petrie as Scrooge's nephew, Peter Cratchit, boy outside Scrooge's window, and Tiny Tim (photos by Allen Bantly).


Miles, Sarah, Charlie, Tom, and Sandy

On December 31, the Traveling Players performed before an small but appreciative group of patients in the transitional care (rehab) unit of Emerson Hospital. This month, they plan to entertain residents of Concord Park Senor Community in West Concord.