IN MEMORIAM, PATRICIA BEEDE
Patricia Fleet Beede of Concord passed away peacefully, surrounded by her family on Monday, May 16, 2011, at Emerson Hospital in Concord. She was the wife of Russell Beede. She and her husband had been long-time members, subscribers and donors to The Concord Players. She asked that gifts in her name be made to The Players, or to Wheaton College, Norton MA. A memorial service will be held Saturday June 04, from 1:00 p.m. to 2:00 p.m. at the Trinitarian Congregational Church, 54 Walden Street, Concord.

PLAYERS OUTSIDE/INSIDE NEWS
Tom Large and Paul Held have gone from being madcap Italians in Breaking Legs to madcap Brits in the farce Funny Money at TCAN in Natick center. The show goes up in early June. For info, go to www.TCANPlayers.org
The Play/Director Selection committee has added Craig Howard and Shana Dirik as new members. The committee will meet in early June, to begin planning the 2012-2013 season.
Shana will be also appearing as Maria in Lend Me A Tenor at the Next Door Theater Company in Winchester in July, and then as Mrs. Johnston in Blood Brothers at the Courthouse Center for the Arts in Rhode Island in September.

THANK YOU, CLAIBORNE DAWES
The Players wish to thank Claiborne Dawes for her years of service in asking for program ads from local businesses. Stefanie Cloutier is taking over for her. Stefanie also helps with public relations for Players shows.

ANOTHER THANK YOU TO MR. BANTLY AND MISS ALCOTT
Allen Bantly has just completed building new shelves to house the Concord Players' archives. We have an extensive collection of photos, programs, and PR materials from our past productions. These sturdy shelves will now accommodate our large posters and archival boxes which have been stacked in the costume room.
This summer, we will be organizing the collection and planning an special exhibit for next year's production of Little Women. This specially commissioned play is performed every ten years to honor our founder, Louisa May Alcott. It will be a highlight in the year-long 100th anniversary celebration of the Louisa May Alcott Memorial Association, founded to preserve Orchard House, home of the Alcott family on Lexington Road in Concord.

YOUTH THEATRE BRANCHES OUT
At this time of year, the Concord Youth Theatre has gone beyond their mission of presenting children's literature to present two exciting and very different productions, involving former performers, many just graduated from high school or now in college.
On June 16-18 at 7:30, CYT presents the influential medieval romance, Tristan and Yseult. Due to the mature content of this production, it is recommended for ages 14 and over. The cast includes Players member Miles Petrie, who was Jem Finch in To Kill a Mockingbird. It's being directed by Bill Plott, the recently retired Lincoln-Sudbury H.S. drama teacher, and is being performed at CYT's black box theatre at 50 Beharrell St., West Concord (tickets $13).
On July 6-9 comes Stephen Sondheim's Merrily We Roll Along, directed by Carly Evans, who has been on the Players' stage on many occasions, most recently in The Scarlet Pimpernel. This production will be performed in the air-conditioned theatre at The Middlesex School, 1400 Lowell Rd., Concord ($15). For ages 10 and over.
For tickets or more info visit the website at www.concordyouththeatre.org or call the office at 978-371-1482.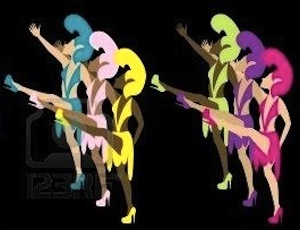 THE FALL MUSICAL
If you've ever found yourself sitting in a dark theatre before a performance, thinking to yourself, "Dear Lord in heaven, please let it be good," then the Fall musical will be the show for you! We will officially announce the show's real title in early June. But here's a preview into what's ahead. The winner of five 2006 Tony Awards, including Best Book and Best Original Score, this "clever, gleeful and intelligent" (The New Yorker) show, a musical within a comedy, spoofs the musicals of the 1920s. To chase the blues away, a devout theatre lover drops the needle on his favorite vinyl Broadway cast record. "Yes, record," he says. It is his favorite 1928 musical comedy. From the crackling first notes on the hi-fi, the show magically bursts to life in his tiny apartment. You'll be instantly immersed in the glamorous, hilarious tale of a Broadway bride, her celebrity groom and their uproarious wedding day; a day resplendent with thrills and surprises, in this trip back to the golden age of musicals.

COME TO THE ANNUAL FROLIC!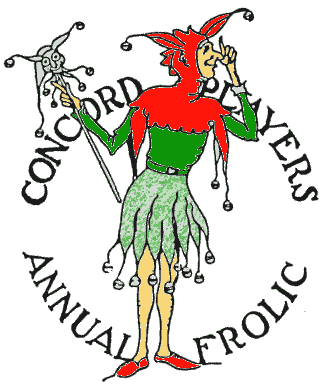 Join us this Sunday, June 5, at 7:03 p.m. for the Annual Frolic. We'll look back at the year, celebrate the shows, do a little karaoke, and enjoy a pot luck (with strawberry shortcake!). Bring your singing voice and an entree to share. Visit concord players.org for more info.

TALES FROM THE TREASURER
Chuck Holleman is the Treasurer of The Concord Players, and as such handles the money. He has these tales to tell: "Now some folks might think that being the treasurer of the Concord Players would be a mind-numbingly tedious job. And sometimes it is. But then there are those occasions where one can be taken aback at some the things that people spend money on: Peacock feathers, robotic penguins, prints of stolen paintings, and Nazi flags are just some of items for which receipts are presented. However, I had to look twice when I was presented with a receipt during the run of Dirty Rotten Scoundrels for a large number of condoms. 'Ahmmm ... what's this for?' I asked. 'I don't think I saw anything going on on stage that required a condom, did it? By any chance might this have been an expense that I should charge to the cast party?' 'Oh no,' I was told, 'These were for the body mikes.' 'Body mikes?' I said. ' Is that some new urban slang term for what one does with condoms at a cast party?' 'No, no, the condoms are used to protect the body mikes. We have had situations where an actor's perspiration will short out a mike during a performance. And those mikes are expensive. A condom is the cheapest form of protection.' 'Of course it is,' I said. 'You hear that on those public service announcements all the time--but I don't think they were referring to electronics.' Well, more than one member of the production team assured me that this was a legitimate expense. However, if the next show doesn't require body mikes, and still shows large expenses for condoms, padded handcuffs, or leather costumes, I think I will have to charge it to the cast party anyway."

COME FEAST ON GILBERT & SULLIVAN
The New England Gilbert & Sullivan Society is celebrating its 35th Anniversary Sing-Out on Saturday June 11 and Sunday June 12 at 51 Walden. Concord Players Connie Benn, Tom Frates, and Jim Miller will be among the 45 performers participating in this marathon sing-through of all G&S Operettas!