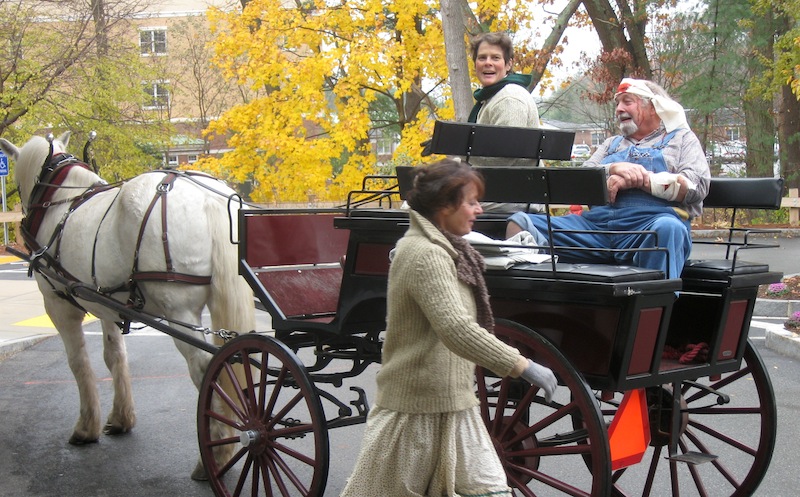 PLAYERS STAGE RE-ENACTMENT
AT EMERSON HOSPITAL
Emerson Hospital kicked off the celebration of its 100th year in operation this week with a small ceremony in the Stratford Lobby of the hospital.
As part of this celebration, the hospital staff and other attendees were treated to a re-enactment of the first patient to arrive at the new hospital, in a horse-drawn carriage, 100 years ago.
Helping in this re-enactment were members of The Concord Players. Anne Bantly played the role of Head Nurse Miss Lillian Williams, and Lillian Anderson played Supervisor Lucy Robinson, who both rushed to help an injured farm hand, played by Fritz Kussin.
Other members of the cast were Dr. Henry Vaillant, playing Dr. Chamberlain, and Karen Baldwin, who drove the horse and buggy. Kathy Booth created modified costumes from the Concord Players collection. (photos by Allen Bantly).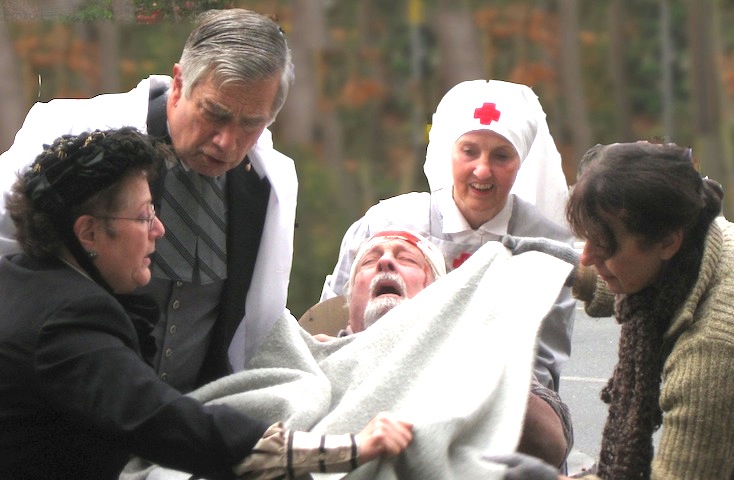 VICTORIAN MESSIAH SING
AND A CHRISTMAS CAROL
A Victorian Messiah Sing, complete with a semi-staged reading of an abbreviated A Christmas Carol by Charles Dickens, will be held at the Performing Arts Center at 51 Walden on Sunday, December 19, 2010, at 2 p.m. The concert will be conducted by Alan Yost.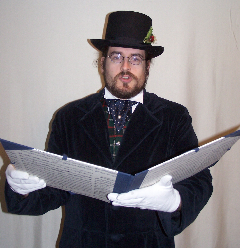 The soloists in Handel's Messiah are Kimberly Peck Lamoureux, soprano, Sarah Telford, alto, Ethan Bremner, tenor, and Thomas Dawkins, bass (pictured here). The audience, which will be seated in vocal sections, is invited to sing the chorus parts. There will be special seating for people who just want to listen.
Also on the Messiah Sing program is Mendelssohn's Octet in E-flat major. Musicians in this exhilarating work, written when the composer was 16 years of age, are Siri Smedvig, Edie Epstein, Peter Dabos and Loretta Tramontozzi, violins, Bruce Kinmonth and Cathy Gates, violas, and Julie Durrell and Joan Esch, cellos. Susan Jackson will be the flute soloist in Bach's Orchestral Suite No. 2.
Participants in A Christmas Carol include members of The Concord Traveling Players: Sandy Armstrong, Rik Pierce and Robert Runck, along with Miles Petrie, Tom Ruggles, Charlie Streff and Sarah Telford. The soloists and actors will be attired in period dress, designed by costumer Tracy Wall of The Concord Players.
Friends of the Performing Arts in Concord (FOPAC), which manages 51 Walden, is sponsoring the event. The Sing is supported in part by a grant from the Local Carlisle Cultural Council. Admission is $15 for adults, $10 for seniors and students. Scores of the Messiah will be available to borrow. For further information, call 978 369-7911 or log on to www.51walden.org

LET US KNOW WHAT YOU THINK
Last month we asked for your thoughts on updating the Players logo (shown to the left in the header to the newsletter; see above). We would like a broad representation of member opinion on the question.
What do you think about changing the logo? Do you think we should keep the existing one? Do you think we should create a new one? If so, what would like it to convey? Or do you not care particularly what we do?
Please email your thoughts to board member Paul Murphy, at paulwmurphy@gmail.com

BREAKING LEGS READY TO GO!
The cast and crew are in place for Breaking Legs, a wonderful comedy about an aspiring playwright who becomes financially tangled with some shady characters in order to finance his new play--and romantically involved with the daughter of one of his would-be backers. John Alzapiedi directs. The show performs February 11, 12, and 18, 19, 20, and 25, 26, 2011.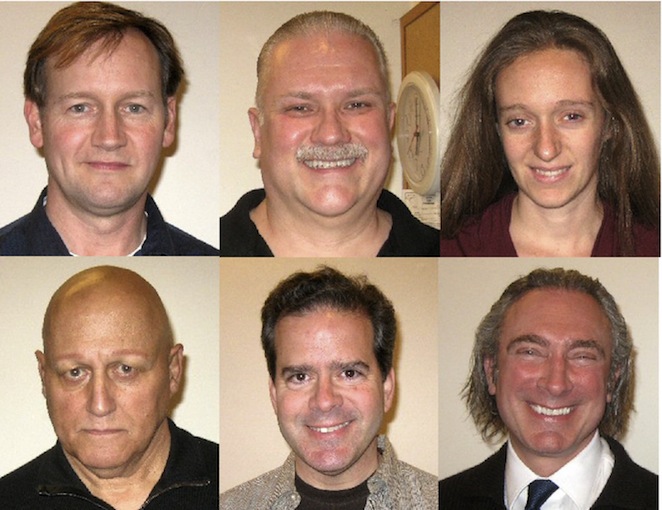 The Cast: Michael Govang as Terence O'Keefe; Tom Large as Lou Graziano; Alexandra Corwin as Angie Graziano; Dick Guzzi as Mike Francisco; Julio Gomez as Tino De Fleice; and Paul Held as Frankie Salvucci.
The usual crack production team consists of David Atwood, producer; Kurt Lanza, stage manager; Douglas Cooper, set design; Allen Bantly, set construction; Susan Tucker, lighting design; Susan Yanofsky, costume design; Mark Elliott, sound design; Linda McConchie, props; and Charlie Atherton, makeup.

OTHER PLAYERS PERFORMANCE NEWS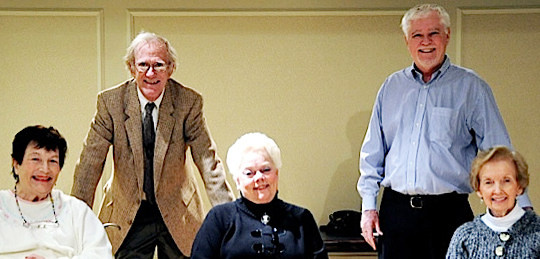 Tillie Sweet, Rik Pierce, Sandy Armstrong, Robert Runck
and Dorothy Schecter



The Concord Traveling Players, pictured here, opened their season with a performance before an enthusiastic audience of retired folk at Newbury Court. They acted out two scenes from Arsenic and Old Lace and Harvey (Sandy Armstrong, Rik Pierce and Tillie Sweet), and I'm Herbert (Robert Runck and Dorothy Schecter), one of the short pieces that make up I Can't Hear You When the Water's Running. Their next appearance will be at the Transitional Care Center of Emerson Hospital, on December 31.
Shana Dirik is currently in rehearsal as Auntie Bessie for A Child's Christmas in Wales, by Dylan Thomas, for the Boston Playwright's Theater Company. The show runs Dec 3 through Dec 23 at the B.C.A. on Tremont street. Information and tickets at http://http://www.bu.edu/bpt/

JOHN HUTCHINS TAKES ON A NEW ROLE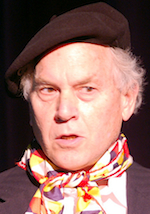 We are delighted to announce that John Hutchins, Esq., will serve as the Honorary Chair of the Concord Players' "Sound Enhancement Project" fund-raising campaign, which will be launched in December. This is a multi-phase project which will take several years to complete. We will begin by acquiring and installing a loudspeaker array with support electronics, and will upgrade the devices used by some of our audience members who need hearing assistance.
John has been a part of Concord Players since 1971, when he performed in Little Mary Sunshine. He has sung in many of our musicals, including Music Man, Fiddler on the Roof, Guys and Dolls, Evita, and H.M.S. Pinafore, and he played the part of Joseph Hewes in 1776. In 2009, he donned a French beret and enchanted us with his rendition of "I love Paris" at our Spring Frolic.
By day, John practices law in Boston. He is a past president of The Players, and serves on the Finance Committees for the Town of Concord and The Concord Players. We are most fortunate to have him take this leadership role as we start to raise funds for this project.
Soon, the members, subscribers and other supporters of The Players will be receiving a letter from Jay Newlon and John detailing the technical review and requirements for the new sound equipment, and asking for financial donations to help us purchase it. We have just added an on-line donation capability which you can use by going to the Concord Players website: www.concordplayers.org Checks may be sent to Concord Players, P. O. Box 22, Concord, MA 01742.