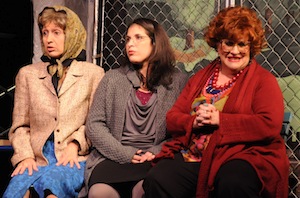 Bubbie and Hannah talk to Izzie about finding a husband.

CROSSING DELANCEY OPENS NOVEMBER 5!
It takes a village to put on a play, especially the kind of top-notch productions put on by The Concord Players. In Crossing Delancey, a cast of five actors is supported by a director, two producers, stage manager and assistant stage manager, props and set dresser, costume designer, set designer/builder, sound and lighting designers, hair designer, makeup supervisor, and a publicity director. Whew! That's a crew!
Mark your calendars for Opening Night, November 5! Celebrating the opening of Crossing Delancey, Middlesex Savings Bank is sponsoring a sumptuous reception for opening-night ticket holders which starts at 7 p.m. Also, we are offering group discounts for groups of 10 or more. See you there!

NEW SOUND SYSTEM MOVING AHEAD
The effort to enhance our sound system is moving along well, and according to plan. We have developed the proper specifications and asked that a number of vendors come in to evaluate our needs more specifically, and expect to be receiving bids over the next few months. The project is multi-phase in nature, and will result in not only better sound quality for all the shows, but also the purchase and upgrade of the hearing aid devices used by some of our patrons. In order to make this all become a reality we are starting a fund-raising campaign and will need your material assistance in this effort. Your financial support will be critical in the success of our ability to provide you with the best and most enjoyable theater entertainment in the area. Although you may be hearing from us on an individual basis, effective Friday November 5, you will be able to make donations to the Concord Players through our website www.concordplayers.org We will welcome your contributions. If you have additional ideas about how we can achieve our goal, please contact Jill Henderson, who is leading the campaign as Fund Raising Chair, or Jay Newlon, President.

AUDITIONS FOR BREAKING LEGS
Auditions for the winter show, Breaking Legs, directed by John Alzapiedi, are November 17 and 18 at 51 Walden, at 7:00 p.m. Callbacks will be Saturday, November 20, if necessary. Auditions will consist of cold readings from the script. The story in short: A playwright attempts to raise money from some "Italian businessmen." Yes, we know what kind. Hilarity and romance ensue.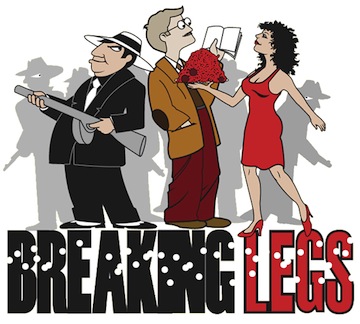 Characters
Lou: (50+) A practical businessman.
Angie: (27-32) Lou's daughter.
Mike: (50+) Not really a Mafia don but close.
Tino: (50+) The strong silent type.
Terry: (40-50) A professor/playwright, looking for $$$.
Frankie Salvucci: (50+) A sad sack, who owes Mike money; he is trying to buy more time.
*Director's Note: This is not Guys and Dolls. The characters don't know they are funny. The humor should be natural. Actors cast are required to join Concord Players: fee is $25.


THE CONCORD TRAVELING PLAYERS

The Players have created a troupe of actors, called The Concord Traveling Players, who will go to retirement homes and other venues with audiences enjoying entertainment that comes to them. The group presently consists of Sandy Armstrong, Rik Pierce, Robert Runck, and Dorothy Schecter. Initially, they will be performing staged readings of selections from

Arsenic and Old Lace

,

Harvey

, and

I'm Herbert

from

I Can't Hear You When the Water's Running

.

Their first appearance will be at Newbury Court, on November 30 at 3:30 p.m. in the South Entrance theatre. On December 19, they will be offering a reading of Charles Dickens'

A Christmas Carol

, as part of the FOPAC Messiah Sing program. Next spring, they are booked to perform at The Concord Players annual meeting, currently scheduled for March 20, 2011. Be sure to be there!

UPDATING THE PLAYERS LOGO

The Players board is exploring the idea of updating the Players logo to reflect the wide breadth of theater the group performs from classics to area premieres of new theater works. The board would like your input in the process. What do you think about changing the logo? What feeling/message would you like to see in a potential new logo? Please email your thoughts to board member Paul Murphy, at

paulwmurphy@gmail.com

OTHER PLAYERS NEWS

Savoyard Light Opera Company's

Music Man

cast reads like a Concord Player's alumni reunion! Jay Newlon is choreographer; in the cast are John Alzapiedi, Chuck Holleman, Reilly Harring, Connie Benn, Jon Saul, James Sheehan, Mike Lague and Johnny Kilcoyne! Also, Kathy Booth, with the help of Pat Kane, Carol Antos and Tracy Wall, is costuming the show.

Paul Murphy (director) and Tracy Wall (costumes) are busy at work on the Arlington Friends of the Drama production of the Kander and Ebb musical,

Curtains

. Auditions for this musical comedy whodunit will be held December 9, 11, and 12. Visit

www.afdtheatre.org

for more information.

RIK PIERCE OF NEW YORK THEATRE
AND TV FAME COMES TO 51 WALDEN
Our own Rik Pierce has had a 20-year association with The Concord Players, acting in a number of productions, including Our Town, Sylvia, and The Foreigner, winning awards along the way.
Rik is also principal photographer for The Players, taking photos of Players' productions from casting and rehearsal to performance, and archiving them on www.concordplayers.org a website he created and maintains as webmaster.
Rik is one of several Players with a professional background. While living in New York and working at a publishing house, Rik began making the rounds of auditions. He did a commercial for Hostess Doughnuts, which led to his being cast in a Pirandello play, but he felt that he couldn't commit to commercials and continue auditioning for plays. But while pursuing acting work, he found himself working steadily doing commercials anyway. The best-known was a series for Hai Karate aftershave.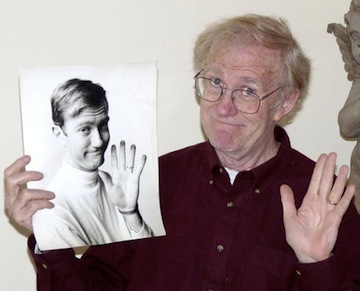 Rik Pierce, then and now. (Photo by Ellen Huber.)

Rik thus found himself embarked on a 25-year run as an actor in TV commercials, a career that he regretfully retired from at 50, "when I noticed that I was no longer getting young father roles and people weren't casting grandfathers, at least not yet."
Rik, his wife Nancy and son Tim decided to leave New York in 1989 "in the same month that we paid up our mortgage," settling in Carlisle. Tim went on to Amherst College, and Rik and Nancy have been with The Players ever since.
This piece draws on a 2009 article about Rik in the Carlisle Mosquito by Priscilla Stevens.

PROFILE OF BOARD MEMBER RICK FRESE
A member of The Players' Board of Directors and Chair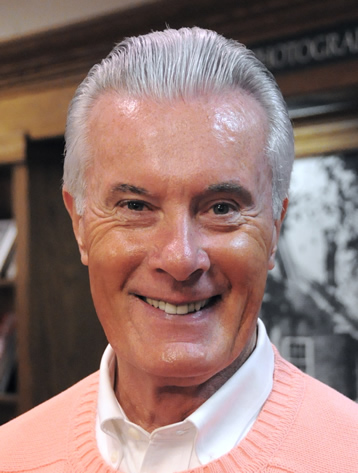 of the Play/Director Selection Committee, Rick Frese, a third-generation Concordian, has lived here with his wife, Nancy James, for 34 years. While retired as a professor of government, he still teaches part-time at Bentley University, where he was Associate Director of the Honors Program. Honored to have been voted Faculty Member of the Year by the student body, Rick is a recipient of the university's prestigious President's Award for Excellence in Teaching. He has been active in community affairs in Boston, Waltham and Concord, and chaired Concord's 350th Anniversary Committee in 1985, and most recently served on Concord's 375th Committee. He was a member of the FOPAC Board in the 1970s and early 1980s, and acted and co-produced in the 1980s for The Players. Rick is a member of the Senior Division of the Boston Amateur Baseball League, and also rides his bike and enjoys summering in Rockport with Nancy and family.

PLAYERS INTERVIEWED ON CCTV
Marilyn Cugini has recently interviewed Dorothy Schecter, Rik Pierce, and Derek and Patricia Till for a CCTV show titled Concord Players Remembers, which will air the week of Nov. 8-12: Monday at 9 p.m., Wednesday at 5 p.m., and Friday at 9 a.m. on Comcast Channel 8 in Carlisle and Concord. Marilyn's interview with Roxie Myhrum, Director of Crossing Delancey will also be shown on CCTV.

2010 FALL HUDDLE A TRIUMPH!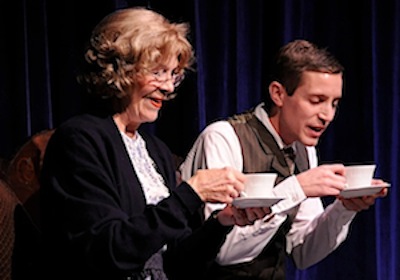 Susan Ellsworth and Eric Skoglund in The Landlady, by Roald Dahl.
The Fall 2010 Huddle was a very entertaining and informative affair, effectively programmed by Tracy Wall. A large group of Players members and supporters attended. After refreshments in the lobby, and following an amusing and well-spoken introduction by president Jay Newlon, they heard from the directors with their visions of the 2010-2011 season. The audience was then entertained by a scene from the fall show,
Crossing Delancey
, followed by a Claiborne Dawes dramatization of
The Landlady,
a short story by Roald Dahl. All in all, another successful kickoff of a Players new season!
__________________________________________________
James Sheehan (
The Scarlet Pimpernel
) and Emily Royer (
To Kill A Mockingbird
) are currently performing in the area premiere of
Little Women: The Broadway Musical
, presented by the Alexander Children's Theatre School. The show also features costumes by Rachelle Vachon (
Cinderella
).
Address correction: Stephen Newbold lives at 124 Hillcrest Rd., not the address listed in the Yearbook.