The

Scarlet Pimpernel

ship sails off to France.


Madame Guillotine in love... Madame Guillotine at work.




THE SCARLET PIMPERNEL

A SPECTACULAR HIT!


Driven by outstanding singing and acting on the part of principals James Tallach as Chauvelin, Ethan Butler as Percy Blakely, and Sarah Jackson as Marguerite St. Just, and backed by the usual spectacular and complex set, designed by Brian Harris and brought to life by Alan Bantly and his intrepid crew of builders and painters, The Concord Players have put on a show you shouldn't miss.
Ethan Butler shows that no only can he sing exceptionally well, he can act. His impersonation of a twee English nobleman, to deflect suspicion that he might be The Scarlet Pimpernel, is priceless. James Tallach delivers really powerful and thrilling singing as a brooding and threatening Chauvelin. Sarah Jackson, as the female love interest, has the chops to hold her own with her co-stars.
The supporting players enrich the production exceptionally well, especially the male chorus of singers and dancers comprising the Bounders, who support the Pimpernel's forays into France to rescue victims headed to the guillotine, and frustrate the French mob.
Speaking of Madame Guillotine, a highlight of the setting is a magician-worthy working guillotine designed and built by Allen Bantly. How do those heads roll so convincingly, without requiring new actors for every performance?



AUDIENCE QUOTES FOR PIMPERNEL




Went today and loved it! Great performances by all! Go see it, if you can!!!!

--Susan Lynn


You guys were ALL terrific last night! We thoroughly enjoyed ourselves, a great evening! Break a leg for the rest of the performances. Hope you sell out--you should!

--Carol Bowen



PROGRAM ADVERTISING MANAGER NEEDED!


Are you looking for a way to help at The Concord Players? Claiborne Dawes is currently the Players' Program Advertising Manager. She is looking to train a replacement to take over this role. To be a good Ad Manager, you should be "detail-oriented, outgoing, and enjoy trotting between Concord stores on a sunny day." Program ads are gathered mostly during May and June each year. If you would like to get a feel for the job by working with Claiborne this spring to collect a few program ads, please contact her by email or phone. You'll find her contact info in the Yearbook!

AUDITIONS FOR NEXT SEASON'S FIRST SHOW

, CROSSING DELANCEY


When: June 25 (Fri) 7 to 9 p.m., June 26 (Sat) 3 to 5 p.m., with callbacks June 26 (Sat) 6 to 8 p.m. Where: Concord Players, 51 Walden Street, Concord, MA. Play Dates: Nov. 5, 6, 12, 13, 14 (mat), 19 and 20, 2010. Director: Roxanna Myhrum. Audition readings will be from the script. Applications are on the Concord Players website www.concordplayers.org


Character Descriptions




Isabelle ("Izzy")

--An attractive, independent Manhattanite in her 20s. Izzy works at a bookstore and dreams that the handsome, intellectual authors she promotes are potential "Mr. Rights." Izzy frequently visits and takes care of her elderly grandmother Bubbie, who dispenses life lessons from her home on the Lower East Side.


Bubbie

--Isabelle's elderly but vivacious and quick witted grandmother. She emigrated to the United States as a young girl and has lived in New York City her whole life. Her wish is to see her granddaughter happily married. This role is written for and will be performed with a strong Yiddish accent.


Hannah

--A nosy, blunt, loud, middle-aged woman hired as a professional match maker to find a man for Izzy. A no-nonsense wheeler-dealer who knows everyone's business on the Lower East Side. She also loves to eat large quantities of Bubbie's cooking.


Tyler

--an attractive, well-educated fiction writer and literary critic in his late 30s/early 40s. Charming, but incredibly self-involved, and not the most gentlemanly around women.


Sam

--a contemplative, earnest pickle salesman in his early 30s, with Russian Jewish heritage. Very kind, and wise beyond his years, but unlucky with wooing. He is introduced to Izzy by Hannah, but must work to win her affections.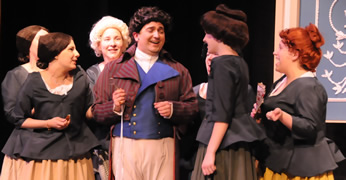 Sir Percy charming the ladies.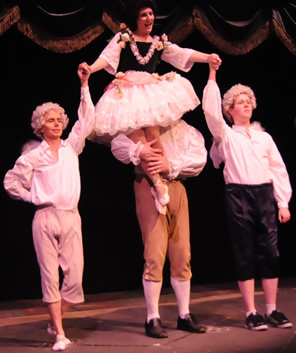 Marguerite given a ballerina-style lift.
Q&A WITH PHIL BERRY, PLAYING HAL IN PIMPERNEL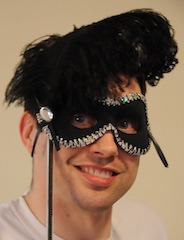 Q: Could you tell us about your work in film and TV?
A: I started working in film April of last year, and have mostly worked on independent shorts.

Q: Does any of your film work offer experience that helps you with Pimpernel?
I think that working in film has made me more aware of some of the subtleties of acting. On film you need to use much smaller actions and movements (especially in the face). Every little movement get captured by the camera. Interesting characters on film make use of subtle movements and expressions to add depth to their characters. I have found that now I look a little more to play to subtleties in my on stage characters as well. I try to strip away my immediate impulses of how to play a role. I tend to want to play big and out to the audience, to be showy with my character, when pulling it back inside myself is what is needed to bring the audience to the character and making the bigger bolder moments more enjoyable. In order to make this happen I try to find the essence of the character, the smallest version of it, and then build on that. I think that helps you to create someone with unique characteristics that is still true to the intent of the script. In film you have a director ... in theatre you have a director, but then you have this amazing thing called the audience. In theatre I feel it takes the audience to help you find out who your character truly is. That is one of the things that makes live theatre so great. The audience is a really important component in helping to perfect and bring life to your character and to the show.
Q: How much do you like working in community theater?
A: I think community theatre is terrific. We have such a wealth of talent in this area and it is important and wonderful for these people to have a venue to show the world what they have. I think community theatre is vital to the communities they live in. It both gives artists (actors, stage crew, set designers, costumers, directors, stage managers, etc., and all the other lovers of the arts that make these shows possible) a place to use their talents as well as the residents a place to experience great theatre at reasonable prices.
Q: What do you like about your role in Pimpernel?
A: The role of Hal has been interesting in that it is not an ensemble role but he doesn't really appear by himself but always with his "bounder" cohorts. The bounders needed to work as a cohesive unit while maintaining distinct personalities. I think we all successfully pulled that off. That we are comrades working toward a common cause was true both on and off stage. We each get our moments on stage but it is less about us and more about the group. I have enjoyed that. They have truly been a terrific group of people to work with.
Q: How do The Concord Players compare to other theaters you've worked in?
Concord Players has been top notch. Every theatre I have worked with has been excellent, though. There have always been great people and everyone works hard to make the show happen. It has been the same here at Concord Players. I have appreciated how hard everyone has worked in the planning aspects of the show. I felt like this production went very smoothly. That says a lot about the director and the behind the scenes and supporting staff. They were also able to attract tremendous talent for this show. It has been great working with this cast and everyone else involved.
TWO PLAYERS WIN IRNE AWARDS!
The Independent Reviewers of New England Awards 2009 for best musical actress and actor went to Shana Dirik and Ben DiScipio for
Sweeney Todd
at Metro Stage. Shana has been in a number of Players productions, most recently as Mary in
Memory of Water
, and Ben, who played the role of Billy in
Chicago
.
WE WELCOME NEW MEMBERS
Welcome to our newest member, Susan Schmidt, and from the Pimpernel cast, new members Andy Swansburg, James Sheehan and Ethan Butler.