Order today to enjoy this classic tale:
Order Now or View Detailed Instructions
Watch Here
through Sun Nov 22 or Watch on your Roku,
Apple, or Android device!
Time left to view the entire show: 00h 00m 00s
On your computer or mobile device, Broadway On Demand recommends Google Chrome as your web browser for optimal streaming.
From your tablet or smartphone, download their free app on Apple Store or Google Play (Android)
Find the BOD App on your AppleTV or Roku device.

---

Download and activate your BOD app, which will link it to your account.
To find our production on the app, just search for "concord players", and you'll see our show poster: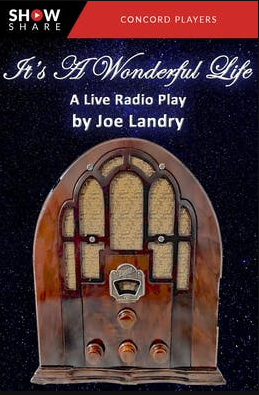 Please note: although we are shouldering all of the production costs associated with putting the show together, there will be a nominal access fee of $2.95 (payable by credit card or PayPal to Broadway on Demand, our streaming platform provider) when you complete your order. To track your order, you'll be asked to create a free account (if you don't already have one).
Please consider making a donation to the Players, not only to help pay the production costs for this professionally filmed presentation, but to help us with our ongoing expenses during this challenging time.

---
©2020. This stream was produced by special arrangement with Broadway Licensing/Playscripts. All rights reserved. By accepting the stream, you agree not to authorize or permit the stream to be copied, distributed, broadcast, telecast or otherwise exploited, in whole or in part, in any media now known or hereafter developed.
WARNING: Federal law provides severe civil and criminal penalties for the unauthorized reproduction, distribution or exhibition of copyrighted motion pictures, videotapes or videodiscs. Criminal copyright infringement is investigated by the FBI and may constitute a felony with a maximum penalty of up to five years in prison and/or a $250,000.00 fine.